WHAT do you remember from your days playing sport as a child and teenager? Or to be more exact, who do you remember? Our memories aren't as accurate as we might like to believe. We forget details. Things get fuzzy over time. Except we tend not to forget people who made an impact upon us. For better or worse. We remember the horrible teacher, the adult who belittled us or made us feel afraid.
We can recall the grown up who inspired and encouraged us and made us the adults we are today. Those of us involved in coaching might not feel that we are that impactful adult in a child's life. We might not realise the power we have upon that young person. We may sometimes place our own needs ahead of the needs of a child who wants to run about and have fun, and if a by-product of that is also learning how to solo a ball or flick a sliotar with a hurl, all the better.
I spoke at one of Steven Poacher's coaching days a few years ago. I was struck by how many coaches were there to learn more about coaching underage sport and females and who specifically sought me out to get some advice. It was fantastic.
Unfortunately, there are coaches around the country who don't bother to educate themselves and who see an underage team as an extension of their own unresolved childhood fantasies. They are ruining children and minor players, and by extension, ruining prospects for their own club and county by ensuring some kids never reach their potential. Or worse, these children quit, get injured or suffer mental health implications.
I've lost count of the number of teenagers who tell me they've quit a team due to poor management, stress, bullying or inappropriate physical loads and demands. This is a tragedy for that child. Especially if they happen to live in a rural area where there are no other sports for them to participate in. That is the beauty of the GAA. There's a club in nearly every parish in Ireland. But it also means if there's a poor coach in your system, children are potentially being lost.
You're probably visualising a parent who you know is living vicariously through their child. The ones who NEED to win the u-9 shield and who are as apoplectic on the line as Davy Fitzgerald on All-Ireland final day. Abusing the referee, abusing the children entrusted in their care. At best, they're setting a terrible example. Or you might even be that parent. Well-intended but with unrealistic expectations which results in a miserable experience for a child.
Where does this need come from? Research points to a parent or a coach who was afraid of failure as a child. To the point that it paralysed them and stopped them being their best. It could've been a fear of injury, a fear of being yelled at or letting others down. Interestingly, the reason why most of us don't live up to our full potential over a lifetime is fear. And coaching is an 'excellent' way to right that wrong.
We all know the benefits of keeping kids in sport, but we need to make sure they enjoy it too. It helps them grow physically, socially and psychologically. But all they know is that they want to have fun. If you ask them why they're there, they'll say it's to play with friends. Not to be running drills, or left to perish on a sideline when everyone gets to play. It gets even more complicated when they're teenagers, especially if they're boys.
I've lost count of the amount of stories I've heard about 14 year olds being forced to comply with a weights regime, orchestrated by unqualified coaches, fixated on winning, calling boys weak or embarrassing them in front of their peers if they can't keep up with a programme guaranteed to injure them.
If you're a coach, or a parent who has a child playing sport, take the time to ask yourself where you would be placed in their memoir? In the nurturing adult role, or the adult who made them miserable, or who contributed to poor physical and mental health? Ask yourself if you understood your role. You aren't making an All-Star, you're creating the pathway. If you're involved with a club and you know someone is behaving this way with children entrusted in their care, ask yourself why you haven't attempted to intervene.
Is your internal fear of failure holding you back in a different way to the emotionally unregulated coach? That's just another way to let a child down. We all need to be better. The GAA's motto is where we all belong, but not everyone feels like they're in the fold. With the right coaching, that meek 11 year-old child might grow into a senior superstar. With the wrong coaching, they'll never get the chance.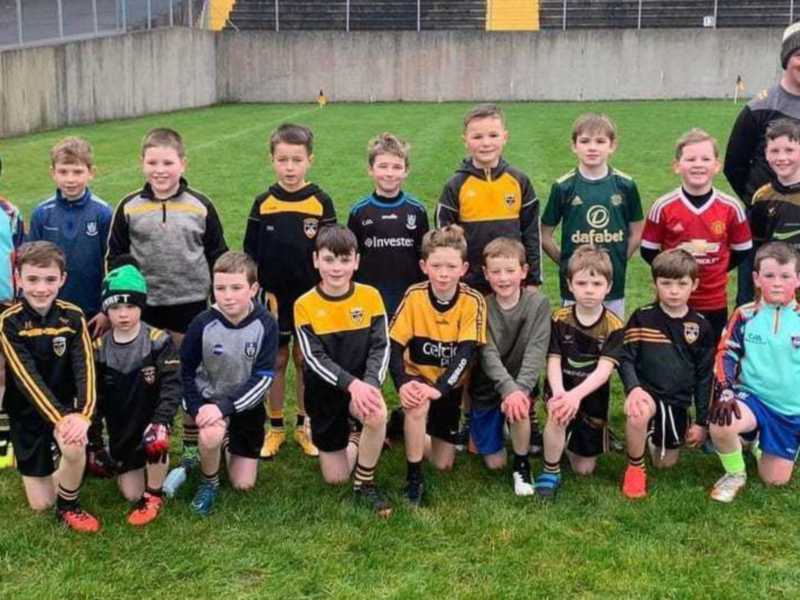 STARS OF THE FUTURE…Pat McEnaney, left, with the Corduff u-9s
Receive quality journalism wherever you are, on any device. Keep up to date from the comfort of your own home with a digital subscription.
Any time | Any place | Anywhere
No tags for this post.
Posted: 7:30 pm February 28, 2022