NIALL Gartland looks at some of the GAA players who made it big in the AFL.
Jim Stynes (264 appearances)
A LEGEND of the AFL. Stynes grew up in Dublin and represented the county at senior level at the age of 18 in 1984. However, he responded to an advertisement in his local paper by the Melbourne Football Club that offered two scholarships with all expenses paid to play Australian Rules football and that paved the way for a long and successful career down under. He played an unbeaten record of 244 consecutive games between 1987 and 1998 and was named twice on an All-Australian Team selection. He later served as president of the Melbourne Football Club and was a noted administrator, philanthropist, charity worker and writer. In 2009 he was diagnosed with cancer and died three years later when he was only 45 years old.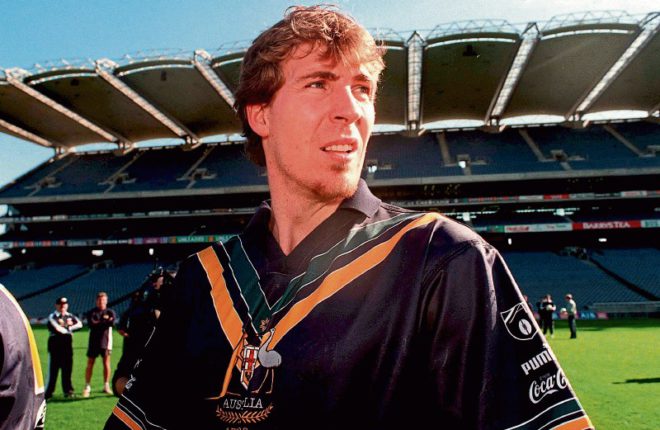 Zach Tuohy (239 appearances)
AT this rate, it won't be long before the Laois native tops this list. Tuohy, who represented Laois at underage level and won a Leinster Minor Championship in 2007, caught the attention of recruiters from the Carlton club. He made his AFL debut in 2011 and by the following year was a mainstay of the side. He became noted for his accurate kicking, even though he's a defender by trade. He transferred to Geelong in 2017 and played his 200th game against Richmond two years ago, becoming only the second Irish player to reach this milestone. He's renowned for his all-action style and recently an opposition player was handed a two-match suspension after headbutting Tuohy.
Tadhg Kennelly (197 appearances)
KENNELLY didn't win many friends when he admitted in his autobiography that he went out to do Cork's Nicholas Murphy in the All-Ireland 2009 final (he later claimed to be taken out of context by his ghost-writer) but there's no doubt that he was an outstanding athlete who carved out a successful AFC career. He signed a rookie contract with Sydney Swans in 1999 and soon consolidated his reputation as an upcoming talent. Became the first Irishman to win an AFL Premiership medal in 2005 but was cursed by injuries in subsequent seasons. Returned home to win an All-Ireland with Kerry in 2009 before seeing his career out at the Swans.
Pearse Hanley (169 appearances)
COULD Hanley have made the difference for Mayo over the last decade? It's a question worth pondering as he was a stunning talent who excelled in a professional sport. Born in England to an Irish father and Welsh mother, he moved to Ballaghaderren in Roscommon at a young age, but represented Mayo at underage level as the local club is affiliated with the county for historical reasons. He became an integral part of the Brisbane Lions for nearly a decade, making 129 appearances and scoring 58 goals before a short stint at Gold Coast. He announced his retirement from AFL in 2020, which came as no major surprise as a series of injuries had taken their toll.
Sean Wight (150 appearances)
This Kerry man paved the way where the rest followed. A native of Scotland, Wight played for Kerry at underage level before he was scouted by the Melbourne club as having the potential to play AFL. He made his debut in 1985 and developed a reputation as a dogged defender. His career was somewhat overshadowed by his teammate Brian Stynes but he was still the first player to be associated with the 'Irish experiment' and lined out regularly for a decade.
Setanta Ó hAilpín (88 appearances)
SETANTA played for a number of years for the Cork hurlers and won an All-Star and Young Hurler of the Year award for his performances in the 2003 season. Later that year, he announced his was moving to the AFL, which came as a surprise at the time as Gaelic Footballers were usually targeted. However, he did well and became a crowd favourite among Carlton fans, earning the surname 'Carlos'. He was suspended indefinitely for his involvement in a violent altercation with a teammate in 2009 and considered returning to Ireland. The rest of his career was fairly unremarkable but he still lives in Australia
Conor McKenna (73 appearances)
FOR a period, Conor McKenna was a superstar of the AFL. A sensational underage talent with Tyrone, he signed a deal with Essendon and kick a goal with his first kick when making his debut back in 2015. He grew into one of the team's best performers between 2017 and 2019 and was renowned for his hard running and unique approach to the game, selling gaelic-style dummies etc. However, his AFL career ended in disappointing fashion as he was subjected to intense media scrutiny after being diagnosed positive with Covid-19. He announced his retirement in late 2020 and played a big part in Tyrone's All-Ireland success last year.
Martin Clarke (73 appearances)
COLLINGWOOD'S first Irish recruit, Clarke caught the eye of AFL scouts for his performance in the 2005 MacRory Cup final. He signed a contract with Collingwood and adapted extremely well to the oval ball and made his full AFL debut in 2007. He had a poor run of form in 2008 and announced his retirement from the sport in late 2009, saying "I could easily have stayed but I am more passionate about playing for Down than playing for Collingwood. He had a major impact as Down reached the All-Ireland final, but he had to hang up the boots due to a medical condition called Addison's disease.
Receive quality journalism wherever you are, on any device. Keep up to date from the comfort of your own home with a digital subscription.
Any time | Any place | Anywhere
Posted: 1:00 pm June 27, 2022