CLUBS can raise significant finances with significantly less effort than traditional fund-raising methods by participating in Tradebids' innovative Club Referral Programme.
The Club Referral Programme could earn a GAA club approximately £2600 with just 10 referred users making regular transactions. If you have a referred contractor or sub-contractor from your club using the platform to find tradespeople and fulfil projects, this could add anywhere between £2600 and £40,000+ of referred bonuses to your club.
The programme is designed to utilise the support and marketing power of the GAA network whilst providing much needed funding back to the clubs and communities.
The simple principle of the referral programme is where clubs or counties receive a unique referral code, they use their social media platforms and networks to promote the sign ups and users, using their referral code.
When a referee completes a transaction through the Tradebids Platform, the club get a percentage of the transaction fee. The more transactions, the more the club receive.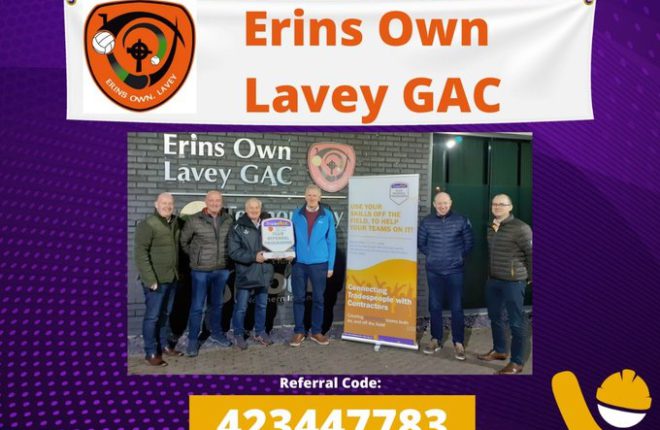 With just 10 referred users making regular transactions through the platform a club could earn approximately £2600. It goes without saying how this could exponentially grow with more users and more transactions.
Sign-ups and platform users extend from Tradespeople, Contractors and sub-contractor through to Project managers, Quantity Surveyors, Marketeers, Contracts managers, estimators, engineers etc.
There are significant benefits to clubs by using this programme, including regular referral income for the club, a platform to allow their local companies to find skilled people, and an opportunity for skilled professionals from within the club to gain access to a huge network of work and people, allowing them to excel in their particular roles with whatever companies they work with.
It is also a chance for the GAA to further promote the benefits of being part of the club and community – where it can help your members find work or secure people to work on your projects. It also enhances the feeling of contribution for any non-playing members who want to be part of the community.
You can get in contact with us by signing up at www.tradebids.co.uk or by contacting us info@tradebids.co.uk or Eugene 07759 428 444 – James 07931 351475. We we will provide a referral code and any social media details to allow you earning.
What is Tradebids?
Tradebids mission is aiming to digitally transform the construction industry in a similar way to which Booking.com changed travel, Airbnb changed accommodation or Uber transformed transport.
The Platform
Tradebids is an Online platform designed to help construction companies get their work done.
The platform is free to sign up to and there are no membership charges.
Since its launch late 2021, it has been tested and validated by Leading Construction Company, Errigal Contracts who have found the platform to be highly beneficial to support their construction demands throughout Ireland and the UK.
It is a fast and flexible way of connecting skilled and rated trades people direct with contractors and sub-contractors.
Tradebids helps Tradespeople to start their own business, or grow their business, creating connections with contractors on projects big and small, across Ireland and the UK._
The platform provides significant benefits to Contractors and Sub Contractors, allowing them to rapidly expand their network of skilled trades people whilst maintaining demand or achieving growth targets.
Jobs are won via a secure competitive bidding process ensuring fairness for both the trades person and the contractor.
Tradespeople are rated allowing selection of highly rated bidders for projects. Good performance is rewarded with good ratings, creating an incentive for high performance.
Tradebids can handle time work or price work with Timesheets or project progress submittals provided through the platform and when approved by the contractor, payment automatically transfers to the tradesperson's secure online wallet.
The competitive bidding platform handles payment, VAT and CIS, taking most of the administration out of the process, allowing project teams to focus on project delivery.
Tradebids was Co–Founded by County Monaghan man, James McQuaid and Co. Antrim man, Paschal Lynch.
Receive quality journalism wherever you are, on any device. Keep up to date from the comfort of your own home with a digital subscription.
Any time | Any place | Anywhere
No tags for this post.
Posted: 7:00 am March 10, 2022