By Steven Doherty
The scene: Eason's book shop, Derry City last Friday.
"Excuse me, sir, do you have the book about Derry winning the All Ireland?"
"Try the history section." I don't think the shop assistant was trying to be funny. He didn't look like he was from Tyrone anyway. "Try the 'Ancient History section!'" piped up another worker. He was definitely a Tyrone halyin and delighted at his own wee joke. "Grrr…"
The book wasn't there, and it wasn't in the 'Sport' section either. "It might be here tomorrow."
I returned the following morning, early. "Did that Derry GAA book come in yet?" "Not yet. Might be here on Monday, big man." Anybody over 5'5 is called 'big man' in the city. Even weemin.
Monday! A whole weekend without it? Exasperated, I ordered the book online and it arrived on Tuesday morning. Hallelujah!
That book, of course is 'The Boys of '93' – Derry's All-Ireland Kings'.
Extracts from the most highly anticipated book since Moses wrote the Bible (must check that fact for historical and religious accuracy) had been serialised in several newspapers. But, like trying to avoid a trailer of a film you really want to see because of spoilers, I very reluctantly shied away from them. I was holding out for the big prize, though it was taking every sinew of will power to do so. This had better not be a let-down.
Most Gaels across the Oakleaf County, myself very much included, were hoping it would be a nostalgia filled return to glorylands, back to time when we were kings. Either that or it could end up the biggest disappointment since Jonny O'Kane, who due to a lack of a shop in Glack sold crisps and minerals out his sitting room window, closed down. Most folk I knew, kith and kin alike, were reared on a daily diet of Farmer Brown crisps and Rolla Cola bought from Jonny O'Kane's window.
Approximately 99% of the books on the 'Over the Bar' bookshelf are sports biographies. (The other 1% is 'softcore erotica'). Most of them disappoint – tired old stories from the after dinner circuits regurgitated. Rarely do you get any real insight into the sports figure or the goings on in the changing rooms. This is different. Very different.
It's no Lord of the Rings trilogy, at only 114 pages of potentially Pulitzer prize-winning goodness, but the publishers assure me that only the very finest Oakleaf trees were lovingly cut down in the making of it.
Author Maria McCourt offers us up just six page-turning chapters, the titles of which give you a flavour of the content within:
1. Mighty Oaks From Little Acorns Grow
2. 'Youse Boys Knows Nathin About Futball'
3. 'The players is the Men'
4. Homecoming Heroes
5. Back-Room Betrayal
6. No Magic in Management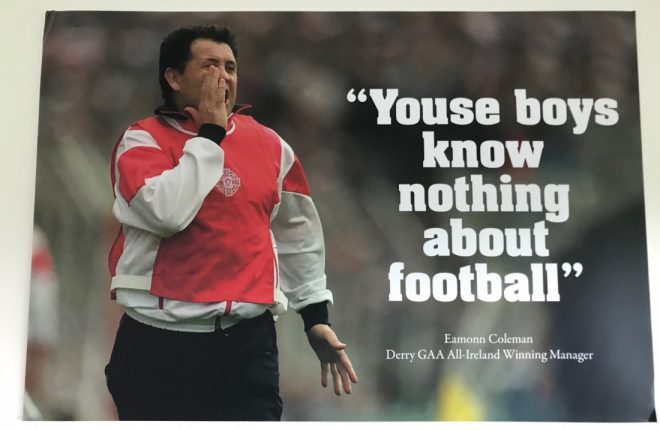 McCourt, Coleman's niece, tells us as  Derry manager Coleman bids farewell to his native Ballymaguigan his wife warns him: 'Don't come back here without Sam'. The thought never entered his head, or ours.
That day Derry emptied quicker than Strabane on 'signing on' day, as we all took the rocky road to Dublin, with hope in our heart and egg 'n'onion sandwiches in our car boots. First stop, of course, was Diane's Salon in Ballykelly where everybody got their championship haircut, and Diane, God help her, used to wrestle with my bull's lick. I sure miss that bull's lick.
Everyone I knew went to the game –  diehard fans, bandwagon jumpers, old school football men. Bluffers, hairy-legged camogie players, rockers, ravers, lovers and sinners all made the pilgrimmage. Even Protestants. This was our 'once in a generation' shot at the title. We knew it, and we weren't going to miss it, no sirree.
Tommy Doherty, my biological father, is a very sensible man. But he lost the run of himself back in '93. After a night on the Bacardi and coke and Silk Cut Extra Milds he decided to make the biggest 'Derry' flag of all time, and proceeded to do just that. The monstrosity of a thing – half red, half white – must have measured 10 foot by 10 foot. The material was so big he had to commission a special pole made out of 4 inch thick copper to hold the mighty flag.
We only took it to a game once. Once was enough. Tommy drove a big Diahatsu 4×4 jeep back then and the flag didn't fit in it, but we trundled along to the game with the big yok half in the jeep and half out. I love Derry, but I was affronted. It took two of us to carry it into the ground, and after lengthy negotiations with the head steward we were eventually allowed in. Anyone that sat four or five rows behind us saw nothing.
Anyways, common sense prevailed and the flag didn't make the journey to headquarters on that storied third Sunday in September.
The flag was too big for our garage, but we managed to oxter it up into the attic where it stayed, unloved and neglected like a creepy old great aunt, for years.
The Big Tree is a Glack man's pub of choice in Dublin, and it's the supping house we frequented before and after that magical match. I've cousins who, even when they go to Dublin for a concert or whatever, will only drink in the Big Tree. Glack folk stick to what they know. That attitude built this country, and it's something we're very proud of.
We're also intensely proud of the little general, 'devilment dancing out of every pore', who brought us to Valhalla, and his famous 'one in a row' All Ireland winning team – 'The Boys of '93'.
Posted: 11:12 am September 24, 2018