By Alan Rodgers 
HOURS of practice day after day throughout his career paid a rich dividend for Tyrone's top forward of the 1970s – a player whose scoring exploits made him feared as well as renowned throughout Ulster.
Before Adrian Cush blazed a trail for the Red Hands in the 1990s, his club-mate Patsy Hetherington had cleared the way. The statistics say it all about his attacking ability during an era of mixed fortunes for his county.
He was top scorer in the Ulster Championship with 0-17 in 1973. He repeated the feat in 1980 with a tally of 4-3 putting him alongside county colleague, Patsy Kerlin.
From 1972 until his retirement in 1982, the name on everyone's lips in Tyrone was invariably that of the Donaghmore, St Patrick's supremo.
At a time when Frank McGuigan stood tall, Hetherington contributed richly to Tyrone's 1973 provincial triumph and their subsequent re-emergence in the early '80s.
But today, as always, he remains modest about bygone glories. For the focus is invariably on Donaghmore, where he's a club official and a man working hard to develop a new generation of club players at underage and adult levels.
The field there is still a regular haunt for him, just as it was throughout his career when he used to head for daily practice. That commitment certainly paid dividends as the statistics from those years prove.
He burst onto the scene as a member of the Tyrone Vocational team that won double All-Ireland's in 1969 and 1970. An Ulster Minor medal followed in 1971, as did an U-21 title for the county in 1972, and in 1973 he won a first and only Ulster Senior title.
Add in appearances in three Ulster Senior finals in 1972, 1973 and 1980 and selection for the province in the Railway Cup, and his impact is very clear indeed.
For all that, though, his first appearance for the county in the early '70s brought a wake-up call. After being notified of his selection, he duly travelled to Dungannon to get a lift to the game against Westmeath.
"Jody O'Neill phoned to tell me that I was moving from the u-21s to the seniors and said for me to be in Ann Street in Dungannon for a lift to the match in Athlone," said Hetherington.
"I hardly slept the night before. Nobody had come and then I saw the then county chairman, Paddy Corey. I said to him "Paddy do you know who I'm travelling with today? He said back to me 'son I don't even know who you are, never mind who you're travelling with.' That was my introduction to Tyrone senior football.
"That's the way it was then, but now the county chairman would know every player. Derry were the big team at underage level at that time, but Tyrone were putting a big emphasis on it at that time.
"We played a game to suit the fact that we were maybe a bit smaller and did well at Vocational and Minor level in those years.
"Those Vocational teams were the spring-board to the Minors of the early '70s. Big Art McRory put in a big effort, Tyrone won the Ulster Minor title in 1967 and then things followed on from that.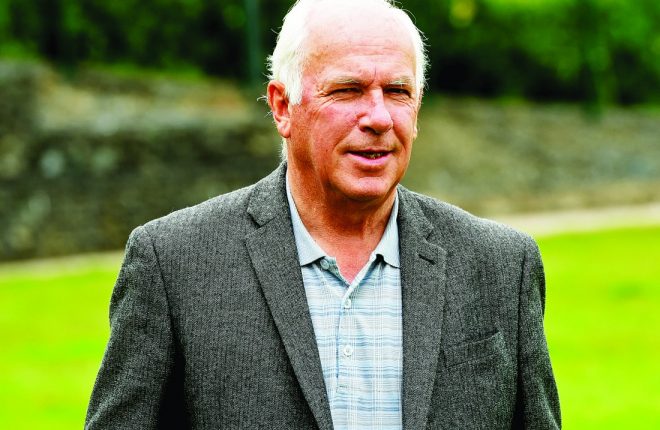 "The Ulster final of 1971 was the last one to be played at Casement Park because the Troubles started then and I still tell people that.
"Casement Park was the big game before going to Croke Park. Art and Jimmy Hughes were over that team and Peter McGinnity was playing for Fermanagh that year.
"There's no doubt that the experience of playing in Croke Park for the Vocational teams helped us for the Minors. Our team in 1971 was probably good enough to win an All-Ireland – I remember Sean Coyle chipped the goalkeeper in the All-Ireland semi-final against Mayo in the last few minutes and it hit the post.
"I was overage for 1972 when they got to the All-Ireland final and had moved onto the seniors. All of those games were giving us a taste of what was to come. That team, the games were man-for-man, there were plenty of hits, but nothing really dirty.
"My advantage was probably a bit of speed which got me going. I then played in the 1972 team that lost to Donegal in the Ulster final. Brian McEniff marked me that day; they were favourites on a really bad day. Then in 1973 we beat Down in the Ulster final before Cork trounced us in the All-Ireland semi-final."
It says much about Hetherington's footballing reputation at that time that he was called straight into the senior panel, then under the management of Jody O'Neill.
Nevertheless, the confidence placed in him was entirely justified as the Red Hands, who had been in the provincial doldrums since the breakthrough years of the 1950s, finally found their form. That resulted in their 1973 triumph.
A highly-fancied Down team, still containing '60s stars such as Colm McAlarney and Sean O'Neill, provided the opposition on a sunny day at Clones. However, there was no doubting the Tyrone dominance as they scored 3-13 to emerge victorious.
That Ulster campaign saw Hetherington top the scoring charts with a total of 0-17. With the Minors and U-21s also winning their Ulster titles, the dream of a first ever Sam Maguire success was seen as a realistic target as they prepared to meet Cork at Croke Park.
"To be fair, we had kept things going after losing in the 1972 final so it was good to come through again the following year, 1973. I think losing that Ulster final gave us the impetus to go on," he said.
"A few of the players who were part of the Vocational and Minor teams were beginning to find their form. Gerry Taggart, Sean Coyle, Liam Turbett, and obviously Frank McGuigan. At that time nobody could mark him.
"We beat Down and I remember what my father, who had no interest in football whatsoever, said. I had scored six points in the Ulster final that day and somebody said to my father the next day in the pub 'well done Johnny, your lad did well yesterday.' His reply was 'where was he yesterday?' He didn't even know I was playing and that's a true story. There's not many fathers would say that now.
"That was some Cork team that we met in the All-Ireland semi-final in 1973. Probably only that Dublin and Kerry came along from 1974 onwards, that Cork team would have won maybe four or five All-Ireland's in a row. They were absolutely brilliant with the likes of Ray Cummins and Jimmy Barry Murphy."
A 5-10 to 2-4 loss at Croke Park brought a rude-awakening to Tyrone's hopes in 1973. Donegal defeated them in 1974 in the first round in Omagh and the subsequent years were to provide one disappointment after another.
While a National League quarter-final appearance against the all-conquering Dubs in 1975 showed what they were capable of, the Ulster Championship was to be a totally different story.
The absence of McGuigan and defeats to Derry and Monaghan meant that the second half of the '70s was a frustrating period despite the presence of so many talented players.
"It's hard to know what happened after 1973," he continued. "There were different teams and different managers. Derry had won the All-Ireland U-21 title in 1968 and a lot of those players were coming through to strengthen them in the 70s.
"Frank McGuigan leaving made a big difference. There were others who were very good like Seamus Donaghy and Patsy Kerlin. But then a few came back and we got to the final again in 1980 when Armagh beat us.
"That year you could throw the ball into the net and it finished 4-10 to 4-7. It was silly football when you think back now. It would have been brilliant to have won that second title, but then Fermanagh beat us in 1982 and Arthur McRory decided to finish me. I was coming to the end anyhow."
Years 1972 to 1982, though, has a certain ring to it. A decade of sterling service, a decade of topping the scoring charts and a decade helping to lead the Tyrone attack. A decade, too, for which Hetherington has absolutely no regrets and a period on which he looks back with fondness.
"I did a lot of practicing at shooting, especially the free-kicks. Jimmy Casey was the county treasurer and I went to his house to get the footballs on a Saturday morning and took them to O'Neill Park. I did practice a lot at shooting and scoring.
"Football was something which I enjoyed and I've very few regrets. Thinking back now, that Ulster final in 1973 and the U-21s are the things that stand out for me, and then winning a Minor Championship with Donaghmore when I was 13! I had a lot of rewards from football and hopefully I've put a lot back into it."
A fitting summary for Hetherington – the man whose six points won a Tyrone team, captained by the great McGuigan, an Ulster title and provided the inspiration for future stars to lead the Red Hands into a new era.
comment@gaeliclife.com
Receive quality journalism wherever you are, on any device. Keep up to date from the comfort of your own home with a digital subscription.
Any time | Any place | Anywhere
Posted: 8:00 am May 29, 2020