IN today's Gaelic Life newspaper – at the request of the Morrison family – we have posthumously printed one of John Morrison's last columns. Here are some tributes to the coaching guru from the time of his death.
Martin Clarke
JOHN Morrison was a man that travelled to every corner of Ireland to deliver his unique version of the GAA gospel, but few places had a hold on him as much as the An Riocht club.
John had a long association with the picturesque Down club and spent many summers teaching their children the skills of the game.
The Mourne mountains in the distance, the splendid beach-like weather and a club that always warmly welcomed not only him, but his boys too.
Martin Clarke was one of those who experienced his style of coaching, and it stayed with him for the rest of his career.
"I couldn't put an age on when it was, but I was starting to realise that I wanted to take football seriously, so probably that u-12 level or so," said Clarke.
"We had a great set up at An Riocht. We had a big indoor facility, we were winning things, we just had a freak group of players coming through.
"We always took a lot from those two- or three-week camps with John Morrison. We saw him as a revolutionary guy at the time with his new drills and ideas.
"He had new ways of explaining things and we loved it. The sun always seemed to shine when John was down."
Clarke said that John's ability to make time for every player, even when overrun with numbers, was one of his greatest assets as a coach.
"He'd maybe send you out for a drill and there were groups of three all over the pitch.
"You'd come back in and then maybe go out and do another session and John would walk past you and say 'see that flick you did earlier, or that pass with the outside of your foot? That was unreal.'
"You're just thinking 'how'd he see that?'
"That was something I always sought from coaches, that they're always watching you.
"You're playing for them, you're playing for the team, but I always loved when coaches noticed everything, good and bad.
"John had that ability to watch everyone and make them feel like he had been keeping an eye on everything you were doing.
"As a young player that meant an awful lot.
"He was just a great, great coach and an even better man."
Conor Mortimer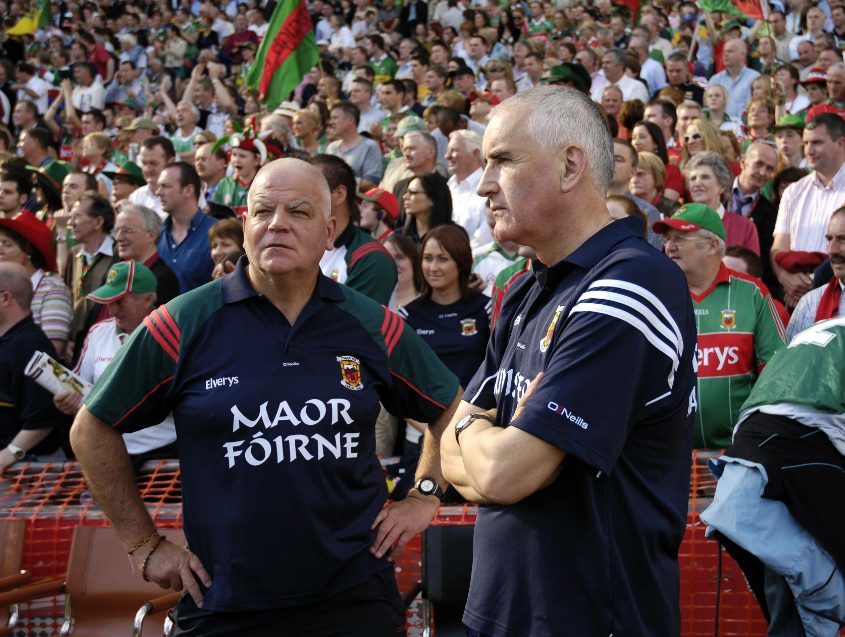 THERE are moments Conor Mortimer will always remember in his GAA career – and he is grateful that two of them arrived within 24 hours.
It's July 2006 and Mayo and Galway are meeting in the Connacht final in Castlebar.
Mortimer had spent the night before practicing frees at MacHale Park and the decision proved a good one as he landed the winning free in injury time.
The picture – printed above – was framed and given to him by John the next day with the inscription 'practice makes perfect.'
"He was a great character," said Mortimer. "Anyone who knew him sporting wise would have warmed to him.
"He was very personable with individuals and I when I scored that winner against Galway he had a framed picture for me the next night.
"He was different class and he just had that touch.
"I was doing a masters in Jordanstown and I had a classmate in Armagh who I had to do a project with.
"I would be down there (Abbey Park) kicking ball and John would often come out to meet me or his sons would come out and kick ball with me.
"Just wee things like that would be the mark of the man and I'll never forget that."
John also left a huge mark on Mortimer and his teammates on the pitch.
Often seen as flashy, Mickey Moran's assistant never attempted to pull him into line and instead encouraged him to express himself as much as possible.
"He came into our squad and we'd heard numerous reports on him.
"He suited me. He didn't mind the stuff I was at, the bit of flair, and the bit of being different.
"He encouraged me to do that and more whilst also learning the proper ways of forward play."
The word innovation has long been associated with John, something Mortimer backed up.
"He knew his stuff, he was a lot further on than most coaches," he said.
"The one thing about him was that he wasn't specifically for any one sport.
"He was all for the likes of basketball. We had a couple of basketball players – Ronan McGarrity and David Brady and the likes – and he would have incorporated that into our training.
"He was always explaining why it was beneficial for us.
"It's the world we live in, it's only when people that pass away that we truly appreciate them."
Paul Grimley
FORMER Armagh manager Paul Grimley has paid tribute to John Morrison who passed away earlier this week.
The former Orchard boss spoke not only about John's coaching success, but his community work also which enhanced the lives of so many people in Armagh city.
"John was a really decent Armagh man to the core," said Grimley.
"A colourful, charismatic figure within the GAA world. A player, coach, manager, journalist, he was never afraid to express himself.
"He was a master of the one-line inspirational quotes and in everything he spoke on, he believed strongly that above all the GAA was about full participation and he had superb coaching knowledge. "I've known John all my life. Like many of my friends he enriched our lives from our early teens through the youth club he operated along with his wife Maura at the height of Troubles in the early seventies and beyond when times were extremely dangerous in Armagh.
"He gave teenagers an outlet to take as many of the street as possible and to this day we have such great memories of those times."
Grimley said that John was above all a family man, and that is how he will be remembered.
"He will leave a great legacy and will be a huge loss for Maura and the kids an grandchildren.
"He was a caring person and a great confidant. May God be good to you my friend. Rest in peace."

Niall McCoy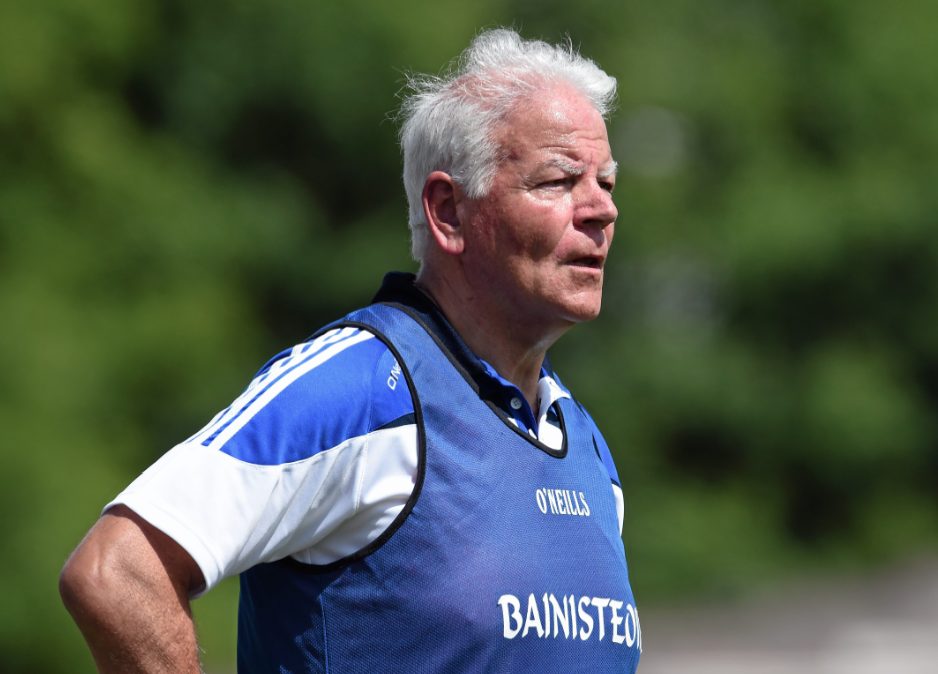 MY first experience of John Morrison was not GAA related but rather in the geography classroom in the Abbey in Newry.
Like his coaching career his teaching was completely unorthodox, but just like Dr McDonnell's history class a few doors down on that same top floor, different seemed to strike a chord with a bunch of teenage boys who usually yawned their way through lessons.
All lethargy certainly vanished when he told us the destination for one of our field trips – Holland, and more importantly Amsterdam.
"You'll walk into a shop and it you'll see a Mars bar, a Twix, a sex toy," he warned. "But remember, you're there to learn about geography."
Little did I know that I was being taught by a Gaelic coach that had such a huge impact on so many teams and players.
Often it was in the public eye, such as his stints with Armagh, Donegal, Mayo and Antrim – usually alongside Mickey Moran – but most of his work was done behind the scenes. A number of Gaoth Dobhair players, for example, had been ringing him for advice throughout their run to this weekend's All-Ireland semi-final.
After joining Gaelic Life in 2012 I soon developed a great relationship with John and we would speak maybe three times a week on the phone.
That continued all the way up until recent days and in his last call he told me about an idea he was going to write about soon in Gaelic Life. John felt that GAA clubs needed to do more to be community clubs and felt that every single one should have a playpark installed. Then the hosting club should have a rota of volunteers on matchdays so fans, from home and away, could come on the Sunday, drop their children at the playpark and watch the game.
As always there was more to it. It wasn't just a babysitting service; the monkey bars would develop skills that the child could use later on the football pitch, he explained.
That's what John was best known for – thinking outside the box. A Gaelic Life feature by former journalist Ciaran Woods used the headline 'A Beautiful Mind' and that was pretty fitting.
At Christmas time John and I said we'd meet for a similar chat in a few weeks when he was feeling a bit better. That'll not happen now.
You could create your own John Morrison 'myth or fact' game and you'd be best advised to opt for fact.
Giving players Brazil nuts so they would play with a bit of Brazilian flair, getting players to dump their negative energy in a skip, sending valentine's cards from 'SAMantha' to players – unorthodox.
Yet, speak to anyone who worked with him and he was always ahead of his time. The scientific approach to football and training was on John Morrison's radar when pints were still a pre-match source of iron for many teams.
He wasn't just a man for the GAA either. He was a keen swimmer, loved talking about the benefits of playing other sports like basketball and even was even brought to Leicester to help former England rugby captain Martin Johnson improve his catching.
John was a man that thought outside the box, but most importantly he was a fine man.
A booming voice that could always be heard in the press box at the Athletic Grounds and a man that was forever smiling.
When he told me a few weeks he was feeling down it was honestly the first time I'd heard him not feel full of beans. A recent visit from Mayo legend Ciaran McDonald to Armagh Harps soon raised his spirits though.
In seven years, John signed off every phonecall with some of the most awful dad jokes you could ever imagine, taking pleasure in the groan his latest offering would evoke. Those phonecalls will be truly missed.
"Paddy the Irishman walked into the pub…."
Paddy Tierney
TWO Harps men and a Tullysaran man in a press box in Crossmaglen. . . it sounds like the start of a bad joke – and John Morrison loved bad jokes.
I remember being in the company of John and fellow journalist Joe McManus one afternoon as we covered the Armagh Junior football final of 2010. I watched most of it with my head in my hands as the Grange defeated Tullysaran by four points.
"Tullysaran are playing too much lateral football," John reasoned.
"They are allowing Grange too much time to set-up their defence."
As was often the case when it came to talking tactics, he was 100 percent right.
Thankfully, playing a more direct brand of football, O'Connell's ended their long wait for a county title in 2015, but I always enjoyed listening to John's perspective on football whenever the chance arose.
He'd always come at things from a different angle. He'd be thinking outside the box. It is easy to understand why he was such a revered coach. Players couldn't help but be engaged and enthused by his zest for life. His personality was infectious.
Time in his company was time well spent and he was always generous with his time.
Prior to last summer's Championship Qualifier between Armagh and Clare, Antrim's hurlers took on Kildare in the Joe McDonagh Cup relegation play-off.
Not too many ventured into the Athletic Grounds for the curtain-raiser, but John was the first person in the press box. The best coaches never stop learning.
Later, when a young reporter sat down beside him, he immediately broke the ice by telling one of his trademark one-liners. It mightn't have been all that funny, but you laughed at John laughing. He had that effect on people.
On a personal level, I'd like to thank John for all the advice he gave me down through the years.
The press box at the Athletic Grounds will be a quieter place without John. We'll all miss those terrible jokes.
Posted: 3:00 pm March 7, 2019