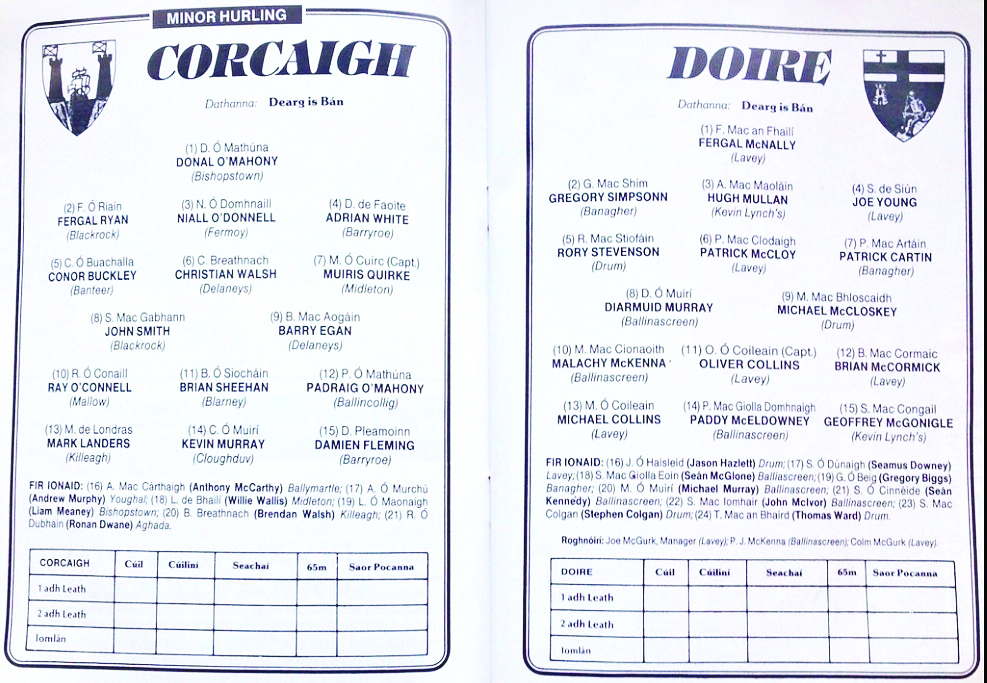 When? Sunday August 5th, 1990
What? All-Ireland Minor Hurling semi-final
Wh0? Cork 1-14 Derry 1-9
Where? Croke Park
Whistler? Pat Horan, Offaly
A DECADE of progress for the Derry hurlers at all levels probably began with this fine showing in the All-Ireland semi-final before culminating in 2000 with Ulster senior success.
Even a brief glance at the Oak Leaf team which lined out on this occasion proves their ability. It was showcased in this clash which saw them give Cork plenty of problems despite eventually losing.
This was certainly a moral victory. But given the recent fortunes of Ulster teams on the national stage, morale victories are perhaps only a pipe dream at the moment.
Nevertheless, the presence of Oliver and Michael Collins, Brian McCormick, Seamus Downey and Gregory Simpson on this Derry team shows its strengths.
For all, that, though, the Rebels were mostly in control. While Derry battled hard, there was never any real doubt about the outcome.
Only two points separated the teams at half-time, a goal from Michael Collins boosting Derry's confidence.
High balls into the forwards were a key tactic for Derry, but the Cork defence held firm. Fergal McNally in goals also had to produce a number of good saves to keep things under control on the scoreboard.
Michael Collins with four points, Brian McCormick and Malachy McKenna were the Derry scorers as they were left to also rue a number of missed chances which, if converted, might have left things more interesting at the finish.
Posted: 4:00 pm January 21, 2016