LAST weekend, Karl Gallagher was named as Man of the Match after Monaghan had won the Ulster title.
It was his display of high fielding, hard-tackling, and distribution that caught the eye.
But he said that the Monaghan team in its entirety deserved praise for fashioning their 1-13 to 1-11 victory over Tyrone in the Minor decider.
"I did alright, I have a lot to improve on, but I am just happy for the team. We have an Ulster Championship title.
"from Eoin Duffy half-back, Jason Irwin, Shane Hanratty. From one to 15 we have exceptional players. There are no flaws there. And we have impact subs as well, the likes of Tiernan Kerins for eXample. They are fighting for their place and it would be hard to pick a team for the All-Ireland quarter-final."
The game itself was a thrilling advertisement for underage football. It was end-toend stuff, and only for a brief moment during the second half was there more than two points between the teams.
Gallagher explained what it felt like to play in such a dramatic encounter.
"It was amazing, you never stopped running. The heat didn't add to it. It wasn't easy, thankfully we had the boys who pushed it out at the end. It was probably the experience of the boys who were there last year who helped us to push on."
Monaghan had won the minor championship the year previous, but this is a new squad with a new management team.
"It is two different type of teams (compared to last year). I wouldn't say that we are stronger. We are around the same."
He also paid tribute to the management.
"Mark Counihan, I've had him from age 13 at schools football at St Macartan's. I know him very well. He's not afraid to give me a kick when I need one."
The management had a game plan for Tyrone, and it worked a charm.
"It did (go according to plan). The stuff we worked on in training worked well, we did a lot of work on Tyrone. Mark O'Connor and Mark Counihan did the background work. We knew who their danger men were and we just tried to keep them out of it."
What Gallagher did notice was that the Tyrone team did not know when they were beat.
"At times we thought we had the game won but Tyrone kept on coming at us. We hit a few wides but we came back and we showed the character to get over the line.
"We knew if we came in close to them then we would have a good chance to beat them. So we kept it tight and we thought we had the legs to stay ahead of them."
They now turn their attention to the All-Ireland series. Monaghan now play Cork next weekend.
Gallagher said: "We are going to start off with a clean slate, we don't know much about the opposition yet. Hopefully the Ulster Championship is a high enough level for us to compete with the
likes of Kerry, Cork and Kildare."
r.scott@gaeliclife.com
Receive quality journalism wherever you are, on any device. Keep up to date from the comfort of your own home with a digital subscription.
Any time | Any place | Anywhere
Posted: 9:00 am July 21, 2019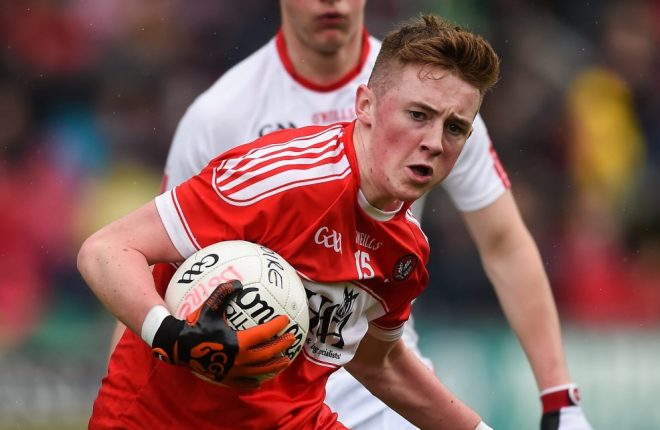 THE challenge for every county minor manager is keeping young players grounded in the face of potential success.