FORMER Portglenone and Antrim goalkeeper Chrissie Doherty looks back on some of the memories from her career.
Teams played for: Geraldines Portglenone, Antrim and UUJ.
Current involvement: Ulster Delegate for Antrim Camogie Executive.
Which club game, that you played in, will you never forget and why?
It would probably be my first ever senior game for Portglenone. I was only 14 and it was against Rossa. The game in those days was 12 a-side and we actually played this game on the soccer pitch at Bellaghy Road. I was corner-back. It was also my first time playing alongside girls who would have been heroes to me when I was watching my mum and the Geraldines girls playing over the years.
Which club game, that you watched, will you never forget and why?
Rossa's All-Ireland Senior Club final in 2008. They had been very close a couple of years before that but in 2008 they managed to win the title in very tough conditions in Ashbourne overcoming Drom an Inch from Tipperary. That day Rossa were brilliant and we were delighted to see a very talented group of girls who had been the best in Antrim and Ulster for a number of years win an All-Ireland Club title.
Which county game, that you played in, will you never forget and why?
The Ulster final in 2008 stands out in my memory. We played Derry in Dunloy on a Sunday evening. There was never much between both sides at that time but I remember it was a brilliant all-round great team performance for Antrim and we managed to get over the line. We had a super bunch of girls in that Antrim squad at that time and we had missed out in the All-Ireland series so it was nice to pick up a piece of silverware with that team.
Which county game, that you watched, will you never forget and why?
The 2010 All-Ireland Hurling final is one that sticks in the memory. Tipperary stopped Kilkenny's drive for five. I was lucky enough to be in Croke Park for it and the atmosphere was electric and the hurling was amazing. You knew Tipp were not going to be beat that day.
What was the funniest thing you ever saw in a game?
I remember going to watch my mum play a match in Falls Park in Belfast. In those days the camogie pitch had a big slope going towards one end. A few years later, I was playing matches on the same pitch and it was literally a game of two halves – that hill was something else.
What was the strangest thing you ever saw in a game?
We played Creggan in a Senior League match in 2008 and the final score was 0-3 to 0-2 to Geraldines. The half-time score was 0-1 each.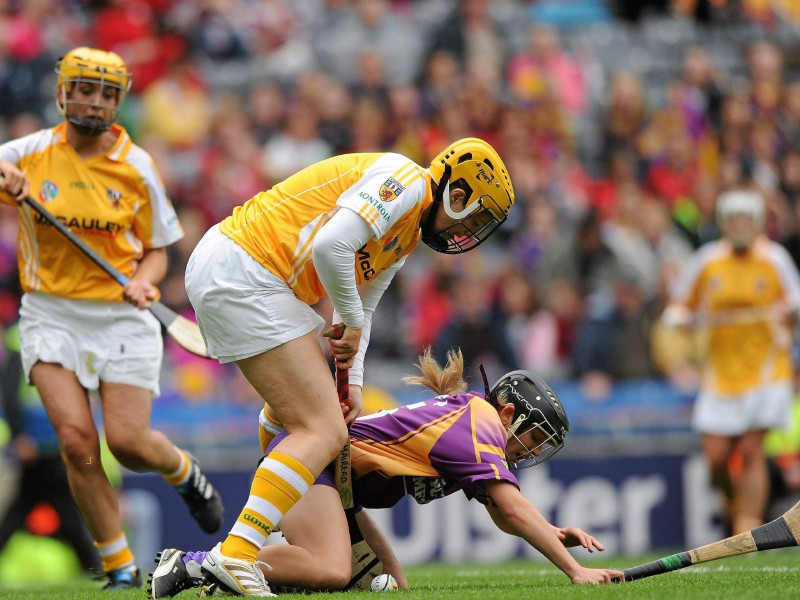 ONE TO WATCH…Chrissie remembers the epic All-Ireland final of 2011 as her most memorable game
What was the most memorable performance from a player in a game that you watched?
Antrim played Wexford in the All-Ireland Intermediate final in Croke Park in 2011. Jane Adams scored 0-11 from Antrim's tally of 0-14. While we lost that final, Jane was simply superb and showed her worth yet again on the big stage.
What was the most memorable performance from a player in a game that you played?
In 2019, we played in the Greenlough Over 35s tournament and Mairead Graham was outstanding in every match. We won the tournament and Mairead was reeling back the years with her runs forward, striking, score taking and style of play – just as she did in every game she played for Geraldines, UUJ and Antrim. A class act.
What did you love about the games you played in?
Camogie was my life when I was playing and I consider myself very fortunate to have played with some of the best camogie players at club, county and university level. I enjoyed being part of a team set up and the camaraderie and craic in the changing rooms as well afterwards especially after a big win.
What did you hate about the games you played in?
By the end of my playing days with the club I hated playing Loughgiel. On a serious note, there was probably nothing I hated about playing matches – that's what we trained and prepared for. But I definitely didn't enjoy the nerves I felt before matches. It was more putting myself under pressure to perform and not let the team down. I was always a confidence player too and if I felt the manager didn't have confidence in me, then I know that affected me. They say nerves are a good thing but it was always good to hear the final whistle especially in games where I was playing in goals.
READ MORE – Jessica Foy mixes her commitments with Down and Glentoran. Click here…
Receive quality journalism wherever you are, on any device. Keep up to date from the comfort of your own home with a digital subscription.
Any time | Any place | Anywhere
No tags for this post.
Posted: 4:00 pm April 24, 2022