Name: Paul Ward.
Teams played for: Fermanagh and Derrygonnelly.
Which Club game, that you played in, will you never forget and why?
The 2015 county final against Roslea. After a tough week for the club our parish needed this win. The game itself was a fantastic high-scoring game and the celebrations and emotions after the victory are something I will never forget.
Which club game, that you watched, will you never forget and why?
Ulster Senior Club quarter-final 2019 v Trillick. I had received a bad injury in June of this year so had to watch this fantastic game. Two excellent teams just going for it with open, attacking football. We needed a last kick of game to equalise in normal time and after going four down in extra-time, the boys somehow found the will to level it and go to penalties. The drama was incredible and the tension was unbearable. When Lee Brennan was the unfortunate player to miss with what was inches away from being a perfect penalty to give us the win – it was an incredible feeling.
Which county game, that you played in, will you never forget and why?
Probably my senior championship debut against Cavan in 2010. I had always wanted to play senior championship for Fermanagh and to be part of the first Fermanagh team to win a championship game was special. Personally the game went well for me with three from play. My brother Daniel also made his debut in the same game which added to the occasion.
Which county game, that you watched, will you never forget and why?
The 2001 All-Ireland final between Galway and Meath. Pádraic Joyce turned in one of the great All-Ireland performances. He scored 10 points with nine of those in an amazing second half. It was my first All-Ireland final and to be there to witness one of the game's greatest forwards turn in such a wonderful performance was an occasion to remember.
What was the funniest thing you ever saw in a game?
This happened to me in a league game versus Devenish. I was beside the Harps dugout and Shane McGullion had the ball. I wanted it short, Shane went long and buried the ball into side of my head. It tossed me straight to the ground, the bench burst into laughter…. I got up thick as, threw Shane a few choice words which only made him laugh. I jogged back to full-forward line where Kevin Cassidy was doubled over laughing as well as the Devenish defenders.
What was the most memorable performance from a player in a game that you watched?
From recently I'm going to go for Conall Jones against Clann Éireann in the Ulster Club semi-final. That day he was unmarkable, he finished with 1-5, his link up play with Gary McKenna, another top class forward, was superb. Conall's striking that day was exceptional, all his points were beautiful scores and went a long way to ensuring we made our first Ulster Club final.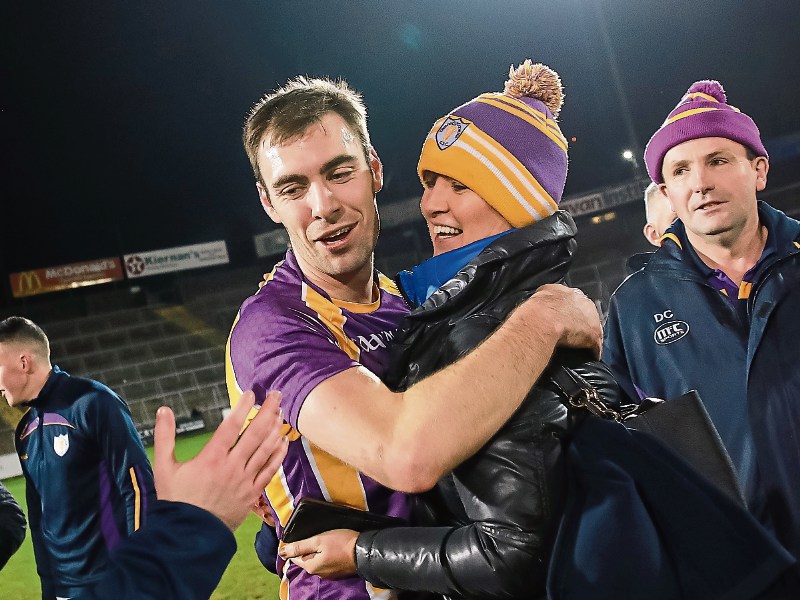 STEPPING UP…Conall Jones was sensational against Clann Éireann last season
What was the most memorable performance from a player in a game that you played?
I'm going to go for two here. Stephen Burns and my brother Daniel in the 2009 championship final v Roslea. We had lost the previous final and wanted to make amends. Stevie was marking Seamie Quigley who was exceptional in the lead up to the game, posting big scores. Stevie turned in a superb performance and curtailed Seamie better than any man did that year. Danny was no 6 and controlled the game, swept up at the back and drove us forward. Two exceptional performances that went a huge way to seeing us home to victory.
What have you loved about the games you played in?
Everything to be honest. I have been lucky enough to pull on my clubs and county jersey. I have played with lifelong friends at the club and made lifelong friends with the county. Every game brought new and different challenges which tested me, some I passed and some I failed but I wouldn't change a second of any game I played in.
What have you hated about the games you played in?
As above, there have been disappointments, defeats and injuries but these only make the good days that much sweeter so I can genuinely say I have hated nothing about the games I have played.
READ MORE – Derry and Bellaghy star Joe Cassidy's memorable moments Click here… 
Receive quality journalism wherever you are, on any device. Keep up to date from the comfort of your own home with a digital subscription.
Any time | Any place | Anywhere
No tags for this post.
Posted: 12:00 pm March 29, 2022