By Niall Gartland
MARIA Mooney rolled back the years as Eoghan Rua claimed All-Ireland Junior honours last weekend – and she says that she appreciates it much more than the glories of the past.
The Coleraine and Portstewart-based outfit won All-Ireland Intermediate titles in 2011 and 2012, but the talented full-back was new to the scene in those days so it's fair to say it didn't mean quite as much.
Barren years followed for the club for various reasons (Mooney herself spent four years teaching in Spain), and it seemed like Eoghan Rua's days as a top camogie club were firmly in a the rear view mirror.
But everything came together beautifully this season as familiar names like Katie Mullan and the McGoldrick sisters, Grainne and Meabh, put their shoulders to the wheel, climaxing in Saturday's dramatic one-point victory over Kerry side Clanmaurice.
Mooney, who is set to pick up a Gaelic Life All-Star this Friday, said: "A few of us have been away for a few years, and it just turned into a magical moment where we managed to have everyone available.
"You know what it's like with women in sport having babies. Meabh came back months after having her third baby, Grainne has just had a baby as well, but they were able to play. [Irish Hockey Captain] Katie Mullan was able to join the group again as well as she had that little window before she has to commit 100 per cent to the hockey.
"So this is something we definitely didn't anticipate, and I found Saturday quite an emotional occasion really. This was our team ten years ago, the likes of myself, Katie, Eilis [McNamee] were the babies on that team, so for us to be the leaders on this team is so special. It was surreal, it's such a rarity that something like this happens.
"The team that won the All-Ireland in 2011 and 2012 was really young. Our oldest player was Grace [McMullan], who's still playing for us, in goals now. Then the next oldest was Grainne who was in her mid-twenties. We're like an adult team now."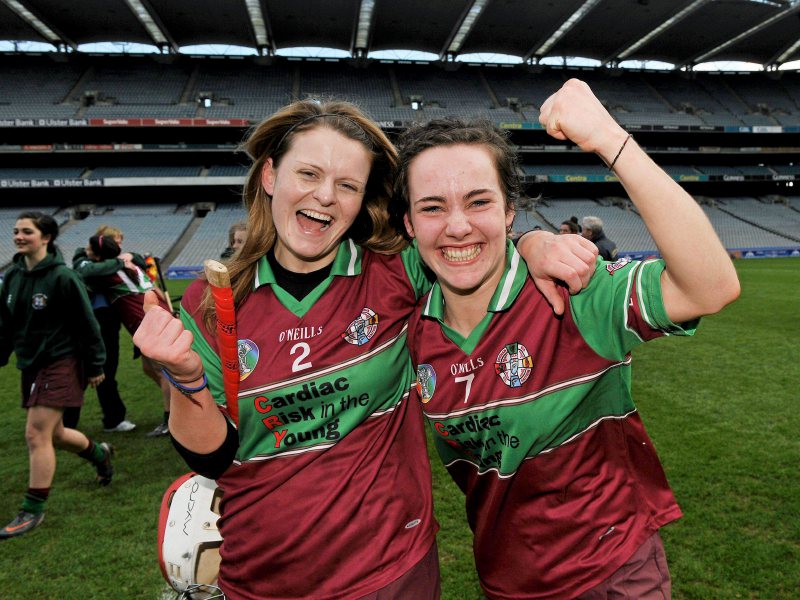 BACK IN THE DAY…Adele Archibald, left, and Maria Mooney celebrate after winning he 2011 All-Ireland
Maria is from a family steeped in the GAA. Her father is former Tyrone and Edendork footballer Hugh, and her brother is former Derry player Ruairi. She spent the last four years teaching in Madrid, and the time away gave her a renewed appreciation for the association and her local team Eoghan Rua.
"I never made a decision ahead of time about whether I'd come back to Ireland or stay in Spain. People asked me every year if I'd come back and play camogie again, but I said I just don't know.
"I came back home over lockdown and I gained a fresh perspective on the community and the girls. I went back and did my final year in Spain, I ended up playing football as there was no camogie out there.
"When I came home, it felt more fun than ever. The pressure and the commitment has changed for the better, everything has a fresh feeling for me, and maybe that's why I played relatively well this season. I wasn't taking it as seriously, I was just enjoying everything more, there was less pressure."
Nonetheless, she had the unenviable task of marking Clanmaurice's star player Jackie Horgan in Saturday's final. She scored 1-3 from play but Mooney was happy with her own personal performance.
"We knew who their go-to players were and Jackie was obviously one of them, she's their main scorer. Her hands were so sticky, she was flawless and caught everything. My job was basically to spoil that. Yes she got 1-3 from play but I still felt I did everything I could. It shows you what a great player she is that she still scored so heavily."
It's her third All-Ireland medal, but Mooney says this one means more than the previous two, which were won all the way back in 2011 and 2012.
"I feel much more appreciative of the value of it, and what it means to me and the team. I was young and naive in those days, I was going with the flow. With the exception of one match, all our games have been really tough and it's great that we've been able to come through them, it's been a class season."
READ MORE…Eoghan Rua camogs back in the limelight. Click here…
Receive quality journalism wherever you are, on any device. Keep up to date from the comfort of your own home with a digital subscription.
Any time | Any place | Anywhere
Posted: 10:00 am March 10, 2022