ULSTER U-20 CHAMPIONSHIP FINAL
TYRONE V DERRY
Sunday, Athletic Grounds, 6pm
DERRY U-20 manager Mickey Donnelly believes that victory in Sunday's Ulster final against Tyrone would further vindicate the county's decision to appoint outside managers for the u-20 and minor management positions.
Tyrone man Donnelly and Donegal native Paddy Campbell (minor) are the current bosses in charge, something that has led to some criticism – most notably from Gaelic Life columnist Joe Brolly who has taken aim on a number of occasions in this newspaper.
Donnelly, however, has said that back-to-back provincial crowns would be hard to argue against.
"I tell you what frustrates me about it," said the Aghaloo native.
"I would be very passionate about football and it's my life. I make no apologies for that and anybody who knows me knows that's the way I roll.
"When I take on a job I try and do it to the best of my ability. If there are people out there who can do the job better than I can, then that's fair and appropriate.
"But at the end of the day we have now played five Ulster Championship matches over the two years and we have won every one. "It could be five out of six on Sunday evening but five out of six is still not a bad
record.
"You sometimes think that sometimes people are peddling their own agendas and that's the way you have to look at it."
Sunday's encounter at the Athletic Grounds will be the first time that Donnelly has managed against his own county in championship football – and he admits that it's an unusual feeling.
"It brings its own bits and pieces I suppose," said Donnelly, who is also managing his home club this season "I had five years with Tyrone at minor level and I am heavily involved with my own club. I would consider myself a very proud Tyrone man.
"I would say as well, I'm very fortunate to be managing Derry and this group of players.
"I'm acutely aware of that and I have let the lads know that on many occasions. To be in the position I'm in, I know I'm very privileged.
"I've made a commitment to do the best that I possibly can for these lads over the last two years and I think I'm doing that. Hopefully I can continue to do that this weekend.
"My own county are coming down the track but it's not about me, it's about the 33 lads who have been training with us and giving blood, sweat and tears to Derry football."
Derry are in the final courtesy of a 10-point comeback victory against Armagh – a game they won 5-12 to 2- 13 – and a hard-fought dismissal of surprise semi-finalists Fermanagh.
Donnelly believes that the squad's character has been evident once again in the last few weeks as they prepare for the sizeable challenge of the Red Hands.
"Over the last two years we have been in some real sticky wickets," he said.
"We were 10 down against Down last year after we played a brilliant Donegal team in the first round. Then we had Armagh this year.
"The players I see in Owenbeg have brilliant heart and a great will to win."
That character will very much be needed against an excellent Tyrone team.
"I think it's going to be a fantastic evening's football with the minor final on too (Tyrone v Monaghan).
"I saw the Monaghan and Tyrone minor match in Carrickmore earlier in the season and it was really high quality stuff.
"That should be a cracking match and ourselves against Tyrone in the u-20s should be a real ding-dong battle too."
Donnelly also believes that Derry can continue to move forward at senior level despite dropping down to Division Four ahead of the 2019 season.
Damian McErlain's men did manage to escape the bottom division this year, and the u-20 manager predicts a brighter future.
"Lavey won the Paul McGirr final, they were in the u-21 final and Bellaghy walked the St Paul's tournament," he said.
"Club football, as it always has been, is very, very strong in Derry.
"When Derry were at their strongest, winning the All-Ireland in 1993 and winning National Leagues, Derry club football was the envy of everyone else.
"I don't mean it isn't at the moment, Slaughtneil have dominated a wee bit, but you had a Lavey sde who won an All-Ireland Club, a Bellaghy team who were beaten in a final, Dungiven won an Ulster Club, Ballinderry who went on to win an All-Ireland, Loup won an Ulster club.
"You had a spread of strong clubs and I think can a lot of people read into this club v county rivalry, but the support I've had from clubs has been second to none.
"I'm very optimistic with what is happening with young players in Derry."
There are shoots of new life showing with these young teams.
"It would be very patronizing to say that it's exciting times for Derry with a Division Three campaign to come next year that's highly competitive, but there is still an air of optimism there."
n.mccoy@gaeliclife.com
Receive quality journalism wherever you are, on any device. Keep up to date from the comfort of your own home with a digital subscription.
Any time | Any place | Anywhere
Posted: 12:00 pm July 14, 2019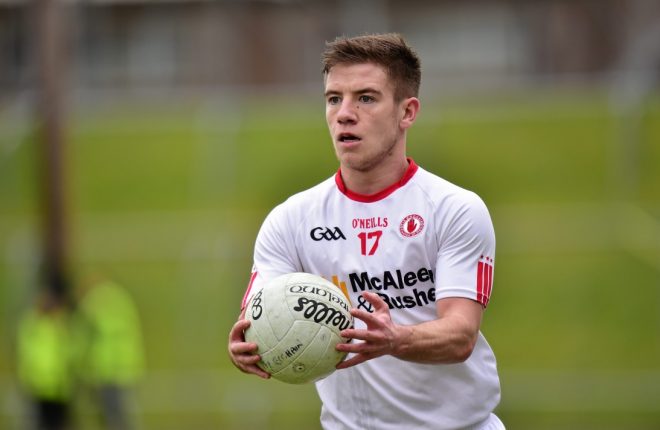 Mickey Donnelly expresses his concerns about Tyrone's attacking unit.