By Kieran Lynch
LAST YEAR was an unforgettable one for South Armagh club Belleek, as they defeated Crossmaglen Rangers Seconds to claim the Junior Championship last October.
The club hasn't rested on its laurels however, and have opened the season with four wins from four in their first season at intermediate level for 20 years, and have opened up a new pitch, which is proving to be a good luck charm.
"We've had two games on it now, and won both of them thankfully," said manager Gareth Thornton of the club's new facilities, before discussing their start to the season.
"Overall, we've won four out of four and we're going well. The plan was to try and hit the ground running and get a good start. The first two games were against Keady and Forkhill – two strong teams – but we really targeted our preseason towards those games and fortunately enough, we pipped Keady with a goal, with literally the last kick of the game.
"I think that gave the lads massive confidence, and then whilst we played against a skeleton Forkhill team – I think they were missing eight or nine players – it's still never an easy place to go to, and the boys ground out a good result.
"The confidence has built from that, and we've beaten Collegeland and Ballyhegan on our new pitch, and we're getting closer to survival every week, which is our goal for this season."
Belleek may be a small club, but the success they are enjoying on and off of the pitch is a result of the mindset and the camaraderie of the players, who have fully bought in to what Thornton and the management team are trying to do.
"The boys are a real good bunch, and they're a tight-knit group," Thornton said.
"They're your stereotypical small rural club; 26 men, they all buy in, they do what's asked of them, and they have an all-in mindset. We won't get ahead of ourselves, the aim is still survival, but hopefully with a few more wins, we can achieve that."
As Belleek make the jump up in levels, development is key for the club, and the new facilities is a statement of their progression, and Thornton says it took a lot of hard work to get it to this point.
"It's top class. It's as good of a surface as you'll see and it's as big as they could have made it," he said.
"It's a great help for the club to have a pitch of this level. There has been an awful lot of hard work that has gone in over the last number of years, with many people putting their shoulder to the wheel, to get it to where it is. For the people around the club, and those who have contributed to get it to where it is now, it's fantastic."
The final ingredient for Belleek's good start to the season has been the arrival of the experienced Frank Dawson, who has joined into the management team, in an advisory role. Dawson formerly managed Antrim, and now coaches Bredagh, who top Down's Division Two, as well as lending his advice to Belleek when he can.
"Frank's been brilliant. He's with us for one training session each week, plus the match at the weekend," Thornton explained.
"This is year three for me, Brendan O'Neill and Brendan Savage, and we felt that we needed a fresh pair of eyes, and when a man with Frank's experience is prepared to come on board and assist in any way that he can, it's brilliant."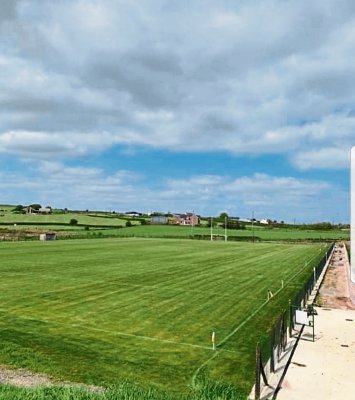 Receive quality journalism wherever you are, on any device. Keep up to date from the comfort of your own home with a digital subscription.
Any time | Any place | Anywhere
No tags for this post.
Posted: 3:00 pm May 19, 2022