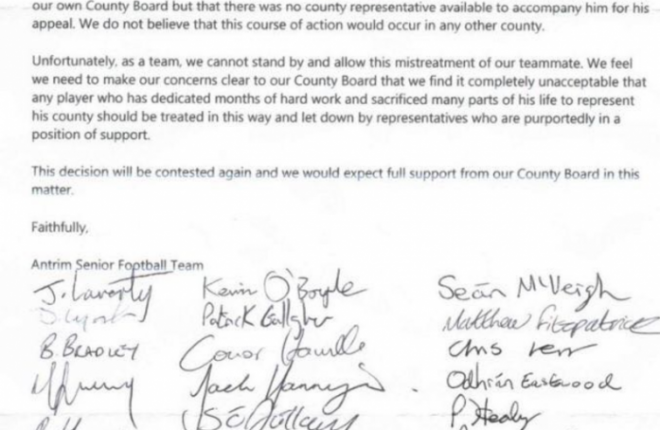 THE Antrim football squad has issued an extraordinary letter to their own county board criticising their actions in Matthew Fitzpatrick's recent suspension.
The attacker is currently appealing his two-game ban in a last-ditch attempt to be available for the county's Ulster opener against Donegal, but the panel has made clear their frustration at the alleged actions of the county board.
It is understood that Fitzpatrick was sanctioned during an appeal of Conor Murray's sending off against Armagh last month.
The GAA, the panel alleges, asked Antrim to identify a player from an image, but county management and officials agreed that it could not be done with total certainty. The panel then alleges that the county board did then go onto identify the player to Croke Park, resulting in the two-game ban.
The statement, signed by 34 players, was unwavering in their criticism of their own county board.
"We find it unacceptable that not only was this player suspended as a result of information provided by our own county board but that there was no county representative available to accompany him for his appeal," it read.
"We do not believe that this course of action would occur in any other county."
The statement went on to state that the squad expects full support for Fitzpatrick's latest appeal.
Posted: 7:32 am April 25, 2017