Coaches tell us that results have to be earned, and that there is no magic wand that can be waved over a group of players, which will immediately improve their performances. However, Ronan McAlinden argues that using performance analysis platforms like Performa Sports certainly speeds up the process.
"In the two clubs which I have used it, it has nearly produced immediate improvements. In 2013 Tír na nÓg went undefeated in the league and the only match we lost was the championship final. With St Peter's this year, at the minute we have won seven games on the bounce. We are one point behind Killeavy."
McAlinden reckons that using Performa Sports, along with committed players, and a solid management approach can yield the correct results.
"If a manager comes in and puts in a different training programme in place sometimes you see results automatically, and sometimes it might take a year. From my own personal experience with Tír na nÓg in 2013, it wasn't just the Performa Sports that made us win games. It was on top of a lot of things. It was the piece of a big pie that helped bring the ingredients together."
It is also worth pointing out that before Tír na nÓg went on their undefeated run in the league in 2013, they had almost been relegated, and won their last game to avoid the drop. It was at that point that Danny Turley called up Ronan McAlinden and made him a proposition that would dramatically change the fortunes of the Armagh club.
"Davy Turley and Joe Turley, two of Danny's brothers, were playing with us.
"Danny was trying to get some new features of the program going at the time. Danny phoned me and said that he would like to come on board, and nearly use us as a guinea pig to try and iron out the problems that he has from his end to try and get it working perfect.
"Anything that can add that three or four percent to your performance I was going to buy into it."
The Performa Sports system is an iPad app and cloud platform. You can gather data from a match or training on individual player and team performances. That data can then be synced with the video recording of the game, which is in turn provided to players who can learn which parts of their game they can improve upon. The players can access this online in their own time and we can use it for feedback and coaching.
The system creates a highlight (or lowlights) reel of each player's performance.
"From a player's point of view that is better as they don't have to sit through the hour and ten minutes (of the game)," McAlinden said.
"From a manager's point of view I would have tagged six or eight clips that I wanted to show on the Tuesday night."
McAlinden had toyed with using stats to analyse games before the Turley's contacted him. Himself and Paddy Toner studied games using pen and paper, creating tally sheets for different stats.
But that black and white approach turned into glorious technicolour when Danny Turley came on board in 2013.
"When he offered it to us in 2013 I jumped at the chance.
"The big thing that worked for us at the start was that it was Danny who was doing it for us.
"We had the expert there.
"In that 2013 season the first two or three times we did a video session with the players that was a real culture shock, and to me as a manager.
"I remember trying to get Danny's advice in the first few sessions. But you could tell from the first session that boys were buying into it."
While it was a culture shock, the management and the team adapted quickly, and they soon realised that this could be the turning point for their club.
"I remember showing someone carrying the ball into the tackle and being turned over, you showed the clip and then look at the fella in the crowd and he is sitting there with the head down, because he knew he had done something wrong.
"The big thing at the start was that the players knew that there was going to be no hiding place on the pitch."
After six matches, the Performa video analysis session became an important part of the management process. McAlinden used them to encourage his players to improve.
"I was saying make sure you aren't the one being shown in the video sessions of not tackling back, and not doing your job.
"In the 2013 season we had a really good season in terms of winning matches. The players had got used to Paddy Toner's training. They had got used to me, they had won the first few games, and they had got used to the video analysis. Because we were winning boys were buying into it more."
McAlinden felt that the system also had a subliminal message for the players.
"It said to the players that the management were going into it in a wee bit more detail and valuing what they do."
It was a no-brainer for McAlinden that he would introduce it to St. Peter's of Lurgan, the club he is coaching this year, and they have adapted to using it quickly.
"We sent a fella from St Peter's to do a training course with Performa Sports and Ulster University. From a beginner's point of view, from going in to learn the system and the process he went on a one-day course in Dublin and within three or four weeks he was flying with it. It is a very user friendly package."
Lurgan's unbeaten seven-game streak illustrates just how good the system is, and the players are buying into it.
"In St Peter's they are very keen. They would be putting into the Whatsapp group when the video is uploaded, they want to see what they can improve on."
The players know that it is not a magic wand, but their poor performances are disappearing fast.
In Today's Gaelic Life – How Killyclogher used Performa to turn around a dismal Tyrone Championship final performance.
Receive quality journalism wherever you are, on any device. Keep up to date from the comfort of your own home with a digital subscription.
Any time | Any place | Anywhere
Posted: 10:00 pm July 7, 2017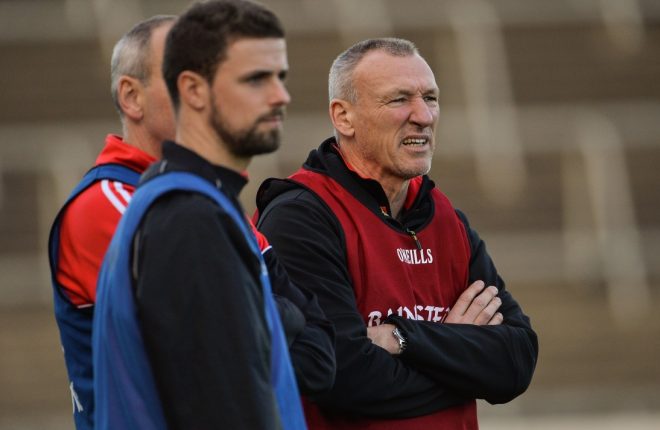 Lamh Dhearg's Kevin Herron used the Performa system to win championships with St Mary's Mageean cup schools hurling team,...