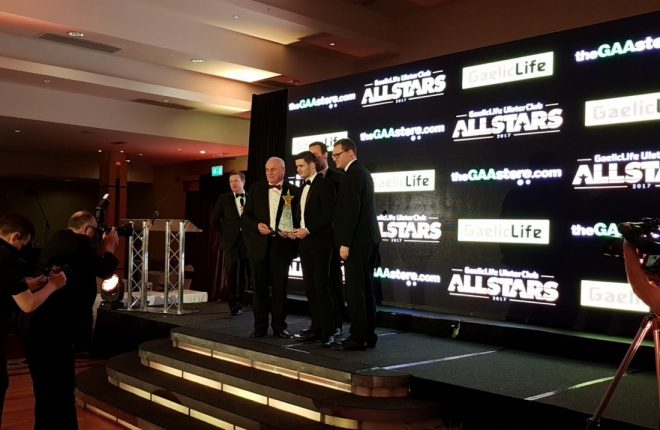 The Seventh Gaelic Life Allstars was a resouding success on Friday night as the brightest and best club players received their awards at the Hillgrove Hotel in Monaghan.
The four Allstars teams were honoured, and the individual awards were announced as well.
Slaughtneil's Karl McKaigue won footballer of the year, St Macartan's Shannon McQuaid won ladies footballer of the year, Gerald Bradley of Slaughtneil was named hurler of the year and Tina Hannon, also of Slaughtneil but formerly of Offaly, was named Camog of the year.
Antrim's Andy McCallin received the Hall of Fame award for his performances for St John's, and Balloon maker Ryan Duff achieved a new world record on the night.
Over four hundred people attended the event and plenty showed their appreciation on Twitter.
Kevin, Seanie & Aileen. Ulster Club All Stars # CavanGaels #GaelicLifeAllStars pic.twitter.com/GJk1ISldrf

— Mary McCarthy (@MaryMarymccavan) January 12, 2018
The leading ladies at the #gaeliclifeallstars @Tyrone_Camogie @CavanCamogie @AntrimFix @downcamogiepro @DoireCamogie@loughgielgac @GACSlaughtneil @clonduffcamogs @CCrosserlough @EglishGAC pic.twitter.com/4IKHaqYNIG

— Ulster Camogie (@UlsterCamogie) January 12, 2018
And the @UlsterLadies Player of the year our very own @_ShannonMcQuaid well done Shannon!! #GaelicLifeAllStars #Ulsterchamps #stmacstar pic.twitter.com/ufBQVBCYMe

— St Macartans LGFC (@st_macs) January 12, 2018
@loughgielgac gals representing tonight at the @Gaelic_Life All Stars. ☘️ #GaelicLifeAllStars pic.twitter.com/54VaLj0pU0

— Megan Coyle (@Megan_coyle1) January 12, 2018
Big night for our Jonny #GaelicLifeAllStars pic.twitter.com/bF6MydkD39

— John McGinn (@JohnMacMahonCo) January 12, 2018
As from Monday there is a new dress code for Raymond at work #GaelicLifeAllStars pic.twitter.com/kWzXyQPYQH

— MC (@mcullenpics) January 13, 2018
.@QuinnBPltd UGAAWA chairman John Martin and @sportsfileollie at @Gaelic_Life Ulster club All Star Awards #GaelicLifeAllStars pic.twitter.com/a3LzflmOfx

— Ulster GAA Writers (@ulstergaawriter) January 12, 2018
Ryan Duff attempts a balloon modelling world record #Gaeliclifeallstars pic.twitter.com/b8BXs3ZO2Q

— MC (@mcullenpics) January 12, 2018
Posted: 11:23 am January 15, 2018