Name:

David Mulgrew

Age:

19

Occupation:

Student at UUJ and Personal Trainer
Teams played for:
Ardboe and Tyrone
If you were throwing a party and you could invite anyone in the world, dead or alive, who would you ask around?
Would have to be Dan Bilzerian, I would let him do the rest of the inviting for me
Where do you like to go out to celebrate after a big victory?
McAleers usually
If you weren't playing GAA what would you be at?
Traveling the world
What's the worst pitch you've ever played on?

The neighbours, Moortown. However, their new pitches are not bad.
Which character in any film are you most like?
The famous character out of Dumb and Dumber, Lloyd Christmas unfortunately lol
Any odd items in your kit bag?
Very little, would sometimes find the odd sock lying at the bottom of the bag from couple of training sessions before.
What's your preferred brand of gear?
Nike & Under Armour
Who's the biggest joker in the teams you play for?
Tyrone- Would be big Justin McMahon, tells the worst jokes in the world.
Ardboe- Would be Kyle Coney, man comes out with some sayings.
Which team mate has the best looking other half?
No comment
Who is the worst trainer?
When training starts to get in any way intense, Matthew O'Neill seems to have a bad hamstring.
Who spends most time in front of the mirror in the dressing room?
Caolan Mallaghan, never done fixing that hair of his.
Who's the best/worst person to share a room with on away trips?
Best- Ronan O'Neill.
Worst- The 'KID' Michael Cassidy, man never sleeps.
Who's the best/worst person to sit beside on the team bus?
I sit in the back seat on the bus, so the back seat gang are all sound. Except Frank Burns and Kieran McGeary, when they decide to leave the back seat occasionally.
Who has the best and who has the worst diet on the team, and what does it include?
Best- Big Hugh Pat McGeary would be always keeping the boys right on their diets and telling us always to get the carbohydrates in at all times.
Worst- Hugh Pat McGeary diet is usually good but when it comes to training weekends, he cannot resist the cheesecakes and passionfruit.
Toughest opponent you have faced?
Cathal McCarron can be tough to get by at training sometimes
Best or worst quote you've heard, either from a manager, player, opponent?
Malachy Teague getting us in a huddle and telling us to stop acting like prima donnas
Best manager you've ever played under?
Malachy Teague, legend.
Best ever performance?
My U8s career was solid; I never passed the ball, so I had high scores each game.
One to forget?
Tyrone minor championship final in 2014 against Moortown
When you were playing in the back garden, who did you pretend to be?
Steven Gerard
If there was a transfer market who'd be in and who'd be out of the team?
Nobody
Posted: 7:00 pm December 15, 2017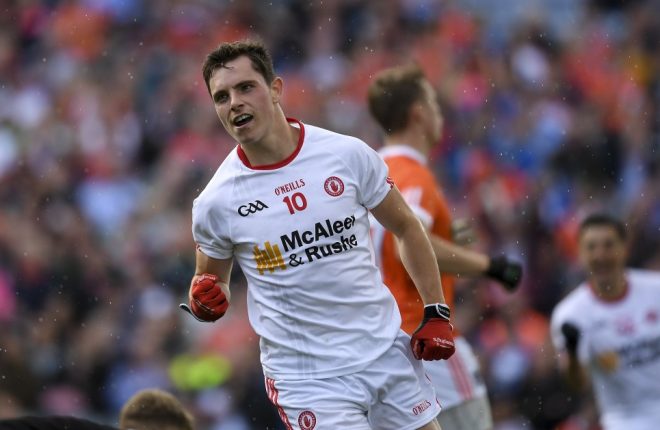 The 19 year old David Mulgrew proved his talent on Saturday night.
GAELIC Life columnist Brian McGuigan has taken a detailed look back at the highs and lows of his footballing...