In a special in-depth interview, Jim McCorry sat down with Niall McCoy to chat about his recent health problems and his life as both a player and a manager…

Part One – Jim McCorry: The Man
BASEBALL hat on and arms folded, Jim McCorry's stands assertively on the Pairc Esler touchline.
Taking on an almost statue-like state when the action commences, he maintains a steely stare throughout.
The feet rarely wander, he's not a man for prowling up and down the line, and any instructions are rare – but delivered with absolute authority.
There is no doubting that the Lurgan native is a presence when wearing the Bainisteoir bib, both physically and mentally. Jim McCorry is a commanding figure.
October, 24 2016: McCorry isn't such a physical presence right now. He has just come out of surgery after having a seven and a half centimetre cancerous tumour removed from his kidney and he's feeling something that he's not used to, weakness.
A man who towered over so many is now, in his own words, "like a 90-year old man.
When you arrange to meet 13 months later, you're not sure what to expect. Having last set eyes on McCorry during his controversial year in charge of Down in 2015, you wonder is the physical impact of the cancer obvious.
Fear not, for when McCorry bounces through the door of the Old School House in Rostrevor, he's never looked better. A recent set of test results have come back clear and he's due in the doctor's surgery in two hours to discuss some more. This still looks like the man that used to hold court with the GAA media scrum after games – even if the baseball hat is missing.
You've been meaning to have this chat for well over a year now, long before McCorry's illness became apparent, so sensitivity is required.
"And here, you can ask away about that. I'm happy to talk about that so don't be holding back." Problem sorted.
After stepping down from the Down job in August 2015, McCorry told his wife Roisin that he was taking a year out from coaching after almost three decades of non-stop commitment.
Retiring from his role as Director with the Newry and Mourne Council gave him even more free time, something that had been alien to him for as long as he could remember. Golf, charity work and holidays – previously postponed due to football commitments – would now dominate the agenda.
It was just before one of those charity trips last year that the former Armagh boss realised that his plans may be altered.
"After the whole Down thing I had moved on, put it behind me and I planned to take a year out of football," he said.
"I went to Tanzania to work with a wee charity I have been supporting (Kids4School). I was out there for two weeks to see the kids and help distribute food.
"I had lost a lot of weight before I had gone out and I was being sick after eating.
"I had scans organised when I was out there. I remember it was a Monday, half eight in the morning, and I went for an ultrasound.
"At 10 o'clock I got a phone call to say I had to come back for a bigger scan.
"That's when I discovered that I had kidney cancer.
"I had to have a few tests then to make sure everything else was functioning okay so the fat around the kidney, the tissue, everything came out and they sampled it to see how far it had spread.
"It was a seven and a half centimetre tumour, it hadn't spread outside of the fat itself, so they were happy enough that it was contained.
"They said they wouldn't do any chemo or radio so touch wood I've had a scan back clear. I'm waiting on other scan results and with the help of God they'll be clear too."
Physical conditioning has always been important to McCorry. He looked after himself when playing with St Paul's and Armagh and when he joined the Orchard management team in 1991, he introduced new concepts such as engaging with nutritionists.
In more recent years, his son Odhran, a personal trainer, has put him through his paces, ensuring that he remains a hulking figure despite celebrating his 60th birthday three months ago.
It was this commitment to his health that allowed McCorry to quickly overcome the physical toil of the operation.
"I would do a fair bit of training with any team I was with. I wouldn't have been doing the same level, but if we went for a training weekend away or we went to a forest park, I would have done a lot of the running, I would have been very active in the drills," he said.
"I was a manager, and I still am a manager, who is likes to coach rather than standing on the line giving orders.
"I always kept myself in good shape. I was a member of the gym, I played a bit of golf, I swam.
"Whenever I had the operation though I came out like a 90-year-old man.
"I was bent over, I was very drawn and grey.
"The day after I got out though I started to walk, I walked around the house a couple of times. The next day I walked up the road. The next day I walked up to the graveyard.
"In the space of two weeks the difference was massive. The medical people put that down to the fact that I did keep myself in good shape.
"Some people hate exercise, I enjoy it. My son (Odhran) is a personal trainer and a nutritionist and he had his own business in Newry before he moved over to Glasgow.
"He got married this year and the two of them are planning to go to Perth, I would have done a lot of work with him.
"Part of you wants him to stay nearby even though he is in Scotland, although it takes me longer to get to the airport than to fly across to Scotland.
"My daughter (Tara) is in Sydney and we went last year and did Sydney, Melbourne and all that.
"This year we're going to spend time on the other coast. You've to give them wings."
McCorry continues to rack up the stamps on the passport with charity work and pleasure both taking him to all corners of the planet.
It's a passion that had to be rolled back when managing, but he had a different approach when playing – even if it meant that he missed out on some big days in the orange and white of Armagh.
One of those was the county's run to the 1977 All-Ireland final, although it's not something that has caused him sleepless nights.
"I came in to the team first in 1976 before the great run of '77," he said.
"I was just out of minor. I had a good minor and u-21 career with Armagh and captained the u-21s.
"I remember Gerry O'Neill calling at the house and asking me to join the squad.
"I was starting university that year (1976) and I got an offer to go out to Chicago to play football, so I went out.
"I missed the run of '77, which I always regretted, but I never regretted going to Chicago and I went out for three or four years after that.
"I rejoined the squad after '77 and I was 11 years in all with the county.
"I played in a variety of positions. Scoring wasn't my forte so when I was used in the forward line it was more in a marking role.
"Father (Sean) Hegarty always used me as a man-marker. I suppose I would have been a bit tenacious in my tackling and I tried to keep men quiet.
"Thank God he didn't put me on Frank McGuigan that day (when he scored 10 points in the 1984 Ulster final).
"There was maybe three men on him that day and I wasn't one of them so I haven't had to deal with the slagging from that."
McCorry may have missed out on an Ulster title that year, but he did get his hands on the Anglo Celt in 1980 before their All-Ireland dreams were shattered by Roscommon in a thrilling semi-final in August.
Three years previously, Armagh had come from seven points down against the same opposition to force a replay, which they won, but the shoe was on the other foot at Croke Park as the Rossies recovered a seven-point deficit.
McCorry, noted for searching for psychological edges, will no doubt have appreciated the Connacht's side refusal to come out for the second half until they were ready.
The man behind that move was Tom Heneghan, the Roscommon manager. Thirty-five years later, when Kilcoo were winning the Down senior title under McCorry, Warrenpoint were doing likewise at intermediate level with Heneghan amongst their selectors.
When the match officials finally got Roscommon out of the dressing room, Armagh were caught cold and their opponents went to town and kicked 2-13 in 35 minutes.
McCorry left the disappointment of 1980 behind him to experience a different kind of cold, one that would take him to the most unusual of places the following year – the Arctic Circle.
"I graduated in 1980 and went to Canada for two years," he continued.
"Before I left we won the Ulster Championship, Roscommon beat us in the semi-final and I was marking big John O'Gara in that game.
"The football that year was a great experience and then I headed out to Canada after that.
"I was due to come back in '81 for the Ulster Championship but I couldn't because I was doing some research in the Arctic Circle, we were doing some work around the Mackenzie Delta.
"I was doing a masters in Geography and an offer came up through one of the research doctorates to go up and do some study on how sedimentation was affecting river flows and ice melt.
"It was commissioned by the Canadian Government and you'd go up to various reference points and do you graphs and plotting.
"You weren't in the pure white but I remember flying in and having to land on a float plain. All you could see was dark below, and when you got out it was almost like night because there were so many flies and mosquitoes bunched together.
"It was an experience I would never forget. You'd dig a foot down through the soil to the perma-forst, and you'd keep your food there like a freezer.
"When you wanted a wash you'd go out on a boat and into the freezing water. It was different.
"It was a once a lifetime thing and as much as I wanted to come home and play football, I couldn't turn that down."
When McCorry did finally make it home, Armagh's stock had fallen. The silverware dried up and while there were some odd good days, McCorry's inter-county career just fizzled out.
"'In 1987 I finished up with Armagh and got married and moved up to Rostrevor.
"I didn't suffer a cruciate like you would now, but I got all my cartilage cleaned up.
"I got micro surgery and felt pretty good, but then I hurt it again. I just decided to walk away after that.
"I transferred to Rostrevor and I think I played maybe one game for the club. I had hurt myself again that year so that was pretty much it when it came to playing."
That brought to an end one segment of McCorry's career, but a new one – the one that would make him famous across Ulster – was soon to begin….

Part Two – Jim McCorry: The Manager
"A BOOZE fuelled weekend. I wonder do the county board fund the drinking?" "Every other county in Ireland can put a professional camp together but what do we do, do a bit of training and then go on the sauce."Jim McCorry couldn't believe what he was hearing.
The then Down manager had just returned from a training camp in London with the squad ahead of their 2015 Division Two final with Roscommon when word reached him that the rumour-mill had cranked into overdrive.
The internet had the scoop, the Mourne county players had taken the London ditty 'Knees Up Mother Brown' a bit too seriously.
It was a complete misrepresentation, but the die had already been cast.
"We went for a training weekend at London Irish and the guys worked really hard," McCorry said of the trip.
"We arrived on the Friday, did a really hard training session. I told the guys that nobody was going out that night but if they wanted to have a beer together in the hotel that was fine. And they did.
"There were a couple of guys who went to the pub beside the hotel before dinner and had a pint and came back.
"One of them took a photograph, stupidly put it up on Facebook and the whole thing was that we were out on a drinking session.
"I had a couple of beers with them, the whole point was that it was a bonding weekend planned around some serious training.
"We were meant to play London in a game the next morning but they had cried off so we knew it was going to be a training game.
"A couple of beers didn't do them any harm at all because that training game was probably the most intense game of any team I have ever been involved with.
"That night we told the boys to go out and to enjoy themselves but to keep the thing right, no fighting or arguing.
"We made it very clear that they were representing their county.
"We arranged to meet at 9am the next day for a 10am weights and recovery session at London Irish.
"One player missed breakfast but made it for the session and every other player was present.
"Obviously people get a bit of a rumour going and it's hard to stop.
"There were actually ex-players involved in the media who were making mischief too.
"You wonder why did they do that? They were writing stuff that wasn't true and none of them contacted me.
"These past players, who haven't managed at county level, were putting in lies then and for a good while after I finished. Maybe some of them are carrying grudges?"
Reflecting back on the madcap season, those drinking rumours were just one thread on a web of hindrance that pummelled at his enthusiasm for the job.
Any thoughts of a smooth transition from the James McCartan era quickly evaporated when the triumvirate of Benny Coulter, Ambrose Rogers and Dan Gordon decided not to commit for the 2015 season.
It was Coulter's decision to step aside that brought the most turbulence.
In November 2014, a few weeks after McCorry's appointment, the Mayobridge man released a statement confirming his departure and wishing the team and management all the best for the year ahead.
The story on the street was different. McCorry wanted all or nothing, and when Coulter couldn't commit to every aspect required, he was axed.
McCorry, however, flat out refutes that this was the chain of events.
"Contrary to social media, and all the rumours going around, no player was asked to leave.
"Every player that was there was given the opportunity to stay on and they made the choice, not me.
"It wasn't really harsh conditions for them to stay, I didn't say 'you must do x, y, z' but they made their choices.
"Benny owed the county nothing, big Dan Gordon had four young kids and couldn't make the commitment. Those are all understandable reasons.
"I had two long conversations with Paul McComiskey and he would have been asked to come into the squad but he had a very high intense job and couldn't commit.
"Dan had left the squad, came back in and left again. Ambrose hadn't really been playing.
"Those players, the big three, hadn't been doing a lot the year before anyway and Down needed to make changes.
"Whenever I met the county they asked me what would I like to do. I told them I would want to make changes because if you continued to do the same thing you were going to get the same results.
"I wanted fresh faces, I wanted a new approach for certain things.
"I told them that it's great to have the Down swagger, it's great to have the tradition, but it's not winning you anything and you have to look to the present to win, not the past.
"That was the ethos of the interview, everyone knew that changes were on the way so it wasn't a shock to anybody, even though it appeared to be a shock that they decided not to play."
The storm clouds cleared and finally the football took centre stage.
McCorry's new approach required time to settle, and with Meath, Kildare, Galway, Roscommon, Cavan, Westmeath and Laois completing a particularly tough looking Division Two, a relegation fight was the common thought.
However, with the second highest scoring average across the four divisions, the Mourne county topped the pile to secure top-tier football the following year.
It was an unexpected high for fans, but while the Division Two final loss to Roscommon was brushed off as nothing major, it would start a three-game losing streak that would ultimately lead to a tumultuous few weeks at the end of the season.
Game two in that run was a narrow Ulster loss to Derry. A bad result but one that McCorry felt they could recover from. However, Wexford, relegated to Division Four a few months previously, delivered the knock-out blow in the first round of Qualifiers to bring a sour end to a season that has started so sweetly.
Still, no point dwelling, eh? McCorry was already planning for 2016 when the legs were taken right from under him. In a sensational development, Down's county management committee recommended that his time with the county should come to an end.
In the Mourne county, clubs generally support recommendations from higher up the food chain. It's not a place where the boat is rocked too often.
This time was different though, at a county board meeting the clubs voted 22-20 in favour of retaining McCorry's services and an uncomfortable situation just became a whole lot worse with the press-gang reporting on every step.
McCorry put his bruised ego to one side and recommended a fresh start, but then came the phone call that set off the starter's pistol in his head with 'resignation' waiting at the finish line.
"The big problem was, for me, the management committee who I had met with twice, a section of them anyway," he said.
"The Wexford game was a bit of an embarrassment for the committee, but they were happy with what I presented in terms of changes I wanted to make moving forward.
"Two sucker goals in the last quarter, we missed a lot of opportunities, that happens.
"I thought it was all sorted, so whenever the vote went 8-7 not to be retained I was quite surprised at that.
"The county board overruled that and I was delighted to stay on. I really thanked the county board for doing that.
"I had intended to stay. We took a while to have the meeting and when we finally did I wasn't getting the vibe that we were going to move on together.
"I felt because what had happened I was always going to be under extra scrutiny.
"I was contacted by someone on the county board who said 'they haven't got you now, but they are going to get you' and that's when I decided not to stay on.
"It would have been unfair to leave it that late for the team too.
"I think I could have stayed on for another year to keep the continuity.
"I felt sorry for Eamon (Burns) because he was coming into Division One and on a hiding for nothing. I genuinely felt sorry for him, but it wasn't my making.
"The matter is closed, I don't hold any grudges and I was delighted to see Down go well in the championship this year."
And so came to an end McCorry's second spell in charge of a county team and like his native Armagh exactly 20 years earlier, it had ended on a disappointing note.
On May 28, 1995, Tohill, Gormley and co. stormed the Athletic Grounds as Derry eased to a 1-17 to 0-10 win in front of 14,000 expectant fans.
Privately, McCorry, who surprisingly remains the last man to take the McKenna Cup to the county, had already told county chairman Gene Duffy that this would be his final year in charge, but he wasn't afforded a quiet exit.
Directly after the game, John Grimley, whilst retiring from inter-county duty, publically lambasted his decision not to play a certain youngster by the name of Oisin McConville.
The Crossmaglen ace was just 19 at the time, but his teammates had already seen what he could do in training and the fans had heard the stories too. Anticipation was growing.
McCorry resisted the temptation though, a fact that McConville would late bring up in his autobiography 'The Gambler.'
Seeing McConville's thoughts in print didn't bother him though. It was, in his view, simply a management decision that he has made 100 times throughout his career.
"I think Oisin took umbrage with me because he felt that I was maybe responsible for him not breaking through earlier.
"Later on in my career I used young players, but at that time I thought Oisin maybe wasn't really for a full introduction even though he was doing great in training matches.
"Decisions like that you have to just make. I'm sure there are a lot of individual players who feel aggrieved at my decisions. All managers go through that.
"I did what I thought was the best for the team at the time and it didn't do him any harm because he progressed right to the top."
That isn't the takeaway moment from his five-year spell with the county though, the first of of those under the guidance of Father Sean Hegarty.
Instead, 1994 will be what Armagh fans remember when they think of McCorry.
The leagues had undergone a major change the year before and group finishing positions determined the division teams would start in the following year. One more win and Armagh would have been in a tier higher, one more loss and it would have been a division lower.
As it was they were consigned to Division Three football.
The Ulster Championship had been even worse. The Orchard county played six times and didn't even make a provincial final. Draws and replays with Fermanagh and Tyrone were followed by a draw and a defeat to Donegal in the semi-final.
Those were the glory days of Ger Houlihan, but even though fan-favourite 'Houli' goaled in four of their six matches, 420 minutes plus change of championship action didn't even get them their day out in the sun at Clones.
Pessimism was understandably rife the following season, but a League campaign followed that would take Armagh to Croke Park – twice.
Before that though was the famous win over Division One Dublin in the quarter-final at Breffni Park – 'Houli' doing what he did best – and that was followed by a semi-final win over Laois in the capital.
The famous Meath team of that era would prove a bridge too far in the final, with Bernard Flynn netting twice in the second half, but the sight of the Armagh fans taking over the Canal End and the Hogan Stand brought rare giddiness to a county that was finding the going tough.
"Armagh brought colour to the final and it was a real spectacle," said McCorry.
"The Meath goals killed us that day and a few other things went against us.
"I remember Colm O'Rourke scoring a point from the right hand-side, an alleged point because it was wide.
"I had the perfect line and so did the linesman. I said to him that it was wide and he said 'it's not my job'.
"I remember that annoying me that day and it was a score that really lifted them.
"Lady Luck was against us that day, it would have been lovely to have won it."
When his time with Armagh ended, something happened that would change his managerial career forever, he got his first job in Down club football.
Drumgath's Division Three success that year –in a final ironically against Kilcoo – would be the first of seven league titles won at all levels in the Mourne county.
They pale in significance to the six Frank O'Hare triumphs though while he also brought two sides – Mayobridge in 2001 and Kilcoo in 2012 – to Ulster finals in his time in Down club football.
It is with the Magpies that he achieved notoriety as he helped the club not only end a 72-year wait for the county title, but to become the dominant force in Down – a badge of honour they have continued to wear under McCorry's successor Paul McIver.
Incidentally, he stepped aside from his first spell with Kilcoo because he didn't think that the club could match the ambition that he demanded.
When he returned for a second stint, everything had changed and the rest, as they say, is history.
"They're an amazing club to work with, an amazing community and an amazing bunch of players.
"There's a lot of anti-Kilcoo feeling and it's
probably because of their success. Burren would have had it, Mayobridge would have had it.
"It doesn't really annoy Kilcoo, they just get on with it.
"Someone said to me that I built that siege mentality, saying everyone in the world was against us, and it certainly worked for those guys.
"I remember in 2002 winning Division One and they hadn't won the league in 46 years or something.
"I actually left after that because I didn't believe they were committed enough as a club to make the changes that were needed.
"I came back five years later, I think it was, and they had made an awful lot of changes, from facilities, the committee, everything.
"Roger Morgan was a great chairman and he did a lot of work. I actually remember Roger was crying when we won that Division One because it had been that long."
McCorry said that only that Down came calling, it's possible that he would still be in charge of the side.
"We came and won the championship in 2009, 70-odd years on since their last one – what a feeling.
"I remember the three in a row, the elation that brought, much like the six in a row this year.
"All of the wins were great, but there are wee special moments.
"I probably would have stayed on only the Down job came up.
"People say I would have left them anyway, but I would have left them when I felt jaded or when I felt that the players weren't doing what I was asking.
"I was actually saying to Conor Laverty after the second one that it would probably be the last because I thought the guys would be sick hearing to the same thing, but they always did everything I asked.
"Conor told me that it didn't sound stale, that they were enjoying the training and they wouldn't let me leave."
The bond between McCorry and Laverty has always been apparent, both parties often referencing the impact the other has played in their life.
The diminutive forward was the standard-bearer on that Kilcoo team and a real leader of men.
When McCorry moved into the Down role, Laverty, along with Kevin McKernan and Luke Howard, was made a joint captain.
"When it comes to coaching, Conor Laverty was be the quintessential player. No matter what you ask him to do, he'll do it.
"People have this impression of coaches, they have their charts and systems.
"You do have all that, and you need the motivation, but you have to have the Peter Canavan type player too.
"You need that player who can improvise and move around your tactics, and Conor's peripheral vision was superb.
"I remember when I first started coaching him people were saying he was un-coachable, he does what he wants, he's a wee imp.
"I sat down and talked to him and he took absolutely everything on board.
"People were saying he was very greedy, well he is the biggest team player I have coached."
With Laverty in the dying embers of his career, it seems unlikely that McCorry will get the chance to coach him one last time.
Someone will fill the void though, because he is a man that is destined to return to the sidelines. Where is anyone's guess. When is also an unknown, but McCorry will be back, sometime, and winning again.
"I've had no regrets, that's all I can say. Whenever an opportunity came I took it. Annoyances yes, regrets no."
The final chapter of his career hasn't been written yet, but already the pages are jam-packed with the ups and downs that should accompany any proper GAA story.
This article appeared as a two-part special in the Gaelic Life earlier this month.
Posted: 9:28 pm November 19, 2017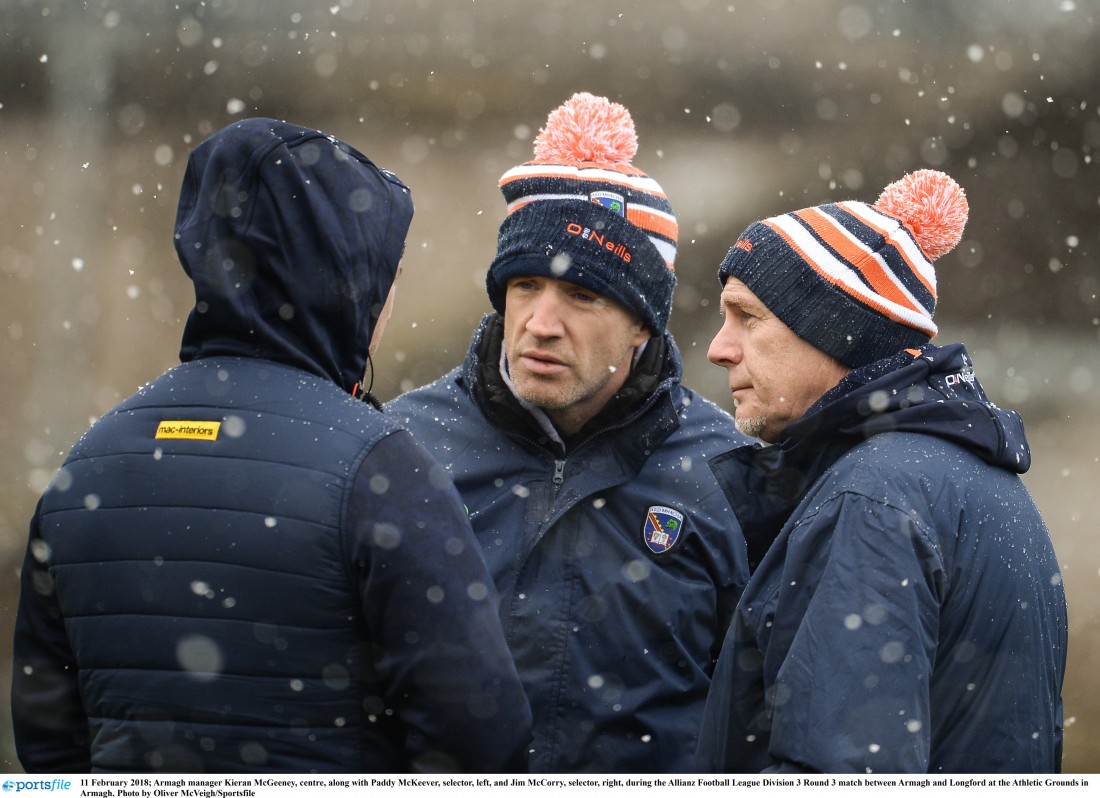 ARMAGH assistant manager Jim McCorry has given a strong counter argument to claims that they disrespected April's club only...
NEW Armagh coach Jim McCorry has said that he hopes to add a winning mentality to the side