Name:

Cathal McShane

Age:

21

Occupation:

Student
Teams played for:
Owen Roes Leckpatrick, Tyrone, St Mary's College
If you were throwing a party and you could invite anyone in the world, dead or alive, who would you ask around?
Cristiano Ronaldo
Where do you like to go out to celebrate after a big victory?
Start off in Devlin's bar. Some spot. Then head to Pulse Letterkenny, always a deadly night.
If you weren't playing GAA what would you be at?
Soccer.
What's the worst pitch you've ever played on?

Cremartin Monaghan was the worst. Had to put the shorts, socks and boots in the bin after it.
Which character in any film are you most like?
This one's difficult, can't really think of any to be honest. Peter Harte and Aiden McCrory are big Game of Throne fans and they insist in calling me Mance Rayder all the time! Can't say I agree with them on that one!
Any odd items in your kit bag?
Not really. I just bring about five pairs of boots and three/four pairs of murphys gloves to every game – not sure why lol.
What's your preferred brand of gear?
Boots – Puma! Best boot about.
Gloves – Murphy's gloves!
Clothes – Adidas/Under Armour.
Who's the biggest joker in the teams you play for?
Owen Roes – Has to Barry McDaid. Hilarious. Never fails to make people laugh.
Tyrone – I don't think anyone has taken over yet from Joe McMahon since he left. He had a joke for every training session. Normally hilarious.
Which team mate has the best looking other half?
No comment on this, could cause a row haha
Who is the worst trainer?
Owen Roes – Ronan Parker. Only shows up when it's championship week. Thinks he's class in his Mania Preds
Tyrone – Frank Burns, only comes out for last 15 mins of session lol
Who spends most time in front of the mirror in the dressing room?
Owen Roes – Has to be the manager Barry Treacy. Three or four different hair gels and aftershaves with him all the time.
Tyrone – Tiernan McCann, Ronan McNamee and Ronan McHugh. Hairdryers, combs the whole lot. They don't stop until they think they're looking well.
Who's the best/worst person to share a room with on away trips?
Worst – Niall Sludden. Great fella but gets the nod here when It comes to bedtime! He snores, sleepwalks and chats away to himself in his sleep.
Best – Niall Morgan. Good crack but he's normally always quiet on his phone texting his wife 🙂
Who's the best/worst person to sit beside on the team bus?
Hugh Pat McGeary – He has his pros and cons. Always great crack but he can also be crabbit when he wakes up from a sleep which starts a row or two lol.
Who has the best and who has the worst diet on the team, and what does it include?
Best – Have to say Richard Donnelly. Always eating well. Never leaves the Kitchen in Omagh!
Worst – Mark Bradley – loves a good pizza after all his training sessions.
Toughest opponent you have faced?
Keith Higgins/ Rory O'Carroll – Great defenders
Best or worst quote you've heard, either from a manager, player, opponent?
Popular one with most people – Hard work beats talent when talent fails to work hard! Has always stuck in my head since I've heard it!
Best manager you've ever played under?
Lucky enough to have played under some great managers but it's an easy one. Micky Harte! His passion for Tyrone and the game is unreal! Great motivator and always hungry for success.
Best ever performance?
All-Ireland U21 semi final v Roscommon sticks out. Scored 3/4 points from midfield and we overcame the underdogs tag. Could also mention All-Ireland U21 final v Tipp.
One to forget?
Championship debut v Donegal in Ballybofey.
When you were playing in the back garden, who did you pretend to be?
Stephen O'Neill/Peter Canavan/Sean Cavanagh. All three were running mad around my back garden at a stage.
If there was a transfer market who'd be in and who'd be out of the team?
Wouldn't transfer any one out! But I'd bring in Dean Rock – for free kicks, doesn't miss.
Jack McCaffery – speed/power
Lee Keegan – Top class player.
Posted: 7:00 pm October 31, 2017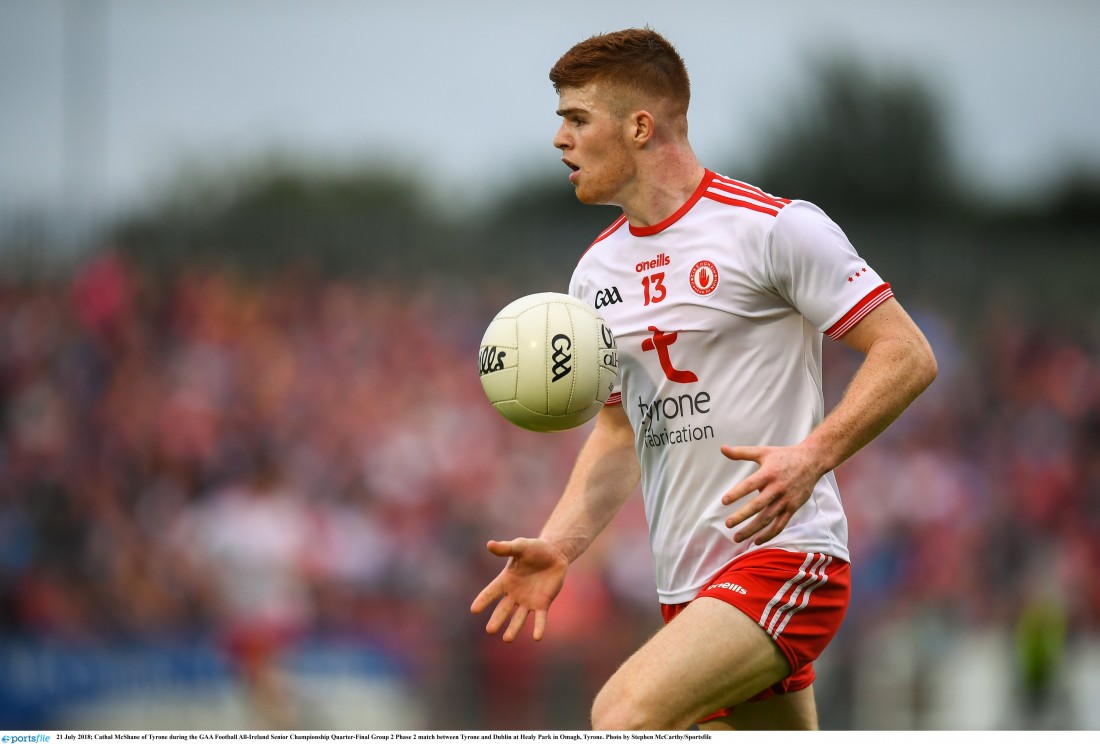 SUNDAY'S winner-takes-all 'Super Eight' clash against Donegal holds an extra special resonance for Tyrone youngster Cathal McShane. Living only...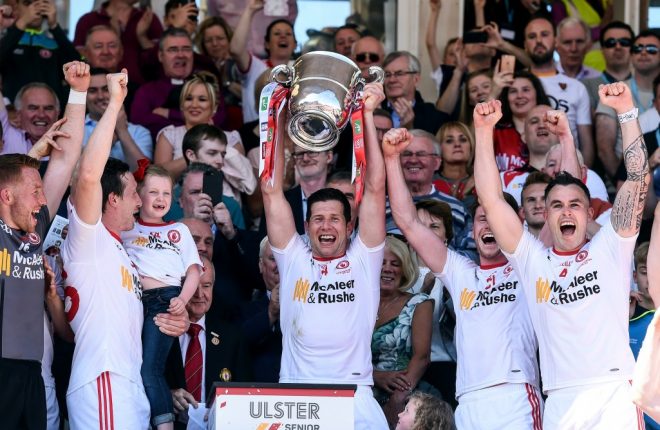 Tyrone may have won 15 Ulster titles in their history, but they celebrated yesterday's like it was the first.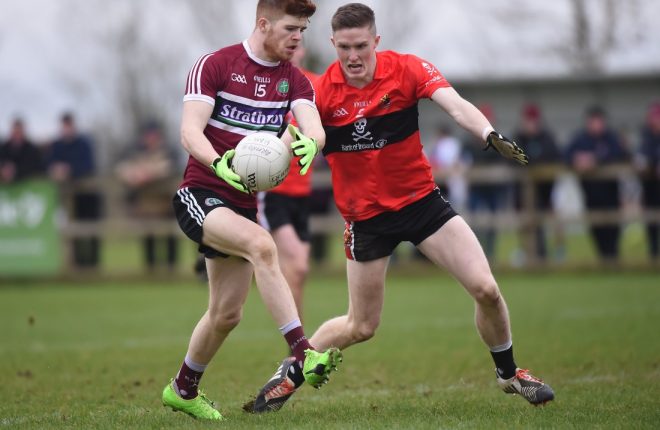 SIGERSON CUP winner Cathal McShane has links to the competition that few can lay claim to.