Name:

Gerard Collins

Age:

26

Occupation:

Capital Markets Consultant – First Derivatives
Teams played for:
RGU Downpatrick and Down
If you were throwing a party and you could invite anyone in the world, dead or alive, who would you ask around?
Conor McGregor, Chris Rock and Mila Kunis
Where do you like to go out to celebrate after a big victory?
The Arkle Bar and Restaurant
If you weren't playing GAA what would you be at?
Playing soccer or living abroad in hotter climates
What's the worst pitch you've ever played on?

Clann Na Banna
Which character in any film are you most like?
Brad Pitt, been told there are striking similarities!
Any odd items in your kit bag?
Rosary beads
What's your preferred brand of gear?
Nike or Under Armour boots and Peninsula Sports Gloves
Who's the biggest joker in the teams you play for?
Down – Davy 'Boom' McKibben
Kevin Gracey for the club would come out with a few good one liners. (Always complaining about something)
Which team mate has the best looking other half?
Garrett Trainor, in fairness he has put in nearly a year of serious groundwork for this one!
Who is the worst trainer?
Garrett Trainor aka 'The Statue' due to his brilliant movement
Who spends most time in front of the mirror in the dressing room?
Aidan Carr, you can't get him away from the mirror.
Anthony Doherty and Ryan Slavin would usually be fighting over the mirror before club games.
Who's the best/worst person to share a room with on away trips?
Ryan Johnston would be the best and the worst. Don't think I have met a more laid back person in my life. The only downside to sharing with him is he will have you late for every team meeting going!
Who's the best/worst person to sit beside on the team bus?
Jerome Johnston – always a good man to have a chat regarding current affairs and politics
Sean Dornan be the worst, always trying to fill you full of sweets and chocolate
Who has the best and who has the worst diet on the team, and what does it include?
Worst diet would have to be Peter Turley, he has a loyalty card for most of the fast food takeaways in Downpatrick.
Best diet would be our goalkeeper James Deeny
Toughest opponent you have faced?
Cillian O'Connor
Best or worst quote you've heard, either from a manager, player, opponent?
"Some of you's are running around there like a dog chasing seagulls along the seashore." There were a few boys trying to hold the laughter in when this quote came out at half time in one of our games!
Best manager you've ever played under?
Jim McCorry
Best ever performance?
NFL away to Cork 2016 – any time you hold Colm O'Neill scoreless is a good day at the office.
One to forget?
Down U21 Championship final v Burren still haunts me. They beat us by 2 points and then went on to win an Ulster U21 title that year.
When you were playing in the back garden, who did you pretend to be?
Peter Canavan (The mother is from Tyrone)
If there was a transfer market who'd be in and who'd be out of the team?
Kevin Gracey be out the door and David Clifford be brought in. Out with the old and in with the new!
Posted: 7:00 pm October 16, 2017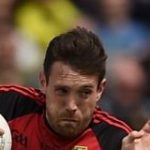 Niall Donnelly picks out the Johnston brothers for abuse.