Name:

Andrew Murnin

Age:

26

Occupation:

Trainee Accountant
Teams played for:
St Pauls Lurgan and Armagh
If you were throwing a party and you could invite anyone in the world, dead or alive, who would you ask around?
Conor McGregor seems to know how to party
Where do you like to go out to celebrate after a big victory?
First stop has to be St Paul's social club for a few Smithwicks
If you weren't playing GAA what would you be at?
Probably playing a bit of soccer
What's the worst pitch you've ever played on?

Callanbridge. In the winter it becomes the graveyard for hamstrings.
Which character in any film are you most like?
Ben Affleck in The Accountant
Any odd items in your kit bag?
None
What's your preferred brand of gear?
Adidas
Who's the biggest joker in the teams you play for?
James Morgan is the class clown. Charlie Vernon is a dark horse too.
Which team mate has the best looking other half?
Conall 'Banger' Haughey for the club is punching.
Who is the worst trainer?
Paul Hughes stubbed his toe and didn't train for a month.
Who spends most time in front of the mirror in the dressing room?
Joe McElroy or Aaron Findon
Who's the best/worst person to share a room with on away trips?
Best: Aidan Forker
Worst: Kevin Dyas – his flash going off from selfies until about 3am.
Who's the best/worst person to sit beside on the team bus?
Best: Current seat mate Rory Grugan
Worst: Wouldn't want to sit beside Ben Crealey (6ft 5)
Who has the best and who has the worst diet on the team, and what does it include?
Best: Aidan Forker
Worst: Anto Duffy has a Snickers for breakfast every morning
Toughest opponent you have faced?
Brendan Donaghy
Best or worst quote you've heard, either from a manager, player, opponent?
"Boy, if he's hanging out of you…you better show him the hanging" (Mattie McGleenan 2008)
"Do not under any circumstances pass Charlie Harte the ball" (Every St Paul's manager since I started)
Best manager you've ever played under?
Kieran McGeeney/Shane McConville
Best ever performance?
Scored 3-1 against Clan na Gael one time to open the league. Don't know if it was my best but it was enjoyable.
One to forget?
Ulster intermediate club championship quarter final
When you were playing in the back garden, who did you pretend to be?
Anthony Tohill or Paul McGrane
If there was a transfer market who'd be in and who'd be out of the team?
Finn Mo in, Aaron McKay out
Posted: 7:00 pm September 23, 2017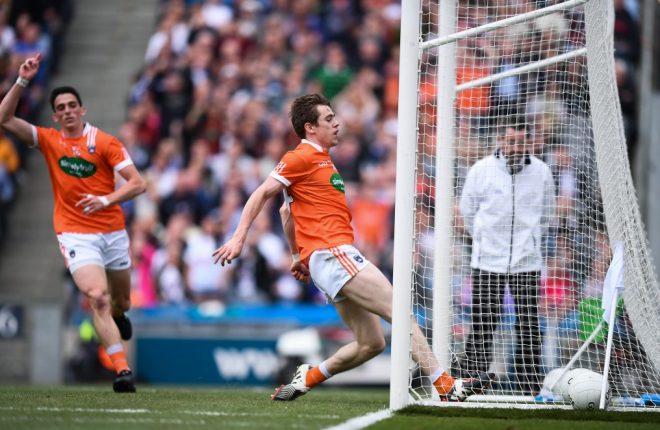 Plenty of Former Armagh players were impressed with their county's performance.
ARMAGH manager Kieran McGeeney has tonight confirmed that Kevin Dyas and Andrew Murnin will play no part in their...