Name:

Eddie Courtney

Age:

23

Occupation:

Welder
Teams played for:
St Michael's, Aghadrumsee, Fermanagh
If you were throwing a party and you could invite anyone in the world, dead or alive, who would you ask around?
Chris Martin, Tommy Tiernan, Michelle Keegan and I'd have to take the brother home from China!
Where do you like to go out to celebrate after a big victory?
We don't win that often but when we do Enniskillen with the county and Corranny Bar with the club.
If you weren't playing GAA what would you be at?
Probably farming in New Zealand or I'd be Combilift's new CEO.
What's the worst pitch you've ever played on?

Belnaleck/Coa
Which character in any film are you most like?
Adam Sandler because lately all I've been is a water boy.
Any odd items in your kit bag?
Whatever food I can get stolen from the table and you can never forget the toilet roll.
What's your preferred brand of gear?
Adidas and Under Armour. Can't forget Murphy's for the grip
Who's the biggest joker in the teams you play for?
When Aidan Breen, Barry Mulrone and Clucker get together it's never good.
Which team mate has the best looking other half?
I would say Aidan Breen but due to her age I couldn't say. I'll just stick with my own!
Who is the worst trainer?
Ryan Jones is good friends with the physios. For the club Peter Phair, only man I've seen that lets a sore mouth stop him training.
Who spends most time in front of the mirror in the dressing room?
Matthew 'the model' Mallon. If you're looking a dodgy hair cut or fake tan he's your man. Cathal Beacom deserves an honourable mention here also.
Who's the best/worst person to share a room with on away trips?
Daryll Keenan is the worst. Shared with him this year and he made me open an online betting account.
Eoin McManus makes a savage good mug of tea and can tell some good stories.
Who's the best/worst person to sit beside on the team bus?
Best – Danny Teague, great on the tunes
Worst – Danny Teague, talks that much you can't hear the songs
Who has the best and who has the worst diet on the team, and what does it include?
Best- James Duffy. I think he is allergic to carbs. Worst – Benny Courtney. Large chicken fried rice, large chip and a portion of chicken balls before a junior game. Still our most prolific junior forward despite being 45.
Toughest opponent you have faced?
Brendan Rogers
Best or worst quote you've heard, either from a manager, player, opponent?
Don't kick it too hard.
Best manager you've ever played under?
Pete McGrath
Best ever performance?
MacRory Cup final 2012/Hogan cup semi-final 2012
One to forget?
Derry in the league this year
When you were playing in the back garden, who did you pretend to be?
Benny Courtney/Peter Canavan. Two footballing greats of the noughties
If there was a transfer market who'd be in and who'd be out of the team?
Wouldn't mind playing alongside Lee Brennan for the magpies.
As for Fermanagh does the transfer market include managers?
Posted: 7:00 pm August 1, 2017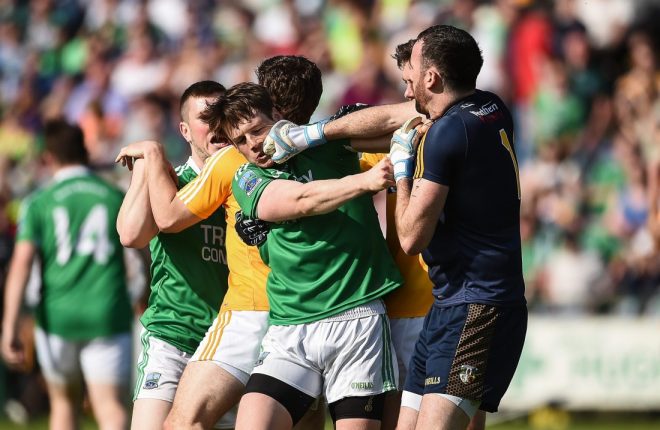 The Fermanagh Antrim game was only notable because of Tomas Corrigan's performance, while Sean Quigley had a cheeky celebration...