Name:

Dermot Brick Molloy

Age:

26

Occupation:

Construction
Teams played for:
Naomh Conaill & Donegal
If you were throwing a party and you could invite anyone in the world, dead or alive, who would you ask around?
Will Ferrell, Dwayne "The Rock" Johnson & Margot Robbie.
Where do you like to go out to celebrate after a big victory?
With Naomh Conaill we would get through some of the local pubs. Then hit Letterkenny or Donegal town. With Donegal it was usually the Abbey in Donegal town followed up the next morning in The Scotsman's Bar.
If you weren't playing GAA what would you be at?
I used to play the drums and sing a bit in a band so I would probably get back into playing music.
What's the worst pitch you've ever played on?

Has to be when Glenfin was doing up their pitch, they stuck four posts up on a sheep and cattle field across from the Reeling Bar. Total mud bath, like a wash out at the Oxegen music festival back in the day!
Any odd items in your kit bag?
Mum has holy water & rosary beads in one of the side pockets. If I change a kit bag from time to time….bang the holy water and rosary beads are in the side pocket. Mothers for ya!!
What's your preferred brand of gear?
Adidas, Under Armour, O Neill's and Nike do me nicely.
Who's the biggest joker in the teams you play for?
With Naomh Conaill – Eoin Waide, Dara Gallagher, Pirate Molloy & Brendy McDyer. Donegal – Frank McGlynn and Colm McFadden were always up to mischief together!! Big Neil Gallagher wasn't far behind.
Which team mate has the best looking other half?
Controversial…
Who is the worst trainer?
Naomh Conaill – Leon Thompson. He must have every excuse used in the book at this stage not to train! Donegal – Big Neil Gallagher. Spent his time on the physio table.
Who spends most time in front of the mirror in the dressing room?
Naomh Conaill – Brendy McDyer has a great range of stuff in the toiletry bag. Donegal had to be Davy Walsh, some work to spike that hair. Karl Lacey a close second.
Who's the best/worst person to share a room with on away trips?
With Naomh Conaill I would share with Daz Gallagher. With Donegal the best is Davy Walsh, always laughing with that man about! Worst Anthony Thompson – toxic!!
Who's the best/worst person to sit beside on the team bus?
Usually sit with Daz Gallagher or Pirate Molloy. Probably the worst is us…cause we tend to act up on the rest. With Donegal it was Marty Boyle or Leo "House" McLoone. Wee Pat Shovlin was the joker on the bus, always had the team laughing.
Who has the best and who has the worst diet on the team, and what does it include?
Best would go to Kev McGettigan, loves his cereal. Best with Donegal was Paddy McGrath. Worse – too many contenders!
Toughest opponent you have faced?
Neil McGee – always good banter with him and a real hard honest player.
Best or worst quote you've heard, either from a manager, player, opponent?
Best – Put it into the mixer!!! Worst – Don't put it in the mixer!!!
Best manager you've ever played under?
Jim McGuinness, Cathal Corey, Martin Regan Jnr.
Best ever performance?
Senior County Final 2010 and County Semi Final 2015. two days that stand out with my club.
One to forget?
Trillick in the Ulster Club Quarter Final 2015, I did my knee after six minutes. A day to forget!!
When you were playing in the back garden, who did you pretend to be?
Armagh's Oisin McConville. Got to play against him in the Ulster Club final in 2010 and he spoke some kind words to me after. Total Gentleman!
If there was a transfer market who'd be in and who'd be out of the team?
Diarmuid Connolly or Michael Murphy. Two best players in the country at the minute.
Posted: 7:00 pm June 13, 2017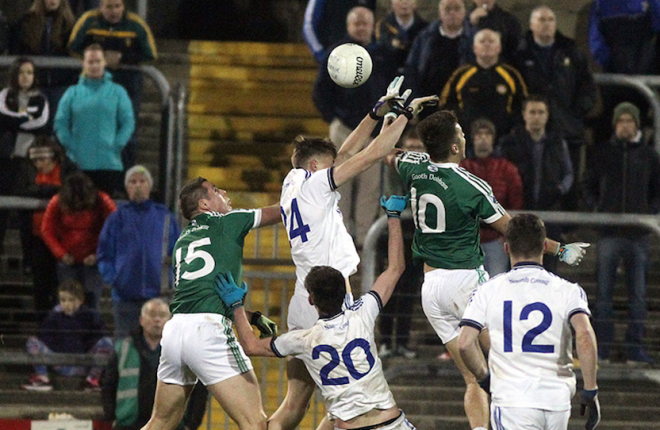 GAELIC life columnist Kevin Cassidy has spoken of the hurt and pain that goes hand-in-hand with being a player.