THERE'S an awe and mystique about St Colman's, Newry that few schools in Ulster have the ability to replicate.
From the moment you drive through the red-brick entrance, you feel that the hustle and the bustle of the Armagh Road behind you is a world away, and you are taken over by an almost sense of remoteness as the school's impressive main building looms large on the horizon.
This place is a bastion of tradition, particularly in the sporting world, and there's simply no escaping it.
One sports stands tallest though, with the GAA very much to the forefront. Maybe it was the fact that Michael Cusack taught here a couple of years before he helped form the Association, but there has always been something special about seeing the college take to the pitch.
As you drive up towards the central building, the football pitches dominate your right-hand view. The place where Pete McGrath and Ray Morgan, and more recently Cathal Murray, sculpted the teams that would not only win, but win with style.
The reception is another reminder of glories past. The first thing you see is the trophy cabinet, bedecked in silver from a range of sports – a gentle nudge to tell you that this is a school with eight Hogan Cups to its name, this is a school that wins – and does so regularly.
Two of those, the back-to-back successes in 2010 and '11, deserve extra attention at the moment – their impact on Down's run to next week's Ulster final against Tyrone ensuring that they get it.
Seven players from those teams featured in the Mourne county's shock semi-final win over Monaghan. That figure is all the more impressive when you consider that the Violet Hill institution draws from both Down and Armagh, limiting the amount of players from the squad that could have moved onto the Mourne panel.
Michael Cunningham, Niall McParland, Niall Donnelly, Jerome Johnston, Ryan Johnston and Caolan Mooney all started against the Oriel county. Donal O'Hare, hampered by injuries this season, came off the bench to complete the magnificent seven.
Deep down in the sports bunker, Murray is packing away for the end of the school year. This is winding down time for most of the teaching staff, but the Hilltown man doesn't have the luxury of switching off as the county team prepares for their biggest match since the Ulster final loss to Donegal five years ago.
The computer screen in his office is displaying old Ulster College match reports as the Head of PE tries to establish what Red Hand players his sides faced during that incredible run.
Ronan O'Neill springs to his mind, Niall Sludden, he (correctly) thinks, too. One thing is for sure, the 1991 All-Ireland winner is confident that his former players will take Ulster final day at Clones in their stride.
"It is a great sense of pride," said Murray of the college's impact on the current squad.
"I came in here in 2005 and they won a Rannafast in 2007 and the MacRory in 2010 and '11, so I had them for five years really.
"They always had the potential. A lot of them were exceptional within their own right; you had game winners in Caolan (Mooney), Donal O'Hare and Jerome (Johnston).
"Donal played at wing-half for us and has since developed into an inside forward. For us he was more of a creator, now he is a finisher.
"Niall Donnelly was full-back on that team. Down had been crying out for a full-back for a number of years and I always identified him as a county full-back, although he is playing in the middle of the field at the moment.
"Niall McParland was a leader. He captained the Rannafast and then went on to captain the MacRory as well. He had a bad season or two there with injury but has come back very strong.
"Mickey Cunningham was on the 2011 panel as a goalkeeper and has developed into a fine player and is one of the key men on the Down team this season.
"Ryan Johnston was only a fifth year then and went on to play three or four years in the MacRory. He played wing half-back in that first year and he was doing what he is doing for Down now, the strong running, the athleticism.
"They have a confidence in one another at the minute knowing that they have been in the trenches together in the past with St Colman's.
"When their backs have been against the wall, they have proven that they can rely on each other. That can only be good for Down football."
The threads of that squad haven't just extended to the Down senior team, with the players' talents taking them into other codes and, indeed, other countries.
It's well known that Mooney spent three years in Melbourne with AFL side Collingwood. Less known, however, is that Shay McCartan, who cost League One side Bradford a six-figure sum last week, was also an integral part of that side. Ryan Johnston is also a man of many talents and has two Ulster and two All-Ireland cross-country titles to his name.
"Declan Mussen, who previously trained Down and Louth, would have been along with myself with the MacRory," Murray continued.
"There are five of us involved with Leo McEvoy, Cormac Sweeney and Mickey Doyle are there too.
"Declan would have a key role and would see fitness as being a huge part of it, and that was obvious in Ryan's development. You can see it in his running and it transfers to the pitch.
"In Caolan's case with Australia, he was very driven and he knew where he wanted to go.
"He came into us in sixth year with a fairly big reputation but to see him in full flow was something else. I'm not surprised he went to Australia, I'm just disappointed it never worked out for him.
"It was such a big step for a young lad like that, and you see so many of them coming home.
"There's no doubt though that it has been to our advantage that he didn't stick it out. He has lived the professional life; he knows what hard work and commitment is needed.
"He has settled back into life here and I don't want to describe him as an enigma, but he's the type of player you just can't take your eye off.
"He might be out of the game for a while and then suddenly he's just away."
There's no doubting that Murray and the other coaches at St Colman's developed Mooney's ability to pounce at the right time with the Rostrevor man scoring all three of his side's goals in the two MacRory Cup finals he competed in. Being ruthless in front of goal has been the keystone of the St Colman's coaching manual for decades.
In colleges' circles, they carry a reputation that is akin to the Down county team. The swagger is present, the confidence in trusting your attackers never leaves. The ability to really make the most of positive momentum in a game is critical.
Murray has seen both sides of the coin and he can understand why there is a correlation between his school and his county.
Violet Hill has always been intertwined with successful Mourne county sides. Kevin Mussen, Leo Murphy, Joe Lennon, Dan McCartan, Peter Rooney, John Purdy, James McCartan, Greg Blayney – it's like a fantasy selection of Down All-Ireland winners.
Having watched his own school teams take to Croke Park like a duck to water, he is hopeful that there are a few of his past-pupils who can eventually add their names to that distinguished list.
"Down are nicknamed the aristocrats of Ulster football but I don't think there is a cockiness or an arrogance to it.
"We always play football in the right manner. It's tough and it's hard but you go down playing the game of football.
"You're not going out not to lose, you're always going out to win a game.
"In today's modern game it's about getting that balance between being tight enough at the back and getting enough going forward to win games.
"That's a mentality we have always had here at St Colman's too. We were always very strong in our kicking game and that's one of the ways to compare us to Down.
"Both teams try to be positive in their approach, and I think that shines through."
In many ways Murray has experienced the calm after the storm.
Eamonn Burn's first season in charge of Down was a nothing short of a catastrophe. Apart from a McKenna Cup win over St Mary's in January 2016, the results read like someone had fallen asleep on the 'L' key.
In response, Burns made some changes and no doubt impressed by the good work being done at the Newry school, drafted in his former teammate.
The start to the 2017 season suggested another annus horribilis, but ever since Jerome Johnston steered home a difficult free in Cork to secure Division Two safety, everything has changed.
Before the game with the Orchard county, the players' meet and greet with the fans saw about 10 people show up. Last Monday night, Downpatrick's pitch was awash with red and black jerseys as the squad were inundated with requests for selfies and autographs.
Murray paid tribute to Burns, who has had to sit back and absorb constant blows before turning the county's fortunes around.
"I was only looking on from the outside last year and I really felt for Eamonn because he got an awful lot of abuse.
"Kevin McKernan spoke about the keyboard warriors and in this day and age it's easy for someone to post something and they won't be called out.
"To turn things around, I'm just delighted for him as well as Sean Og (McAteer) and the county board.
"Eamonn didn't shirk any responsibilities last year, he didn't throw in the towel. His attitude was that we all have to work a little harder.
"In the early stage of the year it was hard, we got turned over by Fermanagh and you're thinking 'is this going to be another year of it?'
"The management can do things, like setting out systems like play, but you can only take the players to the white line and then they're on their own.
"So the run from the Cork game has really given everyone confidence, especially the players.
"People might say that Down players will never lack confidence. That may be true in successful times, but these guys know nothing about the so-called Down swagger.
"I remember being involved in the 90s when things were going well, but this team has won nothing to justify getting carried away with themselves.
"Alright, they have two wins that have turned around our season, but they are not happy with that. They want more."
That 'more' is a third straight win which would result in a first provincial title since 1994.
The last time Down won three championship games in a row was in 2011, four months after St Colman's had successfully defended their Hogan crown.
Tyrone next Sunday presents an opportunity to end that wait. Win that and new heroes will be born in the Mourne county. Like those who have went before them, St Colman's will have played a major role in the development of those particular stars.
n.mccoy@gaeliclife.com
Posted: 7:17 pm July 13, 2017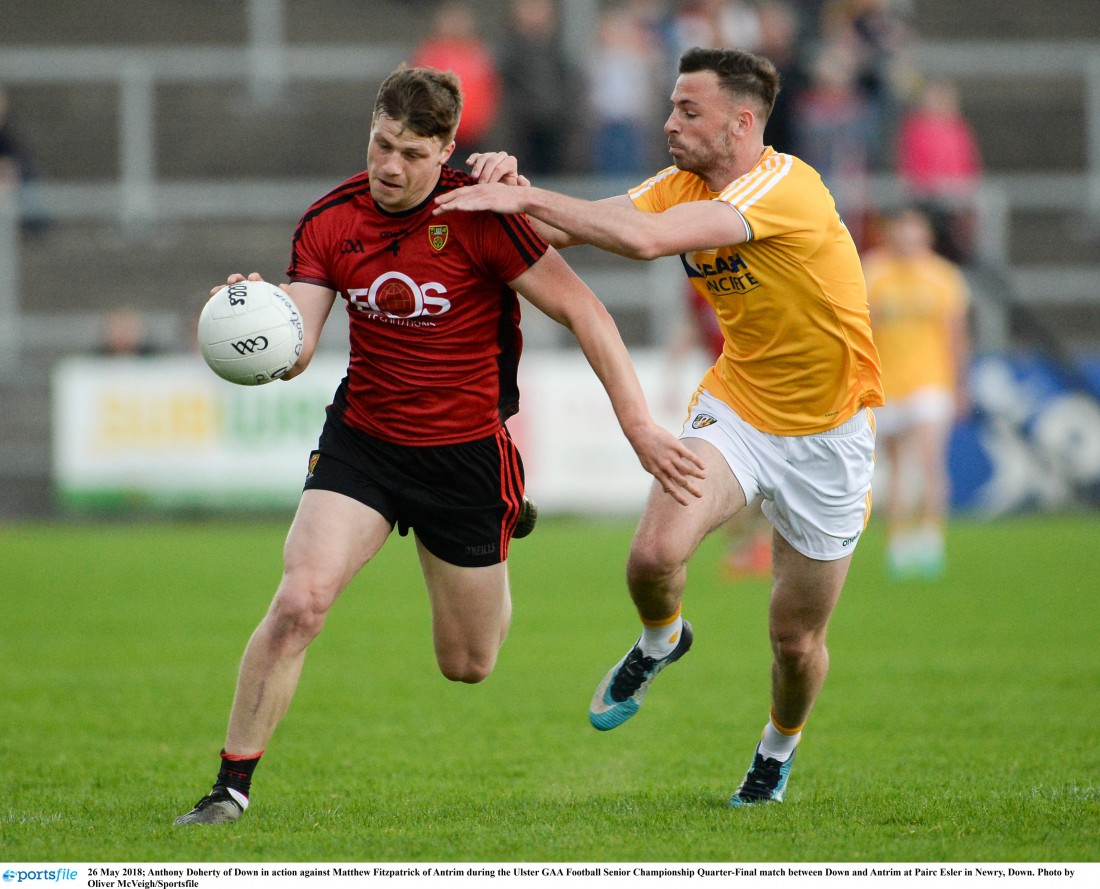 IT is an unusual quirk that Down's two most consistent scorers this season – Anthony Doherty and Caolan Mooney...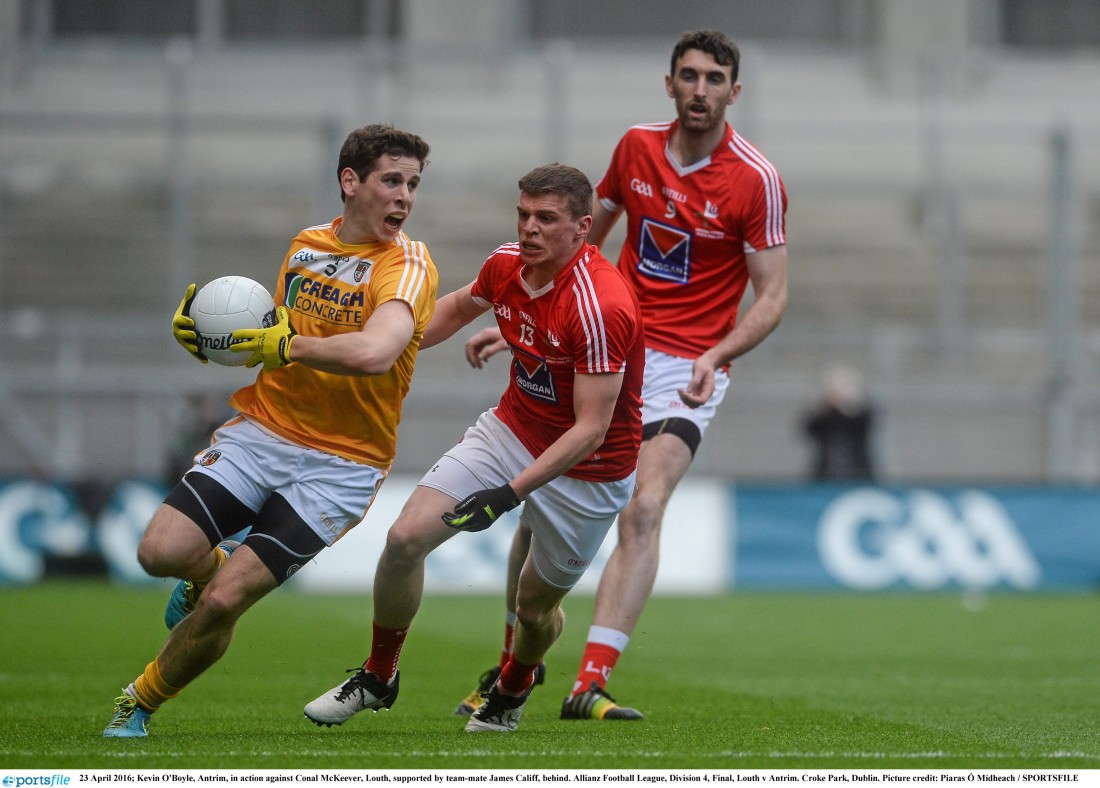 TWENTY-EIGHT times Kevin O'Boyle has pulled on the Saffron jersey and represented his county in championship battle. Twenty-eight times...
Down have lost Darragh O'Hanlon to injury.