ON SUNDAY, Derry play Tyrone in the Ulster Championship in a game which there will be a startling lack of expectation on the shoulders of the Oak Leafers.
For a county that dearly loves to beat the Red Hands, the pessimism that surrounds the team's chances of winning emphasises the low point that the county team has reached.
Part of the reason for the lack of belief comes from Derry's recent form in the league where they were relegated down to Division Three. More so, though, it is their lack of form against their old rivals.
In last year's Ulster Championship, Derry were trounced 3-14 to 0-12 by Mickey Harte's team.
The Oak Leafers are at a low ebb compared to Tyrone, who are currently favourites to lift the Anglo Celt.
However, if you're a Derry fan in the market for hope then a look back at the year of our lord 2006 and you will find a game that could draw lots of similarities to this the upcoming clash.
The 2006 Ulster Championship saw Derry paired with rivals Tyrone, who were then the All-Ireland champions, having beaten Kerry the previous September.
Derry, by contrast, had been unable to reach the league semi-final.
The expectation was that Derry were going to provide little resistance to a side that had lifted the Sam Maguire a few months beforehand.
Kevin McCloy was the Derry full-back that year and the Lavey man explained that going into the game, their preparations had not been going well.
"A few weeks prior to that game things weren't going that great," he said.
"We didn't think that players were playing to the best of their abilities.
"There was no fault with the actual training, we didn't think the players were acquitting themselves well enough.
"We didn't get to the semi-final of the league and I've said it before that not getting to the semi-final nearly gave us a better chance."
But the work wasn't going well. Johnny McBride was the captain that year, and he and some of the more senior players called for a team meeting. It was a heated affair.
"A lot of men read their throats out. They didn't feel that the training was going right.
"We had a few things to say, then training changed. We felt that we had the team to beat Tyrone. That meeting sorted things out.
"A few boys were told that they had to buck up their ideas."
McCloy was 27 years old, not one of the older players, but old enough to know that a county career was finite. He'd broken his cheekbone the year before and missed much of the season.
"We got to that stage where we had four or five players who felt that they had to win something.
"Johnny McBride and Paul McFlynn had been around for a while and they felt that if they didn't win something now then they would never win anything. They told the players that if they wanted to win something it had to happen that year."
In many ways it helped that the game was against Tyrone. Playing their neighbours and bitter rivals helped to focus their minds. The problem was that their opponents had a very strong team.
Ryan McMenamin, Conor Gormley, Philip Jordan, Brian Dooher, Sean Cavanagh, Owen Mulligan; these were All-Star footballers, two-time Sam Maguire winners.
Derry were no slouches though. They had reached the All-Ireland semi-finals in 2004 and with Paddy Crozier as manager they had a wily operator.
McCloy explained their plan: "Paddy had spent a lot of time before the game thinking about who would be marking who. We had set up defensively. Tyrone had been scoring at will. So we were going to try and nullify them. We knew that it was going to be a low scoring game.
"We had looked at their half-back line and that was where everything sprang from.
"We sent men out to do a particular job on the boys that were doing well for Tyrone. Boys like Dooher."
Joe O'Kane was tasked with marking Dooher, while Liam Hinphey was expected to keep tabs on Sean Cavanagh. But while the players were preparing themselves to go out to play Tyrone, Crozier had another surprise in store. He had asked his old friend and Ballymaguigan clubmate Eamonn Coleman to speak to his players before the game.
"The big surprise came before the game, when we met in the Elk. It was a big surprise.
"Maybe Johnny McBride knew, but I didn't know, none of the rest of the players knew.
"He thought so much of Derry, and he talked about what the Derry-Tyrone rivalry meant to him.
"Paddy put a lot of stock into what Eamonn said, and he wanted him to speak to us.
"He landed into the middle of the Elk and gave an incredible speech. He spoke about what he thought about Derry and what he thought about Tyrone.
"He brought up a few of the Derry-Tyrone games.
"But it was more the passion that he spoke with that was inspiring. He said that we had to play to win that game. It just lifted the room, it was exhilarating. To see what it meant to him."
Crozier's plan worked. In the first half Derry dominated. Tyrone didn't score a single point in those opening 35 minutes, Derry leading 0-5 to 0-0 at the interval.
Kevin Hughes, who McCloy had been marking, was sent off after 18 minutes and Mickey Harte's team couldn't get any space. McCloy explained: "Every time they got the ball we were on them. The tackles were hard and we didn't allow them anything. There were no black cards back then.
"I was marking Kevin Hughes at the start, then I moved on to Ryan Mellon. Tyrone wanted to take me out of the full-back line. I ended up around midfield at one point. There were five or six one-on-one balls that I was winning that maybe they didn't expect me to win, but I had the pace that day."
The intensity of the way Derry played was admirable, and while the game was not flowing, the Oak Leafers's determination was impressive.
McCloy said: "I was working in Tyrone at the time, and I can remember ones in work saying to me that they had never seen a team as focused. We never thought that we weren't going to win that game.
"I just had that feeling that we were ready for that game.
"We had set up right, and we had all the work done. To a man, we all gave 100 percent, we would have given 110 percent if we could have."
At half time, leading by 0-5 to 0-0 against the All-Ireland champions, it was inevitable that Tyrone were going to stage a fight back.
"We were expecting a bit of a backlash from Tyrone in the second half and we got it for a while. But then the goal went in and we killed the game off.
"Right across the board every player played well."
Enda Muldoon was the goal scorer, in the 47th minute. He slipped the ball under Pascal McConnell to put Derry 1-7 to 0-2 ahead and from that point the game was over.
Derry were lauded for their tactical display and nerve.
"It was up there with one of the best days, in the top five definitely. It is hard not to get carried away after a game like that. We had beaten the All-Ireland champions. It was hard to keep boys grounded but Paddy did his best."
The less said about the semi-final the better.  Derry travelled to Donegal and were served some of their own medicine as the Tir Chonaill team's defence suffocated Derry's attack.
The lesson that we can take from the Derry-Tyrone clash is that reputation means nothing in football. If a team has the right game plan, and the right attitude they can win any game they play.
McCloy certainly thinks that's the case for the current Derry team who will play Tyrone.
"I suppose if the current Derry team go out and every man has the belief then they have a chance.
"I think that Derry, across the board, have lost a lot of senior players. Fergal Doherty, Patsy, Enda Muldoon, Paddy Bradley, Eoin Bradley.
"Tyrone, somehow, are able to keep their more senior players. Derry need players like Mark Lynch, Chrissy McKaigue, Enda Lynn, Emmett McGuckin. Like it or not those are the senior players and they need to step up. They need to step up to the mark and lead the younger players.
"Derry are like Armagh, they are rebuilding. Yes they were relegated but they need to forget about that. They need to throw the shackles off."
It won't be easy against a Tyrone team which McCloy revealed are incredibly well organised.
"I watched that game last year, and until the goal went in they were in the game. "It was fascinating to watch Tyrone and how every man knows what everyone else is doing. It is players like Peter Harte and Sean Cavanagh that give Tyrone the edge and they need to be watched."
Perhaps what the current Derry team need is inspiration. A man to get in the middle of them before they take the field at Celtic Park, and make them believe in themselves.
A man like Eamonn Coleman.
McCloy said: "If Eamonn Coleman was here now he would be telling a lot of boys a few home truths."
Posted: 1:00 pm May 27, 2017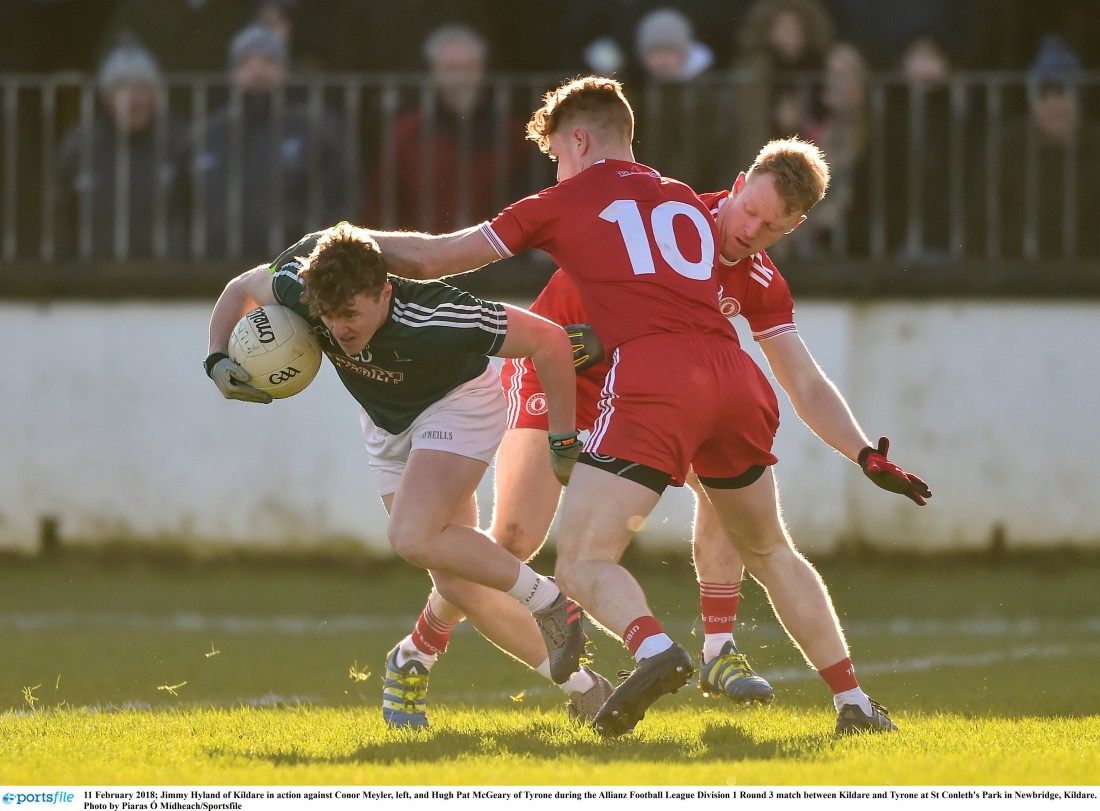 HUGH Pat McGeary says that Tyrone are approaching the Bank of Ireland McKenna Cup final with renewed vigour after...
HUGH McFadden says they are determined to 'put in a performance for the people of Donegal' in Saturday...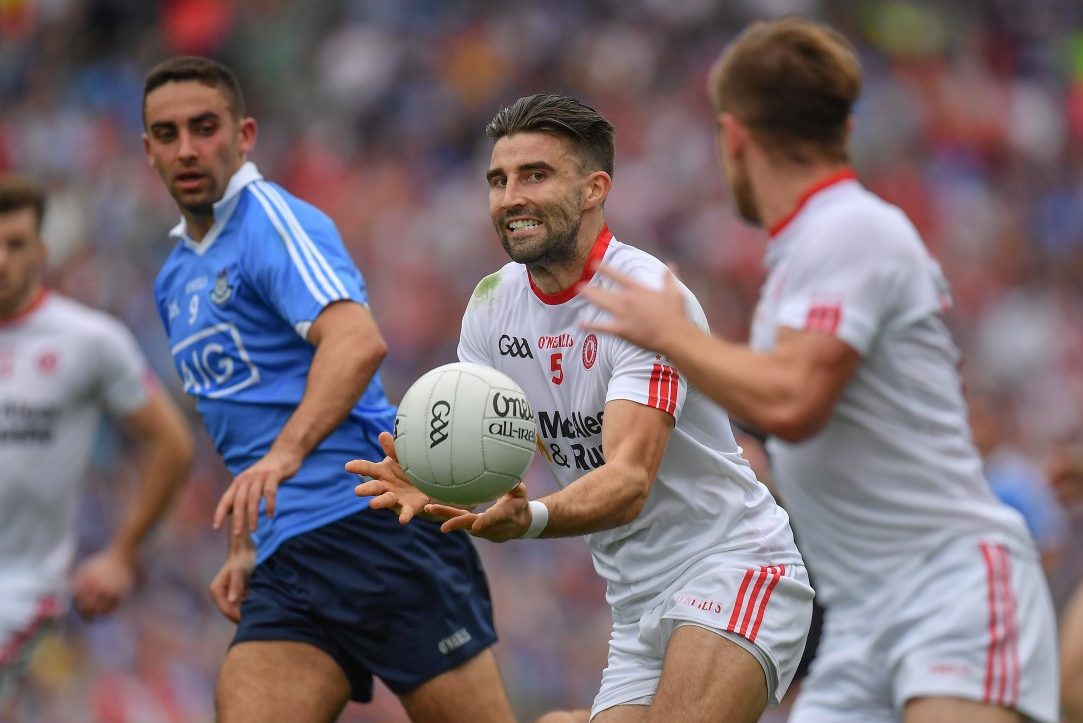 A massive injury blow for Tyrone