Name:

Domhnall Nugent

Age:

20

Occupation:

Student/ PJ's Landscapes
Teams played for:
Antrim, St John's, Lamh Dhearg and Wolfetones Boston (more clubs than Tiger Woods)
If you were throwing a party and you could invite anyone in the world, dead or alive, who would you ask around?
Paul Buchannan to get everyone up on the dance floor, Baby McConville for his mad stories, Cormac Hannan to act a cow and Johnny Cash for a bit of music.
Where do you like to go out to celebrate after a big victory?
Lamh Dhearg, the rock bar then the Rebels Rest to free Ireland.
If you weren't playing GAA what would you be at?
Travelling and I'd love to play rugby
What's the worst pitch you've ever played on?

Louth a few weeks ago followed by Aldergrove
Which character in any film are you most like?
Lennie from Of Mice and Men!
Any odd items in your kit bag?
Mouldy bananas and odd socks
What's your preferred brand of gear?
Peninsula sports socks/gloves and Martin hurls
Who's the biggest joker in the teams you play for?
In the club with Stephen Tully and Cormac Hannan there is never a dull moment. Baby is great Craic as well. County: Chris Kerr
Which team mate has the best looking other half?
Has to be me or I'll get shouted at!
Who is the worst trainer?
Decky Lynch
Who spends most time in front of the mirror in the dressing room?
Decky Lynch does his hair before matches!
Who's the best/worst person to sit beside on the team bus?
Baby McConville is some craic on bus journeys
Who has the best and who has the worst diet on the team, and what does it include?
Best: I would imagine Charlie McCloskey from the club has some sort of a mad diet
Worst: probably me, I eat too many custard creams and milk
Toughest opponent you have faced?
Hurling: Austin Gleeson. Football: Kevin Niblock
Best or worst quote you've heard, either from a manager, player, opponent?
Hard work beats talent when talent doesn't work hard
Best manager you've ever played under?
Andy McCallin: genius and a legend!
Best ever performance?
Hopefully my next one.
One to forget?
All Ireland Junior hurling semi final this year
When you were playing in the back garden, who did you pretend to be?
Sean Cavanagh or Brian McFall
If there was a transfer market who'd be in and who'd be out of the team?
In: David Moran and Ciaran Flaherty. Out: Cormac Hannan
Posted: 7:00 pm May 2, 2017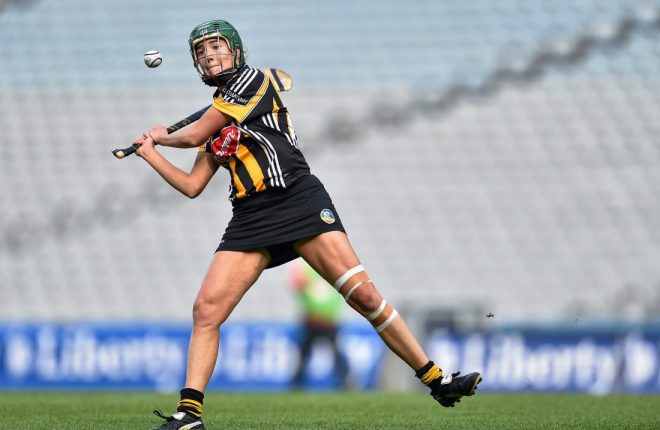 Fionnuala Carr was reminded of the unsurpassed skill and beauty of Camogie and Hurling.