Name:

Aaron McKay

Age:

21

Occupation:

Student
Teams played for:
Dromintee, St.Pauls Bessbrook, St Marys Belfast, Armagh
If you were throwing a party and you could invite anyone in the world, dead or alive, who would you ask around?
Johnny Cash, The man in black was a bit of a maniac and he could party. Been a big fan since I was a child and love his music.
Where do you like to go out to celebrate after a big victory?
3 Steps Pub in Dromintee for a few coronas and lime then head to Brubakers or Ridleys in town. Can't bate it!
If you weren't playing GAA what would you be at?
I'd probably take up Rugby, love the hard hitting game and that they just get on with it and no yapping.
What's the worst pitch you've ever played on?

Poyntzpass. When I was at St.Pauls John Rafferty would take our games there if he knew the opposition was better because its about 10 metres wide, got an incline of around 40 degrees and a swamp. Albeit we never lost a game at it!
Which character in any film are you most like?
Iron Man, always wrecking the place and giving people a bit of a slagging.
Any odd items in your kit bag?
A pair of cotton football gloves. Ciaran McKeever swore they're the best thing since Pat's Pan but they are horrible.
What's your preferred brand of gear?
Love Adidas but the GAA in me says O'Neills.
Who's the biggest joker in the teams you play for?
At the club it's definitely Philly McAvoy. No matter the occasion the man's always up to no good or taking the micky out of someone.  With St.Mary's I would have to say Ryan 'Curley toes' McNulty. He loves it "keeeemon". At Armagh it goes to Charlie Vernon, the old timer always has a bit of witty banter for me even just before you're about to do a killer session.
Which team mate has the best looking other half?
Oh this is a tricky one, because a lot of the lads are punching above their weight to be honest. I'll leave the answer to this one for a night out on the beer.
Who is the worst trainer?
Plenty of candidates for this one. At the club I'd say Paddy Mullet and Peter Campbell and Armagh you have Joe McIlroy and Ethan Rafferty. These boys are the lads on your team that can do all the shooting and passing drills but when it comes to runs they are 'sore'. Bluffers! Haha
Who spends most time in front of the mirror in the dressing room?
Without a doubt Joe McIlroy! (Spice boy)
Who's the best/worst person to share a room with on away trips?
Best: Ciaron O'hanlon because he doesn't snore.
Worst: Simon McCoy he snores!
Who's the best/worst person to sit beside on the team bus?
Best: Darren Mc Kenna doesn't annoy me which is a great trait to have and always has a wee bag of treats.
Worst: Conor White the man never stops talking, I don't even think he knows what he is mumbling on about half the time. To be fair he can  bench 50kg dumb bells!
Who has the best and who has the worst diet on the team, and what does it include?
Best: Aidan Forker, probably hasn't ate a carb since the 90's.
Worst: Jemar Hall, The man loves takeaways most nights of the week.
Toughest opponent you have faced?
Soupy Campbell, the man is just so unpredictable. When you think you have him he'll kick a score 50 metres out off his 'weaker' foot. Has a shocking tan though, must be good weather in Lurgan.
Best or worst quote you've heard, either from a manager, player, opponent?
Get it, Give it, Support it and repeat the dose. Don't quit, no one likes a quitter.
Best manager you've ever played under?
John Rafferty
Best ever performance?
MacRory final 2013, big occasion. I kicked two points and off either foot, which if you know me very seldom happens.
One to forget?
MacRory Final 2013, it will haunt me until the day I die.
When you were playing in the back garden, who did you pretend to be?
There's quite a few, mostly Paul McGrane and Martin O'Rourke. Two dogs that did the dirty work.
If there was a transfer market who'd be in and who'd be out of the team?
In: Kieran McGeary
Out: Ethan Rafferty, only because he's never training. Only joking
he's a great guy….
Posted: 7:00 pm April 7, 2017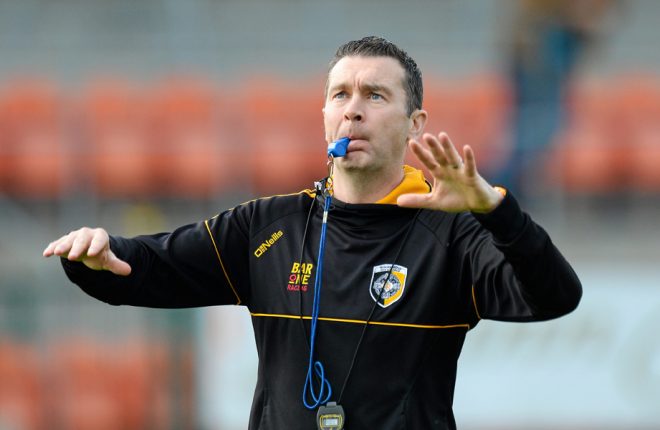 IT'S a new look Crossmaglen but the same old story is expected.
Ciaran McKeever, Andy Mallon and Joe Feeney already play their club football in Dublin.
The issue of fixtures needs to be sorted out at a central level to end situations like the farcical...