Name:

Niamh O'Neill

Age:

20

Occupation:

Student
Teams played for:
Sperrin Óg (Greencastle), Tyrone, QUB
If you were throwing a party and you could invite anyone in the world, dead or alive, who would you ask around?
The Sperrin Óg ladies, never a dull night with them! The main man Orla Farley would have to be there and my pal Lisa Hagan asked me for a mention so I'll have to pretend I'd bring her too.
Where do you like to go out to celebrate after a big victory?
Would normally be Sally's! Shannon Quinn also volunteers her gaff to get things going after a few big wins.
If you weren't playing GAA what would you be at?
I'd be about 20 stone heavier and I'm not light as it is…
What's the worst pitch you've ever played on?

Can't remember where it was but wherever we played our u-16 All-Ireland final in 2012. I think they must have let the cows out on it before we turned up. My ankle didn't appreciate it.
Which character in any film are you most like?
Although it's a TV character, my friend McCallan has said I remind her of Chandler Bing – I'm not so good with the advice, but can I interest you in a sarcastic comment?
Any odd items in your kit bag?
Nothing out of the ordinary.
What's your preferred brand of gear?
Boots: Currently I'm wearing Adidas after losing my last pair in a car park.
Gloves: obvious answer, I'm a known fan of Murphy's – some copy, none compare!
Who's the biggest joker in the teams you play for?
Sperrin Óg: Eimear Teague's messing about is missed now she's living the high life in Oz. Aileen Tuohey also worth a mention, she's never short of a smart remark.
Tyrone: There are a few jokers but Christiane Hunter always has a line to bring the house down. QUB: Enya Boyce is definitely the go-to for a laugh.
Which team mate has the best looking other half?
Stacey McCullagh is currently playing the field and from what I hear she pulled a few good ones in Maliaaaa, she never mentions it though
Who is the worst trainer?
No bad trainers come to mind, I'm probably the worst for complaining about training – Sarah Connolly and her red cones have a lot to answer for.
Who spends most time in front of the mirror in the dressing room?
There's a few kids who come to training ready to make a dash for a Thursday Sally's or a TIME Monday afterwards. Michaela McDermott would be fond of the mirror, takes an age to get her out the door!
Who's the best/worst person to share a room with on away trips?
Haven't had to stay away too many times so haven't had any bad experiences. Laura Kane was a delight on the trip to Cork.
Who's the best/worst person to sit beside on the team bus?
Always sit beside my buddy Ciara Fox on the occasion we get a bus for club and when she's not too busy singing. Christiane is a social butterfly on the Tyrone bus, works her way up and down so you can't escape her banter.
Who has the best and who has the worst diet on the team, and what does it include?
Best: Gemma Begz food blog coming soon to Instagram… Joanne Barrett has also taken to a healthy lifestyle, always has broccoli on the plate. Worst: Some people aren't too fond of the vegetables (me). I also can't remember the last time Caoileann Conway has ate at her own house, she's always out for dinner.
Toughest opponent you have faced?
Maura Kelly – St Mac's. Always avoid Aisling Fox at club training. Also try to avoid Shannon Quinn at training when possible, she's fond  of holding the jersey.
Best or worst quote you've heard, either from a manager, player, opponent?
Best: Don't let the game pass you by, make something happen! Wise words also used to come from Shannon O'Neill in the team huddle "Take no sh**!"- simple but effective.
Best manager you've ever played under?
I've been very lucky and had quite a few very good managers: Sean Teague – makes you feel like you're going to war in every game! Lucky to have a man with his passion at the club. Tiffy Quinn – not afraid to say I was a touch lazy and needed to shift myself a bit. John Quinn and Siobhan McCarney masterminds at school football. Special mention to Mickey John McDermott and Mickey Fox who blagged me onto the senior team in 2011 to sneak an All-Ireland medal.
Best ever performance?
Best performance I've been apart of was beating St Mac's in the semi-final of the Minor Championship in 2012, haven't beat them since. Individually, probably the 2016 Ulster Intermediate final vs Down. Hopefully better performances still to come.
One to forget?
I like to forget most of the games I played when I first started county because I was clean useless. Most recently the All-Ireland quarter-final vs Clare was a bad day all round.
When you were playing in the back garden, who did you pretend to be?
Stephen O'Neill or Philip Jordan.
If there was a transfer market who'd be in and who'd be out of the team?
Couldn't get rid of anyone I don't think – would try to bring back the Teagues from Oz! Hard to look past getting Cora Staunton into any team, she's always good for a point or 20!
Posted: 7:00 pm March 26, 2017
TYRONE'S Niall Sludden says the fan reaction didn't go unnoticed after their dramatic qualifier win over Meath last Saturday....
Gerard O'Kane has backed Monaghan to leave Healy Park with a famous victory in Sunday's heavyweight Ulster clash.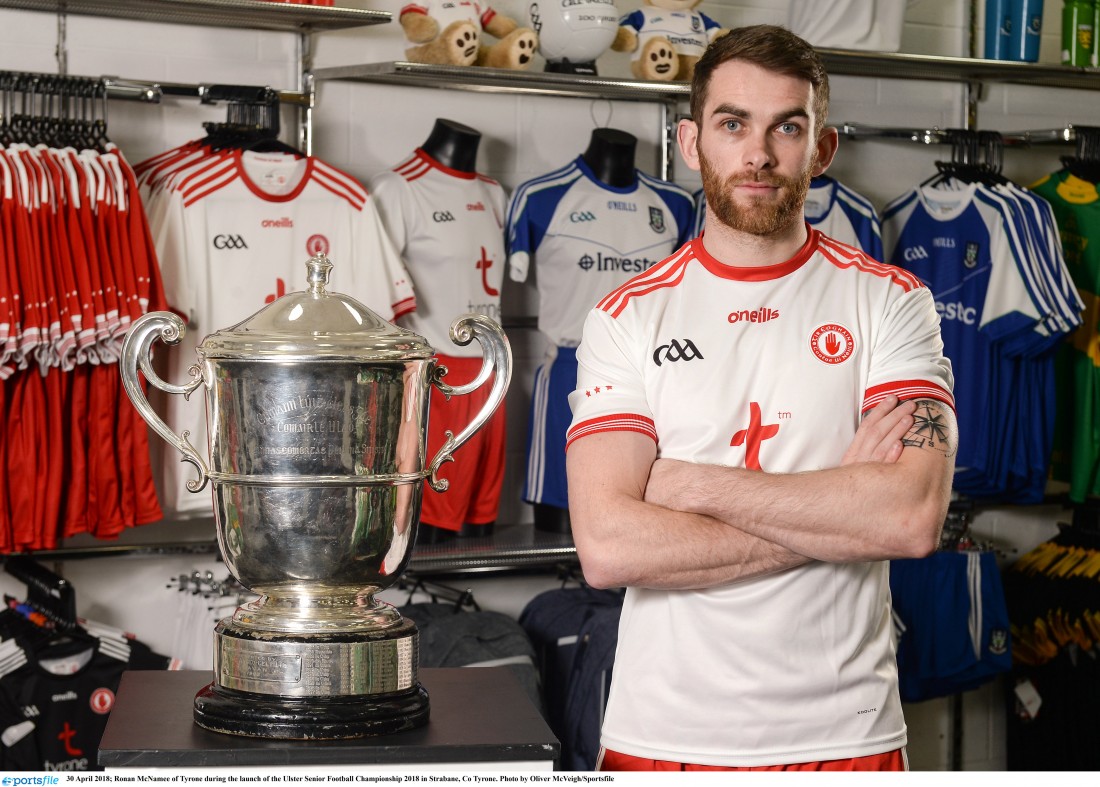 RONAN McNamee will hope to avoid injury as the clock ticks down to Tyrone's home date with Monaghan on...