Name:

Neamh Woods

Age:

27

Occupation:

Teacher
Teams played for:
Drumragh Sarsfields, Tyrone, Ulster, UUJ, QUB
If you were throwing a party and you could invite anyone in the world, dead or alive, who would you ask around?
DJ Cathal Grimes would supply the music and Tommy Tiernan could provide the entertainment.
Where do you like to go out to celebrate after a big victory?
Sally's in Omagh
If you weren't playing GAA what would you be at?
I also play Netball for Larkfield and Northern Ireland so that would occupy my time. If I wasn't playing GAA I would certainly travel more.
What's the worst pitch you've ever played on?

Badoney (Gortin) ladies field; it's a lot easier to play down the hill in the second half!
Which character in any film are you most like?
Reese Witherspoon – Legally blonde!
Any odd items in your kit bag?
I am the super organised one who has spares of everything! I don't think there's anything odd though!
What's your preferred brand of gear?
Boots – Adidas, kit – O'Neills
Who's the biggest joker in the teams you play for?
Drumragh: it has to be Edel Taggart, forever leading me astray!
Tyrone: Where there is mischief, Shannon Lynch is never too far away. She has perfected the art of washing her gloves recently.
Which team mate has the best looking other half?
Emma Smyth talks a lot about her other half Ruairi; she would be disappointed if I didn't give them the nod on this occasion.
Who is the worst trainer?
Sarah Connolly wouldn't stand for any slackers!
Who spends most time in front of the mirror in the dressing room?
Lycrecia Quinn; it takes a long time to perfect the bandana!
Who's the best/worst person to share a room with on away trips?
Best: Joanne Barrett: like mother and daughter!
Worst: Couldn't single out one person, there's too many who talk a lot!
Who's the best/worst person to sit beside on the team bus?
Worst: Siobhan Sheerin who is usually singing in preparation for the Rose of Tralee
Best: Emma Hegarty who always has a stash of food supplies!
Who has the best and who has the worst diet on the team, and what does it include?
Best: Shannon Cunningham (nee Quinn)
Worst: Chloe McCaffrey; according to her, the best athletes eat McDonalds
Toughest opponent you have faced?
Juliet Murphy (Cork)
Best or worst quote you've heard, either from a manager, player, opponent?
Never leave the field saying "I could have done more."
Best manager you've ever played under?
My father Seamus, Niall Colton, Tiffy & Paudge Quinn
Best ever performance?
Ulster Senior Final 2009
One to forget?
All Ireland Senior Final 2010
When you were playing in the back garden, who did you pretend to be?
My uncle Ciaran McRory and Ronan McGarrity – two of my favourite half backs!
If there was a transfer market who'd be in and who'd be out of the team?
In: Caroline O'Hanlon; it's not often we get to play on the same football team plus she paid me to write this.
Out: I would have to keep them all because they wouldn't be too impressed otherwise!
Posted: 7:00 pm March 25, 2017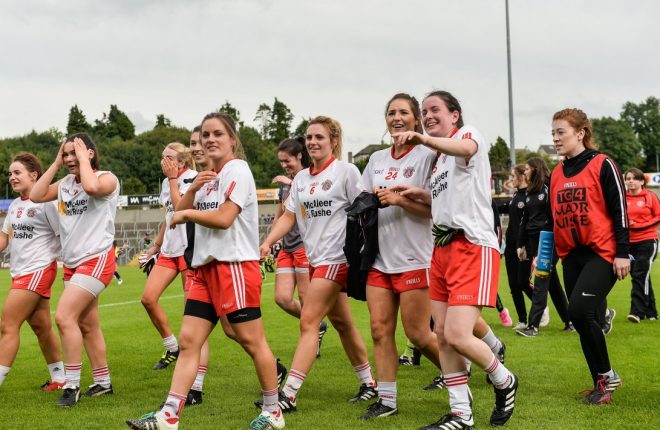 The Tyrone county board have been criticised for not moving their club championship games on Sunday.