Name:

Maédhbh Laverty
 

Age:

22

Occupation:

Actuarial Science Student
Teams played for:
Naomh Eoin, Antrim and Queens
If you were throwing a party and you could invite anyone in the world, dead or alive, who would you ask around?
All the St. John's camogs, always a class night with them
Where do you like to go out to celebrate after a big victory?
Usually back to the club for some pints of diluted orange juice
If you weren't playing GAA what would you be at?
Sampling gins around the world
What's the worst pitch you've ever played on?

The one we played on two weeks ago against Galway, Oranmore – could have mistaken it for a swimming pool
Which character in any film are you most like?
Pumba from Lion King… apparently
Any odd items in your kit bag?
A bottle of St. Moritz
What's your preferred brand of gear?
Adidas boots and O'Neill's gear
Who's the biggest joker in the teams you play for?
Queens – Kathryn Donnelly and Rachael Merry are a dodgy pair
Antrim – Orlagh O'Hara's always up to something
Naomh Eoin – Couldn't watch Eimhear Costello and Debbie Boyd either
Which team mate has the best looking other half?
Would have to say my club mate Patrick McBride
Who is the worst trainer?
Nicole Kane, she always has a "sore ankle"
Who spends most time in front of the mirror in the dressing room?
Aoife Rooney MUA, she won't leave until her eyebrows are drawn on
Who's the best/worst person to share a room with on away trips?
Sarah Armstrong – always brings treats to share and doesn't mind my great singing voice
Who has the best and who has the worst diet on the team, and what does it include?
Best – Máire Mullholland loves rabbit food and avocado
Worst – Debbie Boyd, a pint of Coors isn't the best pre- match meal
Toughest opponent you have faced?
Carrianne Fitzsimons –  it's not good being on the wrong side of her hurl
Best or worst quote you've heard, either from a manager, player, opponent?
"Right lets to sprints out to the 50" – Colly Donnelly
Best manager you've ever played under?
Aishling Jackson
Best ever performance?
Still waiting on it happening…
One to forget?
Junior Ulster Final last year, played most the match with a broken thumb and lost
When you were playing in the back garden, who did you pretend to be?
Buzz Lightyear
If there was a transfer market who'd be in and who'd be out of the team?
Aishling Jackson – out since she thinks she's too old and has retired
Sarah Armstrong – in, because she could do with playing for a good club
Posted: 7:00 pm March 24, 2017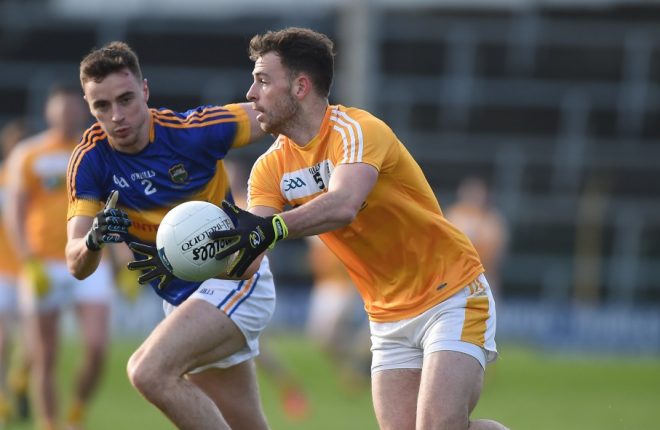 Matthew Fitzpatrick says he feels no pressure.