Gaelic Life's sixth Allstar awards event took place on Friday night and it was a resounding success as club players from across the province were honoured.
The event took on a new dimension this year, as there were new awards to honour the ladies football and camogie teams this year.
Donaghmoyne took most of the spots on the Ladies Football team of the year, while Slaughtneil dominated the Camogie team.
Slaughtneil were the big winners across the board, picking up the most trophies on both the football and hurling teams as well as the Camogie team.
Their players also picked up three of the top gongs: Brendan Rogers won footballer of the year, Chrissy McKaigue won hurler of the year, and Shannon Graham was named Camog of the year. Aimee Mackin of Shane O'Neills, the Armagh Intermediate champions, won the ladies footballer of the year award.
There was plenty of reaction to the awards on Twitter. Here are some of the best Tweets:
Great night at the @Gaelic_Life club all-stars last night.thanks very much for everything. pic.twitter.com/amaJ8AaK9J

— Mark Lynch (@lamhdhearg09) January 15, 2017
Celebrating his 60th birthday at the @Gaelic_Life awards night wearing a dickie bow for the first time!!! 😝@GACSlaughtneil pic.twitter.com/9ks3CT3Tt9

— Regina Cassidy (@ReginaCassidy4) January 14, 2017
Great to see your own club on the big stage.. Bredagh & Danny & Donal Hughes were in the picture at the #GaelicLifeAllStars at the Hillgrove pic.twitter.com/WpUyEg2snU

— Jerome Quinn (@JeromeQuinn) January 14, 2017
Powerful night at the @Gaelic_Life club allstars! No other club event like it in Ireland. Well done folks 🙌

— Eddie McCloskey (@eddiemcc14) January 14, 2017
Great night at the @Gaelic_Life @theGAAstore All star awards. Honoured to receive young Hurler of the year award! #gaeliclifeallstars pic.twitter.com/oBL9OvXxH1

— Domhnall Nugent (@domhnallN) January 14, 2017
Fair play to @Gaelic_Life for honouring all 4 codes. Thanks @theGAAstore for looking after us. @LadiesDmoyne has a great night🔴⚪ #hontheclub pic.twitter.com/tZnVj1FNOl

— Sharon Courtney (@scourtney123) January 14, 2017
Pleasure to perform at the #gaeliclifeallstars last night. Some set up. Fair play folks @Gaelic_Life https://t.co/OaRdSD2pXB

— Rory's Stories (@RorysStories) January 14, 2017
Well done @AimeeMackin & indeed all recipients on your awards anocht at the Ladies Football #GaelicLifeAllStars @UlsterLadies pic.twitter.com/Iqvry3EpOk

— Pat Mc Ginn (@PocFada) January 14, 2017
Big shout out to @RorysStories for going what he does best! Good craic, @theGAAstore @Gaelic_Life #gaeliclifeallstars

— ciaran murphy (@murphysgloves) January 13, 2017
The biggest award of the night goes to the worst craic of the night… #gaeliclifeallstars pic.twitter.com/ibNiLYy5wz

— Hayley Mackin (@HayleyMackin) January 13, 2017
Great to see @CKaigue bringing his younger brother @karl_mckaigue12 to the #gaeliclifeallstars

— Brendan Rogers (@BrendanRogers6) January 13, 2017
Table of All Ireland Champs 🔴⚪ #gaeliclifeallstars #GAAstorethanksforourgear pic.twitter.com/yrkMfZaT66

— Joanne Courtney (@joannecourtney3) January 13, 2017
Posted: 12:48 pm January 16, 2017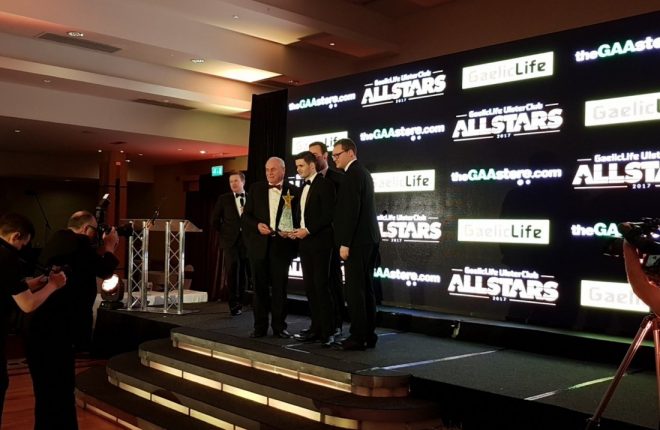 See the pics from those who attended the Gaelic Life Allstars on Friday night,