Name:

Andrea McAlinden

Age:

Mature student

Occupation:

Student
Teams played for:
Camogie for Wolfe Tone & St. Enda's Derrymacash and Armagh County Camogs, and ladies football for High Moss Sarsfields
If you were throwing a party and you could invite anyone in the world, dead or alive, who would you ask around?
The usual crew @No 33. Charlie Mallon Butchers usually provides the refreshments.
Where do you like to go out to celebrate after a big victory?
A wee 'black & brown' down in the Tones is hard to beat! A local delicacy.
If you weren't playing GAA what would you be at?
Probably socialising with friends and family a lot more!
What's the worst pitch you've ever played on?

Aghagallon!??
Which character in any film are you most like?
Any movie sidekick!
Any odd items in your kit bag?
Yoga mat.
What's your preferred brand of gear?
Freebies for shout out? Thomas Moore Sports in Lurgan has a vast supply of top quality gear!
Who's the biggest joker in the teams you play for?
Them South Armagh ones aren't half wise.
Which team mate has the best looking other half?
Niamh Markey.
Who is the worst trainer?
Hmmmmm, lot of girls were fond of the Physio table this year!
Who spends most time in front of the mirror in the dressing room?
Oh hello! Colette McSorley, full length mirrors only ??
Who's the best/worst person to share a room with on away trips?
Nikki Woods has a bad rep for snoring.
Who's the best/worst person to sit beside on the team bus?
The OAPs of the team always good for the local gossip. (You know who you are girls: Bernie, Claire, Joanne etc)
Who has the best and who has the worst diet on the team, and what does it include?
Mine is def the best, except at the weekend. Sure those calories don't count.
Toughest opponent you have faced?
Self criticism.
Best or worst quote you've heard, either from a manager, player, opponent?
Look after your body, if you don't you'll have nowhere to live- Eddie Kelly Yoga.
Best manager you've ever played under?
Tom Monaghan- anyone hoping to make it in management should follow his lead!
Best ever performance?
Won the National League final this year, didn't do too bad.
One to forget?
Standing on the side line in the All Ireland Final.
When you were playing in the back garden, who did you pretend to be?
DJ Carey.
If there was a transfer market who'd be in and who'd be out of the team?
Out- Anyone who won't pass me the ball.
In- Anyone who will pass me the ball.
Posted: 7:00 pm December 6, 2016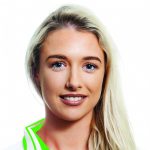 Rachael Merry is a big fan of Adidas, fake tan, and crisps