Cloughmills victory in the Ulster Intermediate Hurling Club Championship final yesterday means that the trophy stays in Antrim for the fourth year running.
The Saffron side beat Eoghan Rua Coleraine by 1-11 to 2-6 in the provincial decider at Ballymena, and put to rest their disappointing 2012 IHC final defeat to Lisbellaw.
A nucleus of players such as Liam Kearns, Aaron Smiley and Michael Devlin were involved back in 2012, but there were a good chunk of the squad who are new to this level of hurling, but they showed that they had the maturity to see out what was a difficult game.
The match was all square at half time, 1-5 apiece, Liam Kearns and Liam Cassley got the points for St Brigid's and the latter hit the net too.
Sean Leo and Colm McGoldrick were key performers for the Derry representatives in the first half.
But in the second half, Cloughmills showed their depth and quality with players like Geoffrey Og and Conor Laverty showing up well.
The dismissal of Declan Mullan for his involvement in a fracas, meant that Cloughmills could close out the game comfortably.
In the aftermath, Cloughmills were showered with praie on social media.
Huge congrats to our own @LCassley and former player @AaronSmiley16 on becoming Ulster champions with Cloughmills #nextstopAllireland

— All Saints Old Boys (@SaintsOld) November 20, 2016
Congratulations Cloughmills, caps off a great season for the club. Enjoy the celebrations @StBrigidsGAC https://t.co/X9QuMQ799Q

— Lámh Dhearg CLG (@lamhdheargclg) November 20, 2016
See to be honest , you fellas don't know a KO unless No. 8 from Cloughmills gaa runs into you and puts you out for days #hellopaddymorrison

— Smicko (@mcquilldawg) November 20, 2016
@J2theK no probs. Cloughmills better team. Shoreline flattered coleraine. pic.twitter.com/Zu3fYX2rWk

— Patrick O Toole (@pmakgreb10) November 20, 2016
The fog is lifting in the shadow of Slemish. @EoghanRua v coughmills #TheToughest pic.twitter.com/D1Q5r5dTbo

— Michael McMullan (@malmcmullan) November 20, 2016
Commiserations to a gallant @EoghanRua team on a fine game. Not much in the scoreline at the end. @StBrigidsGAC 1-11 @EoghanRua 2-06

— StBrigidsCloughmills (@StBrigidsGAC) November 20, 2016
Ulster champions 2016 #TheToughest #Upthebiddies pic.twitter.com/i4TWvlOFNZ

— stbrigidscloughmills (@stbrigidsCmills) November 20, 2016
Big shout to our supporters who are there hail, rain, snow & in this case fog. Couldn't see you but we could hear you #EoghanRuaAbú

— EoghanRua (@EoghanRua) November 21, 2016
Thanks to our hurlers for their commitment & time #Legends Congratulations @StBrigidsGAC & best wishes for the onward journey #TheToughest

— EoghanRua (@EoghanRua) November 21, 2016
Posted: 12:00 pm November 21, 2016
The Ulster council has changed a rule implemented on Ulster Club champions which some Antrim clubs felt was too...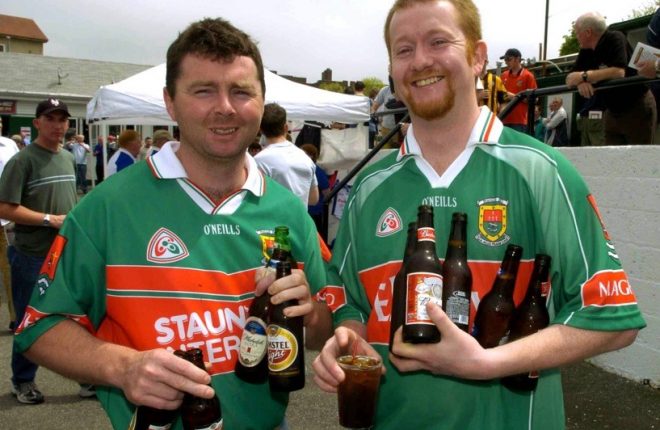 Liam Kearns's uncommon approach to drinking has helped Tipperary yield great results.