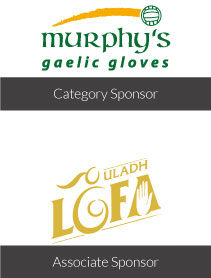 LADIES FOOTBALL ALL STAR TEAM: After the voting closes and the judges deliberate, the final Ulster Club Ladies Football All Star team will be announced in Gaelic Life on Thursday 24th November 2016. Good luck to all the nominees!

NOMINEES
Joanne Geoghegan, Donaghmonye, Monaghan
Fiona Courtney, Donaghmoyne, Monaghan
Aine McElroy, Donaghmoyne, Monaghan
Grainne Faulkner, Kingscourt, Cavan
Niamh McGirr, St Macartan's, Tyrone
Sarah Faulkner, Moville, Donegal
Ciara Hegarty, Moville, Donegal
Naomi McAnulla, Clann Eireann, Armagh
Rachel McKenna, Truagh Gaels, Monaghan
Please note: One vote per IP address. Your vote does not determine the overall winner but helps create awareness of the shortlisted nominees.
Deadlines: For 'public view' of votes: 5pm, Friday 11th November 2016
Final voting deadline is: 10am, Monday 14th November.

Save
Posted: 3:50 pm November 9, 2016