Name:

Maria Canavan

Age:

17

Occupation:

Student
Teams played for:
Errigal Ciaran, St Ciaran's Ballygawley, Tyrone.
If you were throwing a party and you could invite anyone in the world, dead or alive, who would you ask around?
Meabh Hamill. It's always a good night when Meabh is about. Grainne Rafferty is great company and she's never too far away from a bowl of Rice Krispies. It wouldn't be a party if Enya Donnelly wasn't there. I would trust her to provide the music, plus she's a top class dancer.
Where do you like to go out to celebrate after a big victory?
With Tyrone usually Sally's but with the Errigal girls it's almost always "everyone back to Tiffy's".
If you weren't playing GAA what would you be at?
Pursuing a singing career
What's the worst pitch you've ever played on?

Any 3G pitch in the country
Which character in any film are you most like?
Sleepy from Snow White
Any odd items in your kit bag?
My hat
What's your preferred brand of gear?
Murphy's gloves and footwear is always Adidas. (sponsored by Cara McCrossan)
Who's the biggest joker in the teams you play for?
With Tyrone it's Zoe Loughran, no matter who she is with you're guaranteed that they will be laughing. With Errigal it would be the recent blow in – Geardine McGinley, she doesn't understand the meaning of the term 'PG'.
Which team mate has the best looking other half?
There would be something wrong if I didn't give that one to Shannon Quinn. Brendy is a babe! Although Kelly-Marie McRory has a few good-looking fellas on the go these days too.
Who is the worst trainer?
Lycrecia Quinn. Anyone who knows Creesh would know that she's not the best time keeper. When she eventually arrives to training all the long runs are done.
Who spends most time in front of the mirror in the dressing room?
Emma Smyth is always running about trying to find a mirror. Whatever keeps her happy!
Who's the best/worst person to share a room with on away trips?
I'm always with Shannon Quinn, also known as my 'second mother'. I never really get talking to her much though as she's always on the phone chatting to the fiancé about the big wedding or about this fancy new house in the Roy.
Who's the best/worst person to sit beside on the team bus?
Again I'm always with Shannon Quinn but get much better craic out of Christiane Hunter. There's always a running commentary. She also tells a good joke involving Ibiza and Bundoran. Worst would be Eimear McAnespie or Slaine McCarroll. Trips to school matches usually involved an awful lot of bad singing.
Who has the best and who has the worst diet on the team, and what does it include?
Worst diet would be a toss up between Emma Hegarty and Michaela McGuigan, they love their chicken goujons. Best would be Claire 'Crunch' Canavan. If we all ate like Claire I don't think we'd have any trouble breaking a tackle.
Toughest opponent you have faced?
Neamh Woods. She's supposed to be the defender but that usually ends up with the forward running after her instead! She's a class player.
Best or worst quote you've heard, either from a manager, player, opponent?
"Turn and burn" – Either Selena Oguz or Pascal Canavan, I'm not sure who will take credit for that one.
Best manager you've ever played under?
Tiffy and Paudge Quinn aren't too bad. Also my uncle Pascal managed me in my underage days along with Neilly McAleer, great duo.
Best ever performance?
Minor club championship semi final v Cookstown 2013.
One to forget?
Senior Ulster club semi final v Termon last year.
When you were playing in the back garden, who did you pretend to be?
Brian McGuigan and Declan O'Sullivan were two of the favourites in our garden.
If there was a transfer market who'd be in and who'd be out of the team?
Rebecca 'Babs' McCrory would be in and I'd also get Niamh Kelly transferred back from Australia.
Posted: 7:00 pm October 11, 2016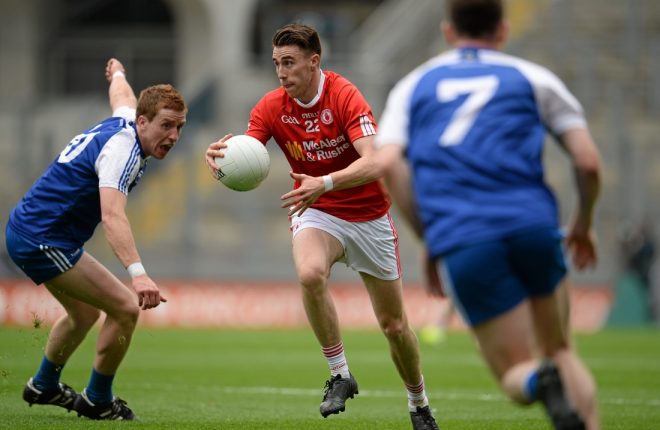 Killyclogher are gearing up for their 2016 championship opener against Errigal Ciaran on Saturday.