Name:

Matthew Fitzpatrick

Age:

21

Occupation:

Student
Teams played for:
St John's, Antrim & St Mary's
If you were throwing a party and you could invite anyone in the world, dead or alive, who would you ask around?
Conor McGregor and the whole WWE roster so that he can slap the head of them. And I'd have the party on a Sunday so he could do it twice.
Where do you like to go out to celebrate after a big victory?
Usually the club then we end up in Thompsons with a load of darts.
If you weren't playing GAA what would you be at?
Playing football winning the Sunday league every year with the Ladybrook library
What's the worst pitch you've ever played on?

Aldergrove
Which character in any film are you most like?
Jackie Moon from semi pro
Any odd items in your kit bag?
Deep Heat to keep my fingers and toes warm in the winter.
What's your preferred brand of gear?
Adidas boots but I usually get my gear off Ryan McNulty
Who's the biggest joker in the teams you play for?
For St John's it would be Andy McGowan – funniest thing about him is that he thinks he could beat me in a fight
Antrim – Ryan & Conor Murray are funny and Chris Kerr fancies himself for that title too.
Which team mate has the best looking other half?
Going to give myself that one
Who is the worst trainer?
Laughlin McCurdy
Who spends most time in front of the mirror in the dressing room?
Paddy McBride – he bought a fake Gucci wash bag. he thinks he's Cristiano Ronaldo since he got 1000 followers on Twitter.
Who's the best/worst person to share a room with on away trips?
Worst – Tomas McCann – I'm far better than him at FIFA and he doesn't let you sleep until he wins 1. (That's my excuse for my performance on the Sunday)
Best – Bam Neeson – the only person who gives me a game on NBA
Who's the best/worst person to sit beside on the team bus?
Best – Conor Murray – powerful craic
Worst – James Laverty – couldn't watch him if you sat up all night
Who has the best and who has the worst diet on the team, and what does it include?
Best – Mark Sweeney – hasn't had a carb since '04
Worst – mine – life's to short to eat stinking food
Toughest opponent you have faced?
Kieran McGeary
Best or worst quote you've heard, either from a manager, player, opponent?
Best – a pat on the back is only 6 inches off a kick in the arse
Worst – Locky McCurdy – lads we're training at 9 on Sunday because Celtic are playing at 11.30
Best manager you've ever played under?
I've got on with every manager I've had but my teachers from De La Salle College helped me the most so I'd have to say them.
Best ever performance?
League final v Louth would be up there
One to forget?
Where do i start! Any time I've played in the rain.
When you were playing in the back garden, who did you pretend to be?
Paul Buchanan
If there was a transfer market who'd be in and who'd be out of the team?
In – Niall McParland, Fionnan 'Burnsy' Burns and Kieran McGeary
Out – Pat Hughes  – only so much **** I can listen too
Posted: 7:00 pm October 18, 2016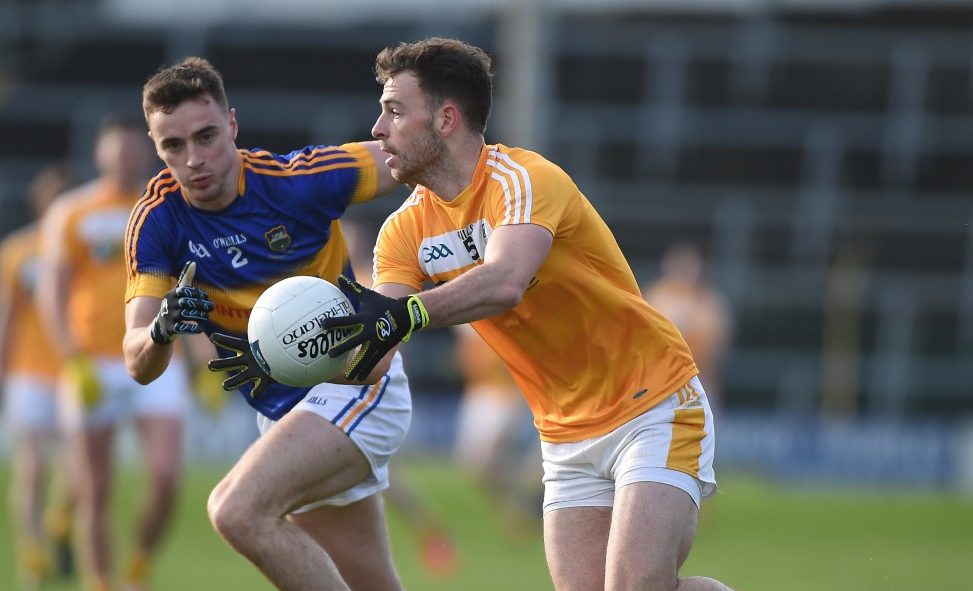 ANTRIM manager Lenny Harbinson could be facing a battle to keep the talented Matthew Fitzpatrick on his squad for...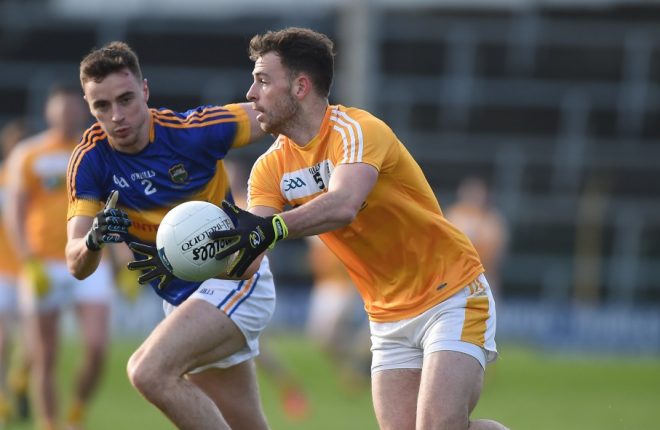 Matthew Fitzpatrick says he feels no pressure.