Name:

Barry McGinn

Age:

19

Occupation:

Student
Teams played for:
Doohamlet, Our Lady's Secondary School, Castleblayney and Monaghan
If you were throwing a party and you could invite anyone in the world, dead or alive, who would you ask around?
Darren 'Ducksey' Connolly, if I could get a flight paid for him to come home from England. Muhammed Ali just in case Ducksey was in the mood for a fight and Take That to supply a bit of music.
Where do you like to go out to celebrate after a big victory?
Spinning Wheel disco bar/Spy Nightclub or to St Anne's Road, Dublin.
If you weren't playing GAA what would you be at?
Always reckon I could have made it at the soccer. Played a bit at school and the coach Hugh Lyons compared me to Stevie Gerrard on my day.
What's the worst pitch you've ever played on?

Played on a few bad ones but 'The Stoney Meadow' in Doohamlet was a real shocker. The name describes it well.
Which character in any film are you most like?
I've been told I'm a bit like Zac Efron in High School Musical, but I'm not too sure about that.
Any odd items in your kit bag?
Wouldn't be too sure, all depends on what the mother puts into it!
What's your preferred brand of gear?
Gaelic Performance gloves, and normally Adidas are my favourite brand of boots.
Who's the biggest joker in the teams you play for?
Has to be Dermot 'Toblerone' Malone. He would see himself as a joker but the real joke's on him with his questionable sense of style.
Which team mate has the best looking other half?
I'd say any of the women Ryan Wylie has on the go would have to be up there.
Who is the worst trainer?
Tight one. Either Kieran Hughes or Fergal McGeough. Neither man would be fond of the long runs. With Doohamlet Ciaran McManus isn't great. He puts it down to old age, but he doesn't fool us.
Who spends most time in front of the mirror in the dressing room?
With the county I'd have to say Tommy Kerr or again Dermot Malone. Both men spend a while at their hair.
With the club it's Mull Marray, no question about it… loves to get a good shine on.
Who's the best/worst person to share a room with on away trips?
Haven't roomed with him but I hear Paudie McKenna was an awful man to talk in his sleep!
Who's the best/worst person to sit beside on the team bus?
Both Aidan and Conor Marray wouldn't be great men to sit beside.
Always texting their women so there doesn't be much craic out of either of them boys.
Who has the best and who has the worst diet on the team, and what does it include?
Colin Walshe would have one of the best and his housemate Karl O'Connell has the worst. He's a big man for his biscuits.
Toughest opponent you have faced?
Gavin King in training with the club can be a tricky task… but probably Colin O'Riordan, Tipperary.
Best or worst quote you've heard, either from a manager, player, opponent?
Darren Bishop: "Winners get everything, losers get nothing." He's always a good man for the quotes and cliches.
Best manager you've ever played under?
I've been lucky in this area and played under plenty of great managers. My own father Gerard, PJ Marray and Micheal McEneaney in the early days then Eddie Kelly, Paul O Connor, Trevor Duffy and of course Malachy. They have all helped me develop.
Best ever performance?
MacLarnon Cup Final 2015. Picked up a shoulder injury, came off, came back on, got MOTM and was great to win with that group of lads.
One to forget?
Played Armagh in the UMFL in 2013. Wasn't one of my better days.
When you were playing in the back garden, who did you pretend to be?
Shane McManus from Doohamlet. He still tries to play a bit!
If there was a transfer market who'd be in and who'd be out of the team?
Wouldn't swap any of them. Great men!
Posted: 7:00 pm August 16, 2016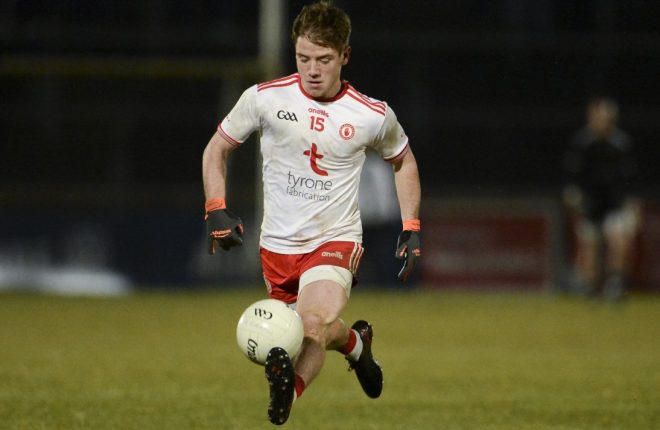 Tyrone's Mark Bradley gives his opinion on their championship opponents.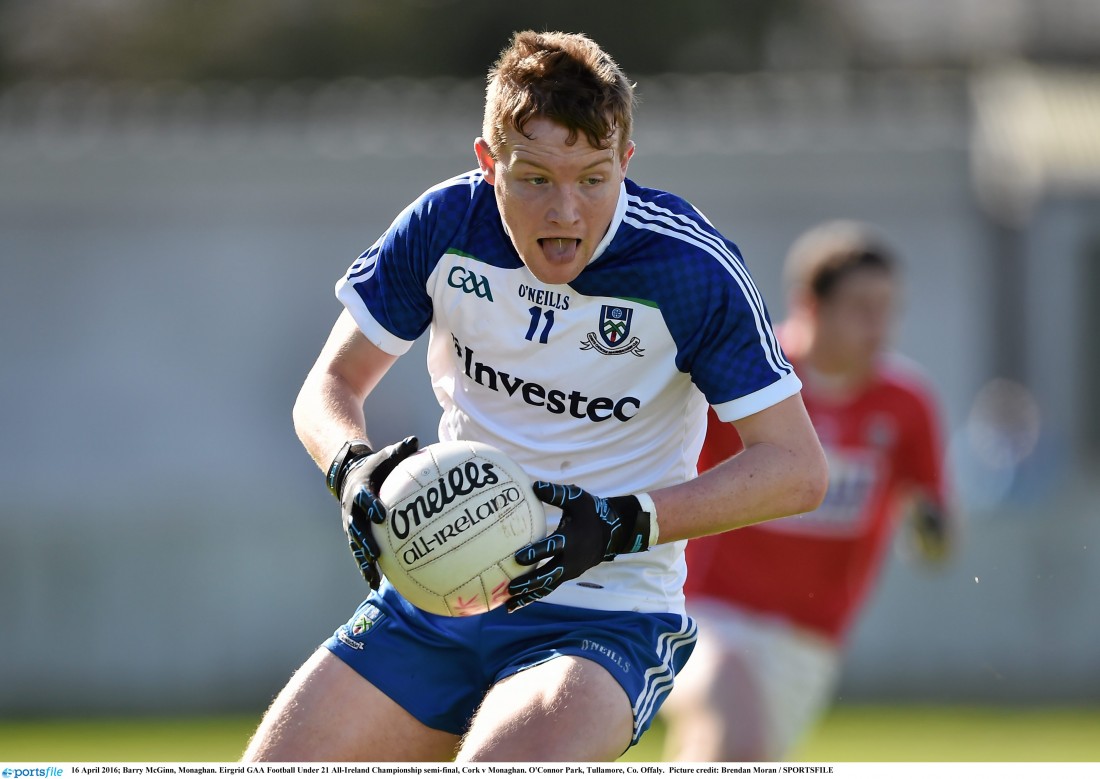 PROMISING Monaghan forward Barry McGinn is hoping to be passed fit for his county's Division One opener against Mayo...