By John Hughes
You can tell Liam Watson is passionate fella. He wears the heart on the sleeve. He says things others might be thinking, but lack the courage to spit out.
He's a scorer of iconic goals, one of the last true mavericks in a sporting world where so much seems to go according to a pre-ordained play book.
With the news of his recent departure from the Antrim squad it would be easy to think he just doesn't give a shit about the county. The reality is more likely the polar opposite. It's because he feels so deeply about the Saffron cause that his responses are so magnified and extreme.
In a set-up like Loughgiel where success was a realistic, if frustratingly elusive goal, his character was a galvanising factor.
In the bottom-feeding realm inhabited by Antrim more or less since the turn of the millennium one could easily imagine how that natural effervescence could take on a more explosive form.
It wasn't the case that Watson didn't want to commit because he wasn't prepared to put in the work. He didn't want to commit because he couldn't see where the medals where going to come from.
All the talk about penny pinching county boards, player welfare issues, the money he could have made elsewhere is a side-show really. If Antrim could have put one All-Ireland winners medal in Liam Watson's back pocket, damn it, even if they could have come close, that's all that would have really mattered. Just a taste of the 1989 hysteria would have made it all worth the heartache.
In expressing his frustration with the way Antrim fortunes have tailed away, Watson is lending voice to a wider sense disappointment among Ulster Gaels.
2009 was nice and all that, but no one seriously expects Antrim to do anything in the big ball code. Antrim's purpose in the Ulster sporting constellation is to serve as the province's hurling flagship.
If Antrim are only a Christy Ring contender, then what hope is there for the rest of the province? Are we perpetually doomed to be wide-eyed spectators, while the real hurling takes place south of that Dublin to Galway line?
From the outside looking in, it is hard to know the precise nature of Antrim's problems, and so proposing solutions in that sort of void is necessarily a matter of speculation.
On the club scene, Antrim have proved that it is possible for Saffron hurlers to take on and beat the very best the country has to offer.
Why does that club attitude get left at the changing room door when players pull on the county jersey?
There has been an illustrious list of managers who have been come in with great expectations, only to leave the county in worse shape than before.
You can talk about building success from the youth up, but the best way to encourage the youth is to have a successful county senior team to aspire to.
It's a bit of a chicken and egg situation.
You have to control the controllables though. Players have to take responsibility. We might not see Antrim pushing for All-Irelands this year, but each year has to start with the players embracing a driving mission to get the county as far down that road as possible.
That is important not just for Antrim, but for the rest Ulster.
Posted: 11:00 am April 20, 2016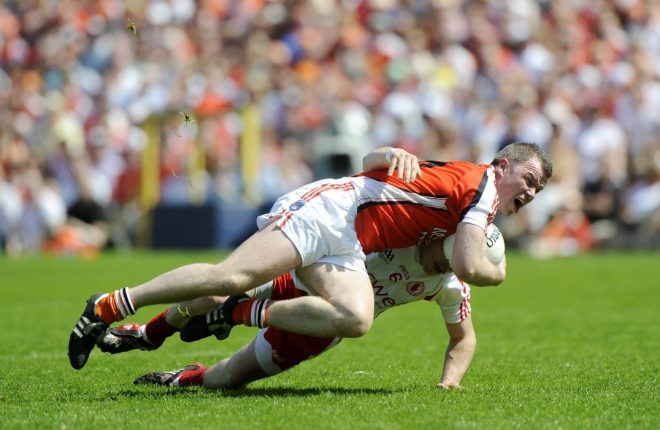 John Hughes took the opportunity to use Colm Cooper's retirement as an opportunity to recall the rise and fall...